THOUGHT BUBBLE 2019!
Given the nature of the self-published area of comics that I focus on here at Broken Frontier the vast majority of the work I review tends to have been produced by a single creator. House of Sweets is very much a group endeavour, however, with four creators involved. It's a perfect example of the different strengths of the collaborative process to the singular vision, with writer Fraser Campbell, artist Iain Laurie, colourist David B. Cooper and letterer Colin Bell complementing, building upon and layering the contributions of the others.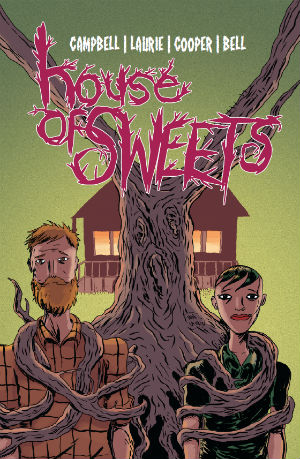 Hans and Retha have returned to a lonely shack in the woods that they played in as children as a retreat from their lives in the outside world. Retha has just been through a break-up and found herself in financial problems that she's relying on her brother to help her sort out. Hans is struggling to write his new book and is looking for the seclusion he needs. But as their stay in the ramshackle hut progresses, the walls of reality seem to break down. Hans finds additions to his novel that he doesn't remember writing, Retha's perceptions take on a dreamlike quality, and long buried secrets are unearthed as their memories of this childhood sanctuary and their old housekeeper Alma come to the fore…
Themes of repression and claustrophobia seep off the page in this genuinely chilling, almost stream-of-consciousness narrative. It's a fever dream of a comic that sends the reader spiralling down a descent into madness and terror. House of Sweets never patronises its audience and rewards numerous re-reads, as Campbell's powerful plot and Laurie's giddying panel-to-panel pacing and haunting visual characterisation immerse the readers in the cast's psychological hell.
Reviews are not academic critiques and to say more about the intricate ways that Campbell and Laurie work in partnership to unravel the pasts of the protagonists and the disturbing revelations that unfold would be, as we like to say here at Broken Frontier, to spoil discoveries that are the readers to make. But, suffice to say, David B. Cooper's eerie and atmospheric colours and Colin Bell's mood-enhancing lettering are vital components of the comic's disconcerting ambiance. Bell, in particular, underlines the thematic thrust of the piece with some neat choices that accentuate the darkness of the story and its sense of disorienting powerlessness.
A Thought Bubble must-buy collaboration but if I do have to single out one part of the team out it's Iain Laurie, who must surely be one of the most unsung talents on the UK indie scene. His art has continued to evolve since I first covered And Then Emily Was Gone several years ago and it remains a huge mystery to me that he hasn't been snapped up by the genre comics world. Perhaps House of Sweets will be his moment. Publishers who read Broken Frontier and 'Small Pressganged' regularly would be advised to check out his Twitter and Instagram for further inspiration.
Review by Andy Oliver
Fraser Campbell (W), Iain Laurie (A), David B. Cooper (C), Colin Bell (L). Fraser Campbell will be exhibiting at Thought Bubble 2019  at Table 53 in the Ask for Mercy Hall with John Lees.
For regular updates on all things small press follow Andy Oliver on Twitter here.