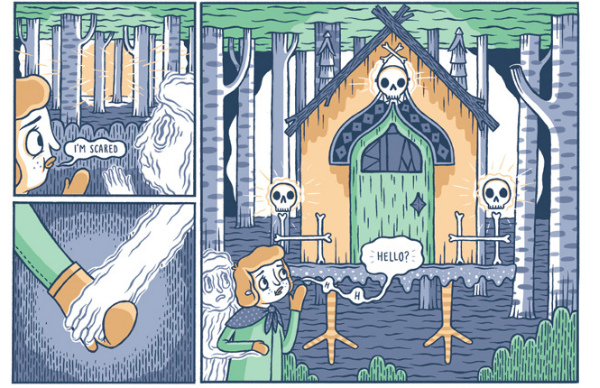 Two years ago, Donya Todd established her A4-sized anthology Bimba as a platform for "kick-ass female artists". From the outset the book had a sense of vibrant, defiant energy to it that gave it a particular character all of its own. It's also the comic that introduced me to the always stunning work of Emma Raby who, as all 'Small Pressganged' fans know, is one of a group of 'Six UK Small Press Creators to Watch in 2015' that I've been following in this column throughout this year.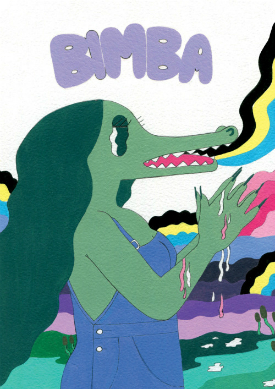 Bimba #2, subtitled 'Witchouse', was actually published at the tail-end of 2014 and, I must confess, is one of my many great burdens of guilt when it comes to finding time for certain deserving small press projects here this year. The theme of this collection is a supernatural one with a series of diverse shorts on the subjects of witches, sorcery and magic from the likes of established self-publishers like Todd herself and Kristyna Baczynski, alongside emerging talents like Brigid Deacon and Sophia Viney.
The founding of the 'Witchouse' in question is the subject of Donya Todd's opening 5-pager (below left) – a creepy psychedelic tale of revenge that showcases her usual appealing mix of a surreal association of ideas with that oddly endearing vulgarity that always plays such a major role in her work. From there we're launched into a series of cannily curated disparate artistic styles that adopt a fascinating range of narrative approaches to the themes of the book.
Brigid Deacon is an artist whose work I described as "mesmerisingly oblique" when I reviewed her comic Coma Deep here at Broken Frontier earlier this year. 'She' is one of a couple of stories that deal with the historical persecution of alleged witches, with Deacon's ability to form a number of apparently dissociated  images into a greater narrative whole being suitably represented here (below centre). Emma Raby follows a similar storytelling path but with her more traditional children's illustrative style showcasing her always subtle use of very limited colour on darker backgrounds to great effect (below right). Raby's skilfully constructed silent storytelling in this perfectly paced two-pager is one of the true highlights of Bimba #2.
Sample pages from Donya Todd, Brigid Deacon and Emma Raby from Bimba #2
Some entries focus on visual allure over narrative depth but are no less effective for that – Suzi Kemp's fluid and captivating 'Crusin' Streak' (below left), for example. Others are, strictly speaking, not comics at all. Ciara Dunne's 'Illustrated World of Witches' falls into that latter category. Her spectacularly entrancing use of colour marks her out immediately as someone to keep an eye on, though unfortunately the cramped reproduction of the pages here does make her contribution a little difficult to read.
There are always "big name" small pressers in Bimba – that first issue had self-publishing stalwarts like Lizz Lunney and Philippa Rice – and #2 is no different with Kristyna Baczynski providing a dark fairy tale/parable featuring Baba Yaga (top banner image) that is charmingly and carefully crafted in terms of both story and visual structure. Sophia Viney's 'Feeding the Forest' (below centre) also reminded me of how much I enjoyed her offering in the first issue – another dazzling application of colour that acts as stark counterpoint to the sinister heart of her tale.
More interiors from Suzi Kemp, Sophia Viney and Disa Wallander
Whether it's Gemma Correll or Sammy Borras's use of contemporary settings in their respective witchy tales, Disa Wallander's customary nightmarish and unsettling storytelling slant in hers (above right), or Hannah Chapman and Rosie Lea's irreverent spotlight on a South African penis demon, the great success of Bimba #2 is its ever eclectic patchwork quilt feel of styles and interpretations of the anthology's core premise. The perfect taster for the work of the fourteen creators involved and one of the most appealing group efforts I've covered in 'Small Pressganged' this year.
For more on Bimba check out the site here. You can buy Bimba #2 from the online store here priced £12.00. 
For regular updates on all things small press follow Andy Oliver on Twitter here.