HCZF MONTH! The territory where cute meets cynical can be a dangerous one. In The Blame Jon Aye plays in that territory and stakes a claim to versions of bleakness that are by turns beautiful, banal and bizarre. It's a pleasure to see this kind of collection, where the artist has been able to make the work that speaks to them, and try out different approaches to both the visuals and the subject matter. These shorts seem to look around for someone to blame for the state of the world, and while politicians are definitely implicated, it's ultimately our own fallible humanity that seems to be in the crosshairs.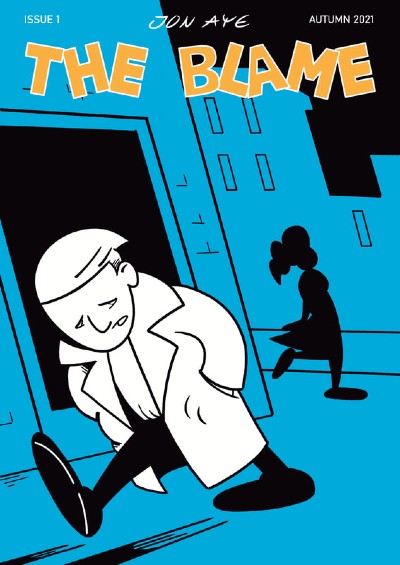 Through urban dystopias and talking dogs, Aye explores ideas of cultural wasteland, undervalued employees, complaint culture, the pressure to conform or look cool, unhelpful dating advice, imagined extreme interactions of strangers – both nice and nasty – Matt Hancock's secret plans for canoodling world domination, and other different ways of questioning our own perceptions of reality.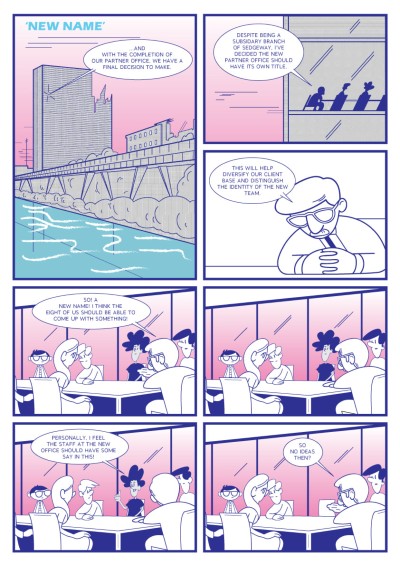 Using mechanical curves and digital screentones in a variety of ways, Aye's art seems to want to deny its own authorship, hiding the artist's hand while his characters jaunty motion evokes a mid-century strip cartoon whimsy. The body language here is masterful, and at times there's a lightness of touch in both the writing and art that is a pure joy to see. At other times both seem wilfully obtuse, but the dance between the two does work. As mentioned, this kind of small press compilation of short works  gives us a taste of the artist's process.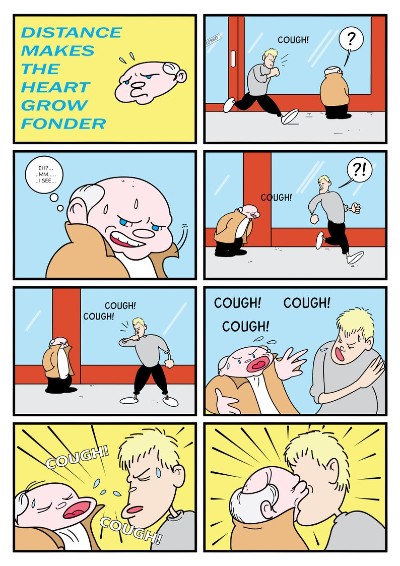 You can find Jon in Hall One at Hackney Comic + Zine Fair.
Jon Aye (W/A) • Self-published, £8.00
Follow HCZF on Instagram (@hackneycomicfair) and Twitter (@hackneycomics) for updates, and head over to www.hackneycomicfair.com for more information about the event.
You can also find Jon's online store here.
Review by Jenny Robins