David Robertson's regular comics collections always compile an interesting mix of subject matter between their covers. The Dundee-based artist's strongest offerings are usually those based in autobio work but his practice encompasses anything that takes his fancy; from narrative to snippets of historical biography, to satire and uncompromising humour. Break the Cake contains nearly 30 stories, in either black and white or colour, in a bumper-sized package. It houses some of Robertson's most memorable comics to date and includes occasional artistic contributions from other collaborators.
It's that very personal slice-of-life material that makes the strongest impression here. A grudgingly accepting piece on the evolution of the Star Wars franchise from the perspective of a fan who has been there since the near beginning, for example, or a foray into the comics archive at the University of Dundee (above right). A decades old fleeting encounter with Billy McKenzie of The Associates leads into a reflection on pride in regional identity while brief thoughts on lunchtime meal rituals are aptly and symbolically illustrated by Zu Dominiak (below).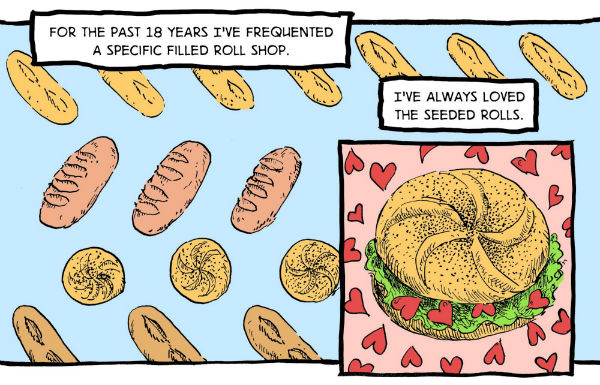 Robertson's art is uncomplicated but communicative, fitting the fragmentary feel of Break the Cake's contents. Much of the work herein (barring one longer-form strip) ranges from single pagers and briefer entries that cover everything from the epistomological philosophy of Descartes, home economics class antics and the unlikely secret of William Shatner's attractiveness to women (with suitably comedic visuals from Norrie Miller). One of the appeals of a Robertson anthology is its unpredictability which in these pages even includes a play on a familiar 1970s comics advertising campaign (below)…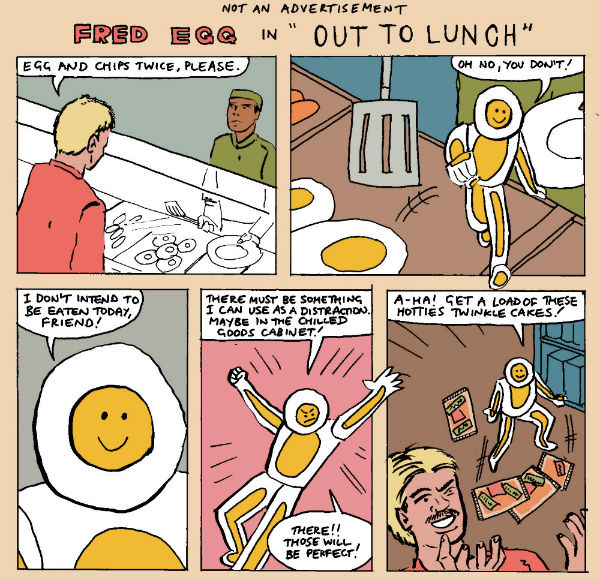 Break the Cake is a very personal offering; indicative of Robertson's old school small press approach of creating for the sake of creating and of collecting all recent work, however disparate, in one place. There's perhaps a more ephemeral feel to offerings like 24-hour comics, collaborations with younger family members and Robertson's one-pager from Olivia Hicks's Sarararara: All-American Girl which can on occasion seem a little out of context. But Robertson's usual annotations at the back of the issue help to fill in the blanks. While some of the comics presented feel a little more raw than others this is an eclectic mix that also provides a platform for a number of other small pressers and gives us a suitably community-influenced showcase for the grassroots small press world.
For more on David Robertson's Dump and Fred Egg Comics check out his blog here. You can order copies of Break the Cake here priced £5.00. 
For regular updates on all things small press follow Andy Oliver on Twitter here.