From a punter's perspective one of the great rewards of the current burgeoning UK small press scene is that there's plenty of room for both non-curated festivals that offer an "all-comers welcome" approach (like the latest upcoming Comica Festival Comiket) and curated events that attempt to cultivate a particular thematic vibe to champion a specific creative ethos (the most recent ELCAF for example). Both approaches have their own advantages for those looking to unearth some small press publishing gems and complement each other effectively. Critically acclaimed UK indie publisher Breakdown Press's Safari Festival fits firmly into the second category, though, offering what it terms "a celebration of the new wave of alternative and art comics from the UK and beyond". The festival debuts later this month on Saturday 30th August.
Taking place at the Protein gallery space in Shoreditch, Safari will be free to attend and Breakdown promise that the artists and publishers in attendance selling their comics, artwork and prints have been selected for "their innovative, fearless, diverse approaches to making comics." With a pre-party the night before at London's Gosh! Comics, and an after-party on the day at the Shacklewell Arms in Dalston, Safari also promises to be an event that embraces the tangible sense of true comics community so readily apparent in London at the moment.
What stands out for me about the list of attendees is that among the familiar faces covered here in the past in 'Small Pressganged' there's a sizeable number that I have yet to encounter on my travels round the UK small press/self-publishing scene. Check out the imagery below from a sample of the Safari exhibitors to get a flavour of the kind of work you can expect to see on the last weekend of this month and pencil it into your diaries. This looks set to be a festival with a voice that is unique among its peers and, hopefully, one that will establish itself as a regular addition to the UK comics calendar!
Books from Breakdown Press whose creators Connor Willumsen, Antoine Cossé, Lando, Joe Kessler and Zoë Taylor will be in attendance.
 Babak Ganjei, Comic Book Slumber Party and Decadence Comics will all be at Safari Festival 
Work from Ditto Press, Donya Todd and Eleni Kalorkoti
Esther McManus's The Elder (reviewed here at Broken Frontier) and the latest issue from Eyeball Comix
Publications from Safari exhibitors Famicon Express, Faye Coral Johnson and Grace Wilson
Comics from Jack Teagle, James Jarvis and Jazz Dad Books
Joseph P Kelly and Landfill Editions will both be there on August 30th
Work from Matt Swan, Rob Flowers and Laura Callaghan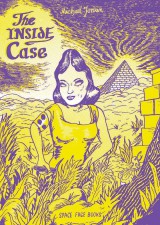 Projects published by Museums Press/Good Press and Space Face Books (JMKE)
The art of Sina Sparrow, Susumu Mukai and Will Sweeney
For full details on the Safari Festival visit the Breakdown Press website here.
For regular updates on all things small press follow Andy Oliver on Twitter here.