It's almost Wednesday, and you know what that means: a fresh load of comics and graphic novels! With so many publications hitting your local comics store or digital storefront, BF is here to lead you through the woods. These are the books that need to be on your pull list this week.
Comic of the Week
Hellboy: The First 20 Years HC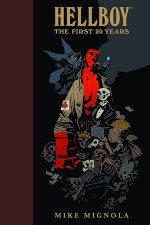 Twenty years ago this Saturday, Dark Horse unleashed Hellboy: Seed of Destruction #1 onto the world, and the rest as they say is history. Following that first proper Hellboy story in 1994, Hellboy has become one of the most successful exponents of the creator-owned movement that Dark Horse so successfully helped blossom.
They unearthed a gem in Mike Mignola, who went from unique-but-odd-fit-on-superhero-titles artist to true star almost instantly since creating Hellboy, with Seed of Destruction snagging an Eisner award just a short year later.
To celebrate, Dark Horse has declared March 22 'Hellboy Day', and the whole world is partying along. The festivities kick off tomorrow with the release of Hellboy: The First 20 Years, a lush, beautiful hardcover featuring everything from Mignola's first Hellboy designs to the best art pieces that have graced the printed page or merchandise since.
Mike Mignola (W/A) • Dark Horse Comics, $19.99
– Frederik Hautain

American Vampire: Second Cycle #1

It is time to sink our fangs into another slice of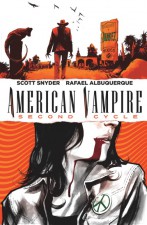 bloody American pie. The second wave of this Eisner award-winning story invades stores on Wednesday, promising a new direction for Skinner Sweet, a big reveal for the Gray Trader and a reckoning for the vampire clans.
But though a change of pace is being touted by the publisher, something promises to remain the same: Scott Snyder and Rafael Albuquerque will continue to be the real killers in this saga, slaying readers with their awesome storytelling powers. Who else would dare relate the history of why the United States is so different to anywhere else by using vampires as its metaphor? Or make a killer out of a doe-eyed beauty – the lovely and brave Pearl Jones?
It is the completeness of their vision that keeps us reading, the knowing that whatever comes – no matter how new it seems – it will have been their intention from the beginning. That is what makes American Vampire so horribly good.
Scott Snyder (W), Rafael Albuquerque (A) • Vertigo Comics, $3.99
– Joe Krawec
Nemo: The Roses of Berlin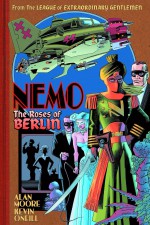 The prevailing winds of comic fandom might be blowing against Alan Moore at the moment, but for a lot of readers, the latest installment of his and Kevin O'Neill's ongoing League of Extraordinary Gentlemen canon – even at a svelte 56 pages – is always going to be a red-letter day.
Set in the dark days of World War Two, The Roses of Berlin follows Janni Nemo, pirate queen and captain of the Nautilus, into the capital of dictator Adenoid Hynkel's evil empire to recover her captured daughter, Hira. Moore and O'Neill plunge into the delirious world of German expressionism, embodied in Fritz Lang's Metropolis, for an encounter with the ageing members of the Twilight Heroes – the League's Teutonic counterparts – and a final showdown between Janni and an old foe.
Alan Moore (W), Kevin O'Neill (A) • Top Shelf Productions/Knockabout, $14.95
– Tom Murphy
Sovereign #1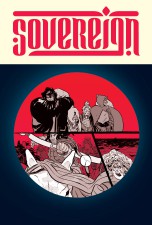 Image Comics' new fantasy epic Sovereign is set in a world of gods, demons, magic, magicians and all manner of otherworldly creatures. Or at least, it was a world full of them – before they disappeared. But now they're coming back.
New York Times best-seller Chris Robinson (Edison Rex, iZombie) is teaming up with illustrator Paul Maybury to create the new high fantasy tale. Sovereign promises a world that is rich, diverse and full of drama and larger-than-life characters – Game of Thrones style. It's a big story world, and big story worlds can be wild and hard to get a grasp on.
The best fantasy series are the ones that don't lose touch on those classic, timeless human themes and elements in amidst the outlandish monsters and exotic realms. Let's hope Sovereign can do the same.
Chris Robinson (W), Paul Maybury (A) • Image Comics, $2.99
– Conori Bell-Bhuiyan
Daredevil #1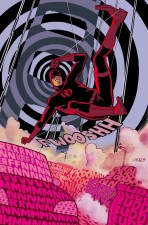 It seems almost pointless for me to come here to suggest you make Daredevil one of your purchases this Wednesday. For you see, this is a Daredevil delivered by the very same team as the previous run. This team includes Mark Waid (yes – that Mark Waid) and Chris Samnee, whom together absolutely nailed the character and story so well last time they won an Eisner for it. Therefore the term "no-brainer" does rather spring to mind regarding this comic choice.
This time round, Matt Murdock is off to pastures new – San Francisco – and we are promised a story filled with events of life-changing consequences. But really, Mark Waid could write Daredevil eating a sandwich and turn it into the biggest and best comic event of the year. So we're going to be reading this, my recommendation or no.
Mark Waid (W), Chris Samnee (A) • Marvel Comics, $3.99
– Joe Krawec
Buffy The Vampire Slayer: Season 10 #1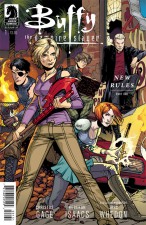 It's the long-awaited start of Season 10! Buffy fans, it's back to basics – slaying the undead in a small California town. The apocalypse has been averted, old boyfriends are out of the picture, and Buffy & Company have restored magic to the world. Now starts the cleanup of the mindless Zompires and other good old-fashioned slayerish activities.
A whole new creative team takes the reins with this season, and writer Christos Gage and artist Rebekah Isaacs have big shoes to fill. If you're new to Buffy – what's wrong with you? – get caught up with the videos, the trades to seasons 8 and 9, and talk to me in six months about how fantastic this series is.
Christos Gage (W), Rebekah Isaacs (A) • Dark Horse Comics, $3.50
– Karen O'Brien
Noah OGN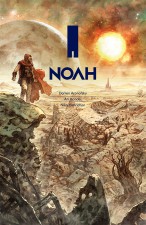 Movie fans will know that the development and post-production of Darren Aronofsky's newest film Noah have been a bit rocky. Any of that aside, Aronofsky is an incredibly talented filmmaker and any new vision from the director should be interesting at the very least.
What should be even more inspiring is seeing how the script gets adapted to the comic book medium. Perhaps spurred on by Vertigo's success with the Girl With the Dragon Tattoo and Django Unchained adaptations, Image is giving this upcoming blockbuster the OGN treatment.
The real story of here is Niko Henrichon's return to comics. It's been awhile since we've seen Henrichon's art, and any excuse to get more of it is welcome. And as we know from the beautiful work on Pride of Baghdad, Henrichon can draw some great animals. Not too shabby a fit with that Ark and all.
Darren Aronofsky, Ari Handel (W), Niko Henrichon (A) • Image Comics, $29.99
– Levi Hunt
Wasteland #52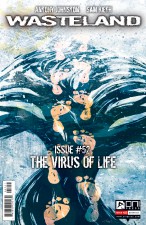 "The Virus of Life" is a one-shot that explores all of the people Michael and Abi have encountered and the lives they have touched on their long journey.
This issue also features the last-ever edition of "Walking the Dust," and writer Antony Johnston got nostalgic discussing it on his website, "It's fair to say I wasn't expecting it to be quite so emotional for me as it turned out for me, but I guess when you've been writing a single character for eight years – even if only for 800 words at a time – you form an attachment. I'll miss Ankya, and her intrepid travels."
Antony Johnston (W), Christopher Mitten (A) • Oni Press, $3.50
– Karen O'Brien
The White Suits #2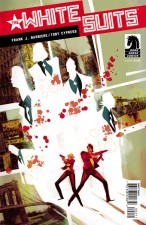 Russian mercenaries, New York gangsters, assassins in white suits and a man who can't remember his past. The first issue of The White Suits came out firing on all cylinders, but left its readers in a similar state as its main character – battered, bruised and clawing for answers.
The mystery begins to unfold in this second installment as we learn the identity of the woman who kidnapped Prizrak and what she knows of his past. The script by Frank Barbiere keeps the plot moving while Toby Cypress's bold line work is full of both life and texture. This issue won't reveal all the secrets of the White Suits, but it'll give you a pretty clear idea of what a crime noir comic is supposed to look like.
Frank Barbiere (W), Toby Cypress (A) • Dark Horse Comics, $3.99
– Tyler Chin-Tanner