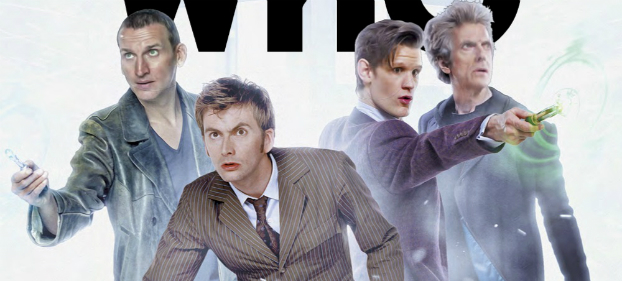 If you're a long-time aficionado of Doctor Who – the BBC's 54-year-old science fiction series – then you'll be aware that when its titular hero crosses his own timeline it usually means there's a universal menace or a temporal crisis of the highest order to be dealt with. This week saw the opening chapter of The Lost Dimension, Titan Comics' 8-part Who event which is set to weave in and out of both its core titles and a number of Specials over the next several weeks.
Somewhere in the empty space between dimensions exists the Void, a silent realm of nothingness that is breaking into the universe with devastating effect and threatening the lives of the Doctor and his companions across his many lives.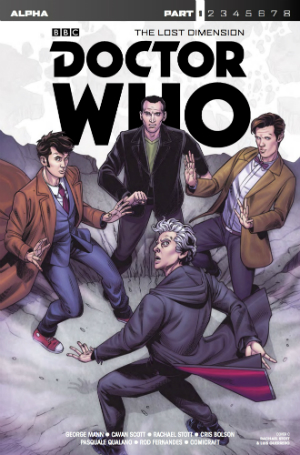 With the Ninth, Tenth, Eleventh and Twelfth Doctors all encountering the influence of this mysterious entity, as it manifests itself in swathes of anti-matter and white holes, it's left to a face from the Doctor's past – one with the most intimate ties to his legacy – to alert his current form of the true scale of the threat they face…
Sometimes it's hard to argue against the feeling that these multi-Doctor storylines that bring together different incarnations of the universe-roaming time traveller have lost a tiny bit of their magic in recent years. Where once they were the sole province of major anniversaries for the long-running TV show, in recent years the Doctor has met previous (or future depending on your perspective) versions of himself in a number of stories in comics, novels and audio dramas. And, of course, this Christmas sees Peter Capaldi's Twelfth Doctor interacting with a recast version of the First Doctor played by David Bradley in the annual festive Doctor Who special.
So, the vital question for Titan when approaching their latest Who event must have been how to make yet another convergence of the many selves that make up the Doctor seem special and not simply another fannish romp. The UK publisher have been building up a growing reputation with their Doctor Who line since they acquired the comics licence a few years back though (last year's Third Doctor miniseries by Paul Cornell and Christopher Jones being a particular highlight) and writers Cavan Scott and George Mann cleverly subvert expectations here by shifting our focus onto a very special returning central character from the show's history…
Doctor Who: The Lost Dimension Alpha is an object lesson in balancing accessibility with fan service. Vitally, it's a gripping page-turner of a story first with frantic but engaging pacing that instantly captures the reader's imagination, leaving them with an old school Doctor Who cliffhanger (and don't we all miss those!?) and a fervent desire to know what happens next.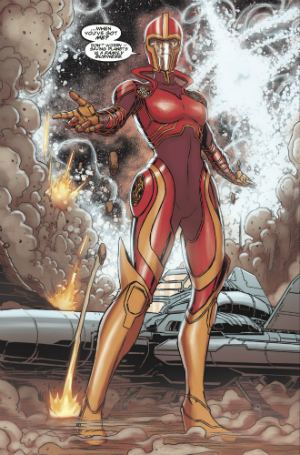 But within that frenetic procession of events and shock twists the longer-term fan will find much in terms of unobtrusive continuity references and nods to the past to bring a wry smile to their face. These include the use of old Gallifreyan legend, a follow-up to a long-hanging TV plot thread, one beautiful meta moment that is perhaps obvious and yet still feels totally inspired, subtle visual references and some far more obvious cameos. All these elements play their part in ensuring that even the most cynical fan will surely find their doubts about the need for yet another multiple Doctor tale quickly evaporating.
Mann and Scott ably capture the voice of each Doctor from the dour demeanour of Capaldi's Twelfth to the boyish enthusiasm of Matt Smith's Eleventh to the hyperactive energy of Tennant's Tenth. Visual characterisation is just as acute. This is a multi-artist offering but it's Rachael Stott who takes the lead role and evokes the essence of the characters she depicts with a fluidity that eschews any stiff photo-realism or obvious reference material, and captures them just as eloquently in their body language as their dialogue does.
Rod Fernandes' colouring also shows great range in terms of atmosphere – bringing a sense of cosmic majesty to the bigger set pieces and a down-to-earth familiarity to some of the character-led moments. He's also called on to lend authenticity in recreating and contrasting certain eras of Tardis history as timelines converge and clash.
From seeming Crisis on Infinite Earths homages to the slapstick comedy business of Nardole there's just so much to enjoy here in an opening chapter that brings together Classic Who, NuWho and Titan's comics additions to the mythos in one wonderful, celebratory whole. A story that crackles and sparkles with warmth and love for its source material, this is a pitch-perfect jumping-on point for anyone yet to immerse themselves in the Titan Doctor Who range.
 George Mann & Cavan Scott (W), Rachael Stott with Cris Bolson, Pasquale Qualano, Elton Thomasi, Klebs Jr & JB Bastos (A), Rod Fernandes (C), Richard Starkings and Comicraft's Jimmy Betancourt (L) • Titan Comics, $4.99
Gosh! Comics is also hosting a Titan Presents: Doctor Who Comics Day signing tomorrow Saturday September 2nd with Paul Cornell and James Peaty. Full details here.