Three years of dedicated and committed self-publishing coverage. Around 300 small press comics reviewed. Approximately 40 creators interviewed. Comics from four continents featured.
Yes, today we're celebrating the third birthday of 'Small Pressganged' here at Broken Frontier! A feature that started out as a (semi) weekly experiment in giving more coverage to UK self-publishing but quickly grew into one of our signature features, putting a spotlight on deserving small press, micropublished and altcomics from across the globe, and helping to inform the new direction of this site when we relaunched in May 2013.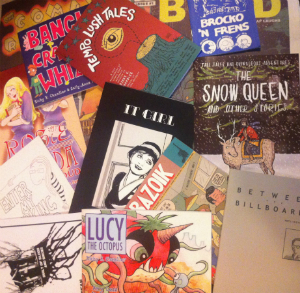 Last year on our second birthday I was, perhaps, a little self-indulgent (though nobody really seemed to mind at the time!). So this year I thought "What better way to mark the third anniversary of this column than by truly embracing its spirit of proactively bringing new creative voices to a greater audience and actually giving away physical copies of some of the amazing work showcased here since 2011?"
With the kind generosity of a whole host of UK small press creators – in combination with a little tenacity of my own in hunting down some now harder to find 'Small Pressganged' faves – we've put together a small mountain of freebie comics to send out to Broken Frontier readers in a special giveaway competition. After all… what good is a party if you don't get a party bag at the end?
One lucky winner will get a bumper pack of at least 20 British small press comics, including some of those books I've highlighted in my annual 'Ten UK Small Press Comics You Need to Own' columns. Ten runners-up will also each receive at least three self-published comics too. You don't get to choose the books you receive but as you can see from just a sample of the comics on offer so far there are some real gems that could be coming your way.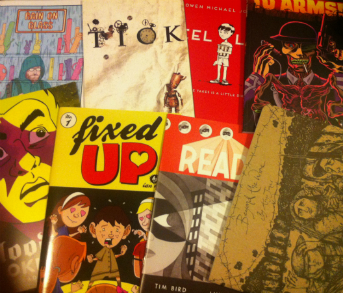 The photos above and left are just a small selection of  the comics on offer but you can see every one of the four new Tempo Lush releases including the latest Lucy the Octopus, Rebecca Bagley's Tick, Sean Azzopardi's Rain on Glass and his collaboration with Douglas Noble Built of Blood and Bricks, Sajan Rai's Brocko 'N Frens, Alys Jones's Beyond the Wire, Jessica Martin's It Girl, First World War anthology To Arms!, Ian Norris's Fixed Up, Isabel Greenberg's Tall Tales and Outrageous Adventures, Adam Cadwell's Blood Blokes #1, Owen D. Pomery's Between the Billboards #1, Elizabeth Querstret's Enter My Working World, Avery Hill's Reads Vol.2, #1 The Comix Reader and so many more! Just check out the list of creators below who are also donating issues to the cause to get more of an idea…
To enter, simply retweet the tweet from the Broken Frontier account here on Twitter. Please note that to be eligible you must be following Broken Frontier on Twitter so that we can DM winners. The competition is open to entries from across the globe and will close on Wednesday 12th November at 12.00pm GMT when our winners will be randomly selected.
Extra special thanks to the following creators and micropublishers for their generosity in supporting this competition. If you're unfamiliar with the work of any of them I've highlighted some choice examples after their names! Avery Hill Publishing (Reads, Grey Area, The Megatherium Club)  Sean Azzopardi (Rain on Glass, Necessary Monsters), PM Buchan (Blackout), Richy K. Chandler/Tempo Lush (Lucy the Octopus, Tempo Lush Tales), Craig Collins (Crawl Hole, Metrodome), Dirty Rotten Comics (Dirty Rotten Comics anthology), Martin Eden (Spandex) EdieOP (Maleficium, Jonah) , Gill Hatcher (Team Girl Comic, The Beginner's Guide to Being Outside), Amber Hsu/Tiny Pencil (Tiny Pencil), Alys Jones (Beyond the Wire), Moogs Kewell (Big in Japan, Crossing Borders) Jessica Martin (It Girl, Elsie Harris Picture Palace), Simon Moreton (Smoo Comics), Danny Noble (Monday Morning), Sajan Rai/Backwards Burd (Petty Beach), John Riordan and Dan Cox (Hitsville UK), David Robertson (David Robertson's Dump).
Here's to the next 300 unearthed gems from the small press scene!
For regular updates on all things small press follow Andy Oliver on Twitter here.