Small Pressganged is Broken Frontier's weekly column designed to shine a spotlight on the often overlooked world of small press, self-published and altcomics. Every week we provide a mix of review round-ups of the best of current small press comics and spot interviews with some of the movers and shakers of the scene.
Here we are at year's end with the "Best of" column that is emphatically not a "Best of" column. Yes you read that right… because I wouldn't dream of claiming I could single out the "best" small press books of 2012 with any degree of authority. I'm merely one bloke with one middle-aged comic fan's individual tastes after all. So what this list attempts to do, instead, is give you a selection of just some of the SP comics, from hundreds I read this year, that I feel represent the diversity and brilliant creativity embodied in the U.K. scene.
Why just the U.K. when the column has featured plenty of books from not just Europe but also the U.S., Canada and Australia? That's simply because the bulk of submissions for 'Small Pressganged' reviews have come from my home shores. Next year, with your involvement, perhaps I'll be in a better position to be a little less parochial. So get submitting one and all! Details at the bottom of the column for those wanting to see their work covered here.

So read, digest, then order lots of great small press comics and enjoy! And while you're doing that I'll be spending the festive season wallowing in guilt at all the fantastic comics and deserving creators that I couldn't squeeze into this list of just ten highlighted titles…
ink + PAPER
David O'Connell (editor), Anthology – Various creators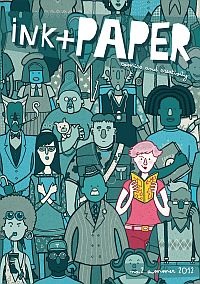 Something that remained a constant source of delight for me throughout 2012 was that the plethora of excellent British SP anthologies out there all maintained their own unique identities despite largely drawing on a similar pool of creators. ink + PAPER's wonderful mix of some of the very best of Brit small press short story comics work, handsome production values and eclectic text features marked it out as something very special.
Small Pressganged review here.
Small Pressganged soundbite: In the ever burgeoning pantheon of Brit small press anthologies ink + PAPER has firmly established its own niche. It's the Sunday supplement of that world; something to put one's feet up with and enjoy on a leisurely weekend morning with a pot of Earl Grey and some delicate biscuits.
Visit the ink + PAPER site here. Buy copies here.
The Lengths
Howard Hardiman (writer/artist)
Howard Hardiman's tale of dog-headed male prostitutes was never an easy read in 2012 but it was always a must-read. This compelling story of art school drop-out Eddie living a double life as male escort Ford touched on issues of deception, trust and identity, and featured forceful, dark visuals that got more confident and assured with every issue. If this isn't picked up and published as a collection in 2013 then there really is no justice in the world.
Small Pressganged reviews here and here.
Small Pressganged soundbite: Its layered narrative, with those revelatory chronological shifts back and forth, and intense, multi-faceted characterisation mark it out as one of the most unique and thought-provoking comics – small press or otherwise – out there at the moment.
Visit The Lengths site here. Buy copies here.
Lizz Lunney's minicomics
Lizz Lunney (writer/artist)
I'm going to lump all of Lizz's 2012 work as one distinct entity rather than pick a specific offering from this year's output. Whimsical, bizarre and brilliantly silly, the world of characters like Depressed Cat, Keith the Wizard and his Magical Unicorns, Dullbog the Bulldog, Leaning Rabbit and company never, ever fails to bring a smile to my face and brighten up the day. Feelgood comics at their best.
Small Pressganged review here.
Small Pressganged soundbite: Let's just unoriginally paraphrase Dr. Johnson and say "a reader who is tired of Lizz Lunney comics is tired of life" and leave it at that.
Visit Lizz's site here. Buy copies here.
My Cardboard Life
Philippa Rice (writer/artist)
And again the print output of Philippa's My Cardboard Lifewebcomic gets grouped together here as one discrete piece of work. My Cardboard Life is one of those true originals – a photo collage strip using all manner of household objects in its construction that follows the adventures of the put-upon Cardboard Colin, his object of his affection the indifferent Paper Pauline, and a host of other surreal characters like Dr. Bandaid, Cardboard Carl and the destructive Polar Bear. This year's print highlights from the world of MCL included St. Colin and the Dragon and Recyclost.
Small Pressganged reviews here and here.
Small Pressganged soundbite: Truly a comic strip with that all-important crossover appeal for both fans of the medium and non-comics readers alike. Utterly splendid.
Visit the My Cardboard Life site here. Buy copies here.
Smoo Comics
Simon Moreton (writer/artist)
The stark minimalist style of Simon Moreton's autobiographical Smoo Comics was one of the great revelations of 2012 for me. Honest and often raw storytelling that uses reductionist depictions of landscape and scenery to emphasise mood and emotion, Simon's work is stirring and quite extraordinary in execution. These are comics that will stay with you long, long after you've filed them away.
Small Pressganged review here.
Small Pressganged soundbite: Understated yet emotionally eloquent, this is slice-of-life storytelling at its most open, candid and sincere.
Visit the Smoo Comics site here. Buy copies here.
Tick
Rebecca Bagley (writer/artist)
Okay, upfront this one is a bit of a cheat because it was published in the latter part of 2011 but I'm claiming it here on the grounds that this was the year it gained some prominence, and because if there was a single small press book I really wanted to champion this year then Tick was the one. This story of a strange little mechanical man, discovered long forgotten in an old house, is a beautiful and touching tale of finding one's place in the world and features stunningly composed, unforgettably atmospheric visuals. If you trust what I write in this column to even the tiniest degree and you haven't picked this one up yet then what are you waiting for? An absolute gem.
Small Pressganged review here.
Small Pressganged soundbite: Bagley presents a layered and captivating tale here, brought to visual life with an exquisite eye for detail and a remarkably assured and confident storytelling style. If you don't instantly fall in love with Tick after a first reading then, quite frankly, you have no soul…
Visit Becky Bagley's site here. Buy copies here.
Cafe Suada
Jade Sarson (writer/artist)
Another comic I reviewed in its print incarnation that originated as an ongoing online series. Cafe Suadacentres on the competitive feud between Geri, who runs the Piyo Piyo Tea House and Ewan, the manager of the next-door Dark Moon Coffee House. This "Battle of the Beverages" produced one of the most charming and fun comics it's been my pleasure to read this year and Jade's visuals – those gorgeously designed, manga-influenced, "tea-stained" pages – add a whole extra dimension to the reading experience.
Small Pressganged review here.
Small Pressganged soundbite: This is incredibly confident storytelling that shows a deep understanding of the language of comics and the unique potential that sequential art has for communicating ideas.
Visit the Cafe Suada site here. Buy print copies here.
Dark Matters
Sean Azzopardi and Douglas Noble (storytellers)
Again, a slight cheat as this collection, although published in 2012, contains older work side-by-side with all-new material. But hey, my column, my rules! Dark Matters is an anthology that houses some of the most gloriously unsettling supernatural/psychological thrillers you will ever have the privilege of being disturbed by. From the haunting 'Sightings of Wallace Sendek' (with new material included here) to the disquieting creepfest that is 'Built of Blood and Bricks' it's the perfect showcase for the collaborations of, in my opinion, two of the U.K.'s top small press creators.
Small Pressganged review here.
Small Pressganged soundbite: One of the small press "must-buys" of the year, snap up Dark Matters now and then save it for a dark, wintry night when the wind is howling around the eaves. A magnificently chilling anthology offering.
Visit Douglas Noble's site here and Sean Azzopardi's site here. Buy copies here or here.
The Comix Reader
Anthology – Various creators
The newspaper feel of The Comix Reader, and that larger size presentation, give it a true comix vibe; a sensation of something slightly underground and ephemeral in tone. It's a real grab-bag of styles and approaches with each strip generally having just a one-page canvas on which to present its narrative or make its point. Cheaply-priced and so accessible; its 2012 editions were a fantastic starting point for further investigation of the work of the small press creators within its pages.
Small Pressganged review here.
Small Pressganged soundbite: At an incredibly affordable price of just one shiny pound coin it means that even if you only enjoy half the strips on offer here you still come out a winner. Only the cheapest of churls could surely argue otherwise. 
Visit The Comix Reader site here. Buy copies here.
Team Girl Comic
Gill Hatcher (editor) Anthology – Various creators
What I absolutely adore about the all-female collective anthology Team Girl Comic is that it represents grassroots small press publishing at its very best. A true sense of community prevails here and a commendable attitude that says to its contributors that "if you have a voice then we have a platform." The material each issue presents is always unpredictable – the topical, slice-of-life offerings, comedic strips, experimental entries… it's all here – but, most importantly, this is a comic with true heart, and a welcome reminder that the small press belongs to all of us.
Small Pressganged reviews here and here.
Small Pressganged soundbite: The whole Team Girl Comic experience has such a committed feel of community to it that it encompasses everything I most value in the small press – that democracy and the sense that anyone with something they want to say can make comics that say it. A simple philosophy graciously and admirably realised by the TGC crew.
Visit the Team Girl Comic site here. Buy copies here.
And, as the last 'Small Pressganged' of 2012 draws to a close, a hearty thank you to everyone who has supported our attempts this year to draw attention to the fabulous small press/self-published/altcomics material out there by retweeting, Facebooking and blog-linking to this column. The creators featured here deserve that extra push, and I have no doubt whatsoever that 2013 will be just as exciting a year for fans of the small press scene as 2012 has been!
###
Andy Oliver is Broken Frontier's Managing Editor and a contributor to Paul Gravett's 1001 Comics You Must Read Before You Die.

If you are a small press comics creator, or self-publisher, and would like your work to be reviewed in a future edition of Small Pressganged then e-mail Andy at andyoliver@brokenfrontier.com for further details. You can also follow Andy on Twitter here.