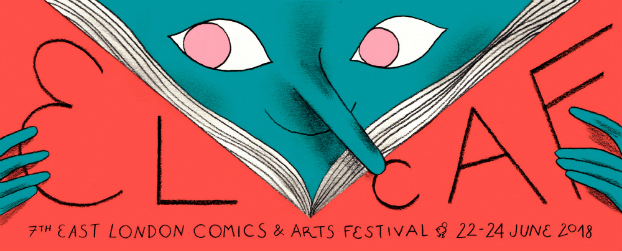 After our ELCAF Fortnight coverage at Broken Frontier (did we mention our 17 reviews, 15 interviews and 5 feature articles?) – not to mention our constant social media activity over the weekend – we figured if you're a regular Broken Frontier reader then you probably already have a strong feel for just what a wonderful weekend of indie comics and illustration it was.
So we've decided to take a slightly different approach to our annual ELCAF round-up this year and, instead of a traditional report, to showcase five positive things about the 2018 East London Comics and Arts Festival that made it such a memorable and celebratory event for us.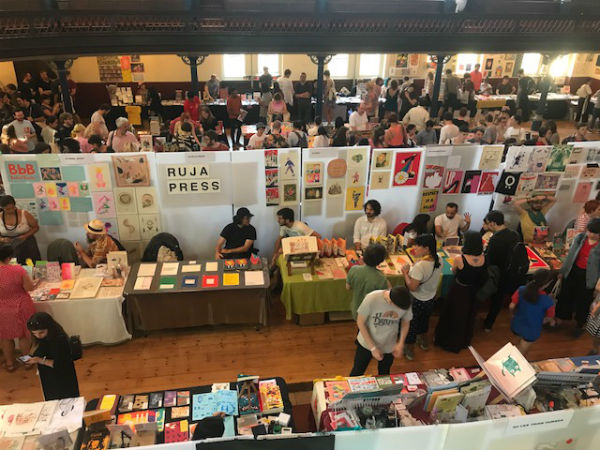 There's so much to discover from international comics practice and ELCAF delivered on that
ELCAF is a truly international show and we tried to reflect that in our pre-festival coverage with articles on folk like Russia's Sputnikat, Sweden's Peow and Italy's LÖK ZINE among many others. But there were still plenty of cross-continental gems of comics to unearth across the weekend from many publishers/creators we didn't have time to plug beforehand, with exhibitors coming from as far afield as Brazil (Bebel Books) and, of course, who can forget the Lebanese comics of ELCAF Audience Award winners Samandal? I was lucky enough to chat extensively with the Samandal team at dinner on the Saturday night and have already started digging in to their anthology book.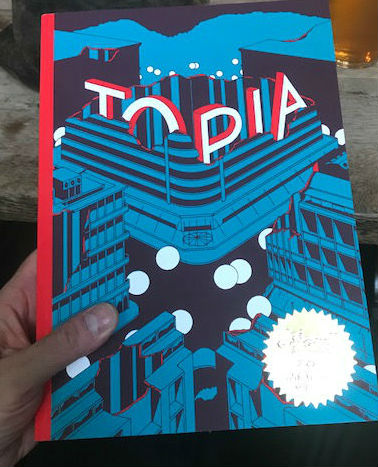 To see so many global approaches was inspiring. We've been doing this a long time at BF and have usually had most of the domestic debut books sent to us well in advance of home events. But ELCAF gives us ample opportunity to not just turn up work we wouldn't have seen otherwise but also to hear some of the creators concerned talking about it via that packed programme of workshops, talks and panels.
Championing new creators is a reward in itself
One of the loveliest stories of ELCAF 2018 for us encapsulates the festival's commitment to creating opportunities for new creative voices. Last year at the ELCAF Springboard Meetings – effectively portfolio review sessions – I spoke to Chloe Elise Dennis (work below), a student who had just graduated and was looking for input on where to go with her work next.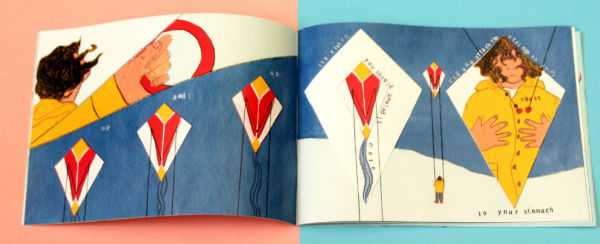 We've followed Chloe's practice and development over the course of the last year here at BF (as well as Camille Aubry and Ben Williams whose portfolios I also looked at in 2017) and it was a real joy to see her tabling with Sinae Carrotate Park and Luke Finch as the Baguette Trousers collective at ELCAF this year. ELCAF is always excellent at creating a place for collectives of younger talent and it goes without saying that finding space for our next generation of indie comics stars is in all our best interests.
And, on a similar note, for us here at Broken Frontier seeing Jayde Perkin (below), one of our 2018 Broken Frontier 'Six Small Press Creators to Watch', winning the prestigious ELCAF x WeTransfer Award was our greatest pleasure of the weekend. We've already spoken in depth about Jayde's moment here at BF but this much deserved recognition was our festival highlight and we can't wait to see her book as the publishing centrepiece of ELCAF 2019.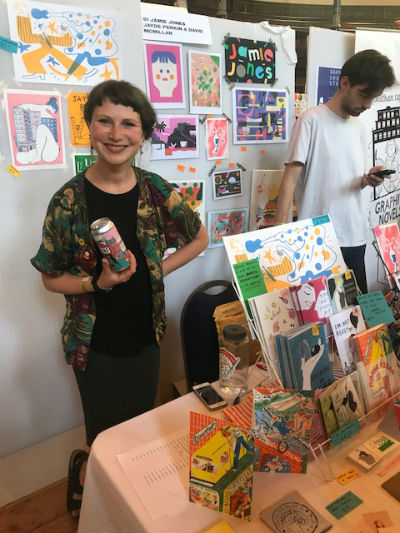 Comics community is not a myth
This year's Broken Frontier panel at ELCAF was on the loose theme of 'Comics and Routes into Publishing' and was, once again, a packed-out affair. I chaired a discussion with Ricky Miller of Avery Hill Publishing, Tom Oldham of Breakdown Press and Gosh! Comics, BF's own EdieOP (British Comic Award-nominated creator of Maleficium) and 2017 Broken frontier 'Six to Watch' creator Sabba Khan, recently shortlisted for the Myriad First Graphic Novel Competition. The idea of the panel was to share experience, provide pointers, and get artists at the beginning of their comics journeys thinking about how to raise their own profiles as they embark on a road to (hopeful) publication.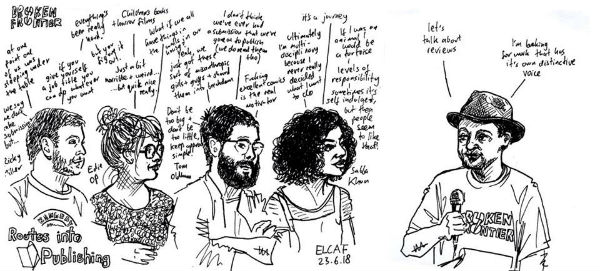 Broken Frontier's own Jenny Robins brilliantly captures the spirit of the panel
So many people come together at an event like ELCAF with a willingness to help their peers and nurture newer talent. The UK small press scene has always been a fantastic community in that regard and our panel was just the tiniest example of that at ELCAF this year. I spoke to so many newbie creators who'd visited the tables of publishers, or more established artists, and been given advice and suggestions about their practice. This is an incredibly supportive and generous community in that regard and we probably don't acknowledge that nearly enough.
(Photo credit: our thanks to Dimitra of Ahoy Universe for use of this photo!)
We've only just started scratching the surface of what comics can be
Graphic novelist Karrie Fransman, herself a great example of a creator constantly experimenting with the boundaries of the form, said in a 2015 interview with us at Broken Frontier "I think what excites me the most about the medium is how young and open it is. Unlike cinema, photography or fine art, comics are still being defined. And it's a medium which is open for any of us to define it."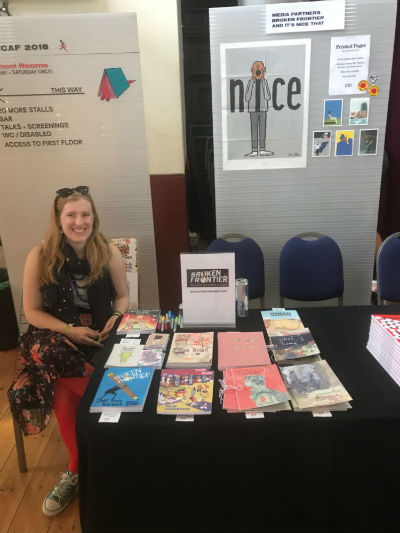 Our Jenny Robins on the Broken Frontier Table 
That was so evident at ELCAF with so many fine examples not just of artists playing with the structure of the form but also with its presentation in so many inventive, tactile ways. ELCAF is always a carefully curated event and that was readily apparent over the course of the three days as the Round Chapel was transformed into a treasure trove of sequential art and illustration riches.
We loved being a part of ELCAF 2018 here at Broken Frontier!
Okay we're finishing up on a self-indulgent note here at the end but being an official festival media partner was an absolute privilege for the team. From our two weeks of pre-festival coverage (which in real terms was months in the planning) to tabling on the Saturday, through to this year's panel and our Springboard Meetings involvement, it was a blast from start to finish, and so representative of the values and philosophy of the site in promoting the very best new work the medium has to offer.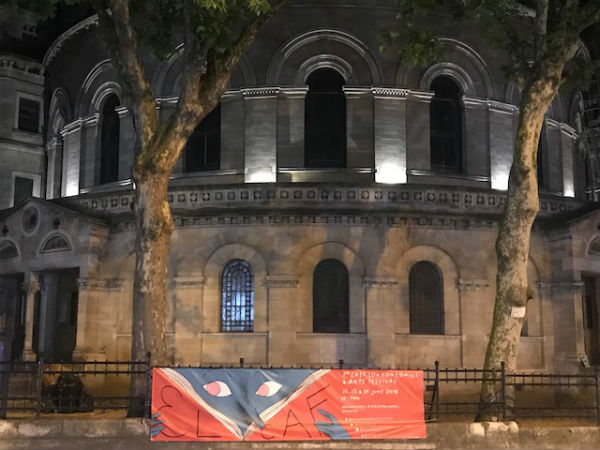 The impressive Round Chapel festival venue at the close of ELCAF 2018
Thank you, then, to the entire ELCAF team for making this the very best ELCAF to date. As with every year ELCAF 2019 simply cannot come fast enough!
Catch up on all our ELCAF Fortnight articles here.  And don't forget to  follow the festival on Twitter here in readiness for ELCAF 2019.