Last year's online Hackney Comic + Zine Fair introduced me to a number of new comics talents whose practice I had yet to encounter. One of those artists was Lesley Imgart whose slice-of-life/autobio collection of strips I Was Thinking reflected familiar feelings of the early pandemic months, with a distinctive approach that bordered on graphic poetry.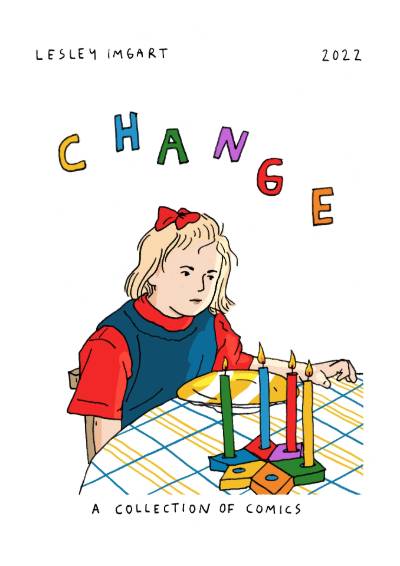 Imgart's latest comic is Change, another collection of short comics that range from just a couple of panels to a handful of pages in length. Each story is numbered rather than titled, with thoughts on the titular subject from a variety of perspectives; some existential in their considerations and others specific to experiences like love, loss and our pandemic world.
In that sense Change has a necessary feel of the fragmented. This isn't a comic about narrative, it's a comic about capturing the emotional immediacy and intensity of given moments. There are frequent questions raised about how change impacts our identity and conception of self; of how our environment enters into the dynamics (especially in light of the pandemic); and of how we navigate those frequent shifts.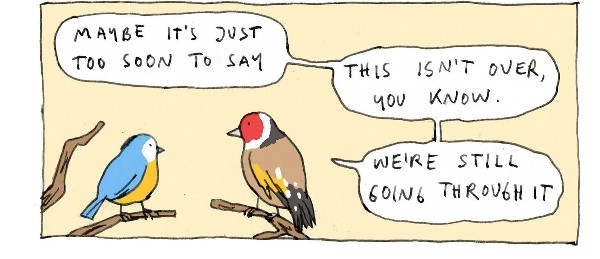 What Imgart does here is to present ideas of transformation and themes of moving ever forwards in a way that is deeply personal and yet universally recognisable. This is a pensive and philosophical compilation of strips that ruminates as much on the illusion of change as its actualities; of how we perceive, adapt to and sometimes fear the idea of inconstancy as much as defining that unavoidable state of flux.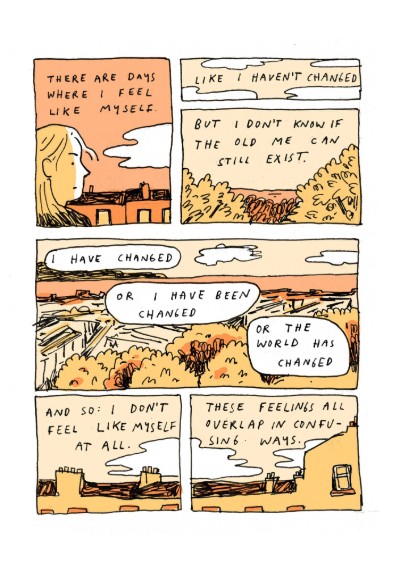 As with I Was Thinking Imgart doesn't always feel the need to populate every comic with a physical presence, although she makes far more on-page appearances in Change. Sometimes, though, her thoughts are set against the background of the scenery she is travelling through. On other occasions visual metaphor is used to convey themes as in one notable strip on relationships that deals with "the orbital mechanics of interpersonal relationships".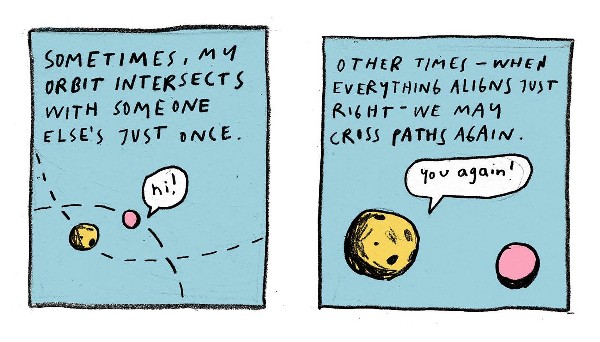 Imgart's loose, accessible cartooning and intelligent, considered use of colour brings us directly into her mindset on an empathetic level throughout, without the need for over-elaboration or specificity. Indeed, often it's up to the reader to imagine the stories around the stories and to accept that we are interacting with the material in an instinctual rather than interpretive manner. Of further interest are the additional commentaries on the comics from Imgart, giving insights into her thought processes at the time. Another intriguing approach to autobio comics from a voice deserving of a far greater reach.
Lesley Imgart (W/A) • Self-published, £10.00
Review by Andy Oliver