Press release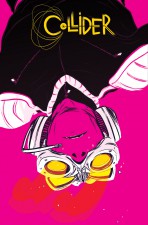 Get ready for COLLIDER, an incredible new journey that takes you through the crossroads of what is real and what can only be imagined. On July 31st, we will celebrate the release of the first issue of this exciting new Vertigo series with artist, Robbi Rodriguez.
"Given the right conditions the impossible is always possible…" These are the words which establish the world of COLLIDER, a bold new entry in the sci-fi genre unlike anything you've seen before. Combining the extraordinary talents of writer Simon Oliver (THE EXTERMINATORS, GEN13) and artist Robbi Rodriguez, COLLIDER #1 explores a world where wormholes in your kitchen, gravity failures at school and quantum tornadoes tearing through the mid-west are all part of the new normal.
COLLIDER is the story of Adam Hardy: young, brash and smart, he's a rising star at the Federal Bureau of Physics, a new government agency formed with the mandate "to prevent and protect." But when a gravity failure leads to the creation of an alternate dimension known as a 'BubbleVerse,' Adam is sent on a rescue mission and finds his skills and abilities pushed to their limits when he discovers his partner has a different agenda.
"Some years in the not too distant past the world as we know it changed. The expansion of the universe reached a point where the space/time fabric stretched too far and the laws of physics, the constants of our world, are no longer as carved-in-stone as they once were," said Oliver. "[L]ike most things in life, man has kind of adjusted and moved on to this new reality…The key thing is that it is very much like our own world, only physics is no longer reliable."
"When I came up with the idea for this book, I hit the books pretty hard, starting from scratch, from Newton through to quantum, and something interesting came up…I found every time I came up with something, no matter how crazy an idea, a week later I'd discover it was at least an existing theory," Oliver added. "I felt when you can't out-crazy science, that it was kind of a sign to me that I was on the right subject."
WHO: Robbi Rodriguez
WHAT: Collider #1 release party & book signing
WHEN: Wednesday July 31, 5-7pm
WHERE: Floating World Comics, 400 NW Couch St.
Bio info:
Robbi Rodriguez is a cartoonist from Waco, Tx. who debut in 2003 with Hero Camp from Image Comics. Since then other works have included Nightclub (Image), Hazed (Image), Stephen Colbert's Tek Jansen (Oni Press), Polly and the Pirates Vol.2 (Oni Press) and the Harvey Award nominated "Maintenance" (Oni press).  In 2008, Robbi was diagnosed with keratoconus, an eye disease thats cause continuous damage to the corneas. It has reached a stage where Robbi is now classified as legally blind. Despite this Robbi continues to work through this. He started his first solo project Frankie, get your gun. An acid western comic which can be found at:  FrankieGetYourGun.com