Press Release
Commando Issues 4659-4662 are On sale 5th December 2013, courtesy D.C.Thomson & Co., Ltd. . You can find them online here.
Commando No 4659 – Bad Vibrations
Running from a hail of lead fired by vengeful Germans as tons of concrete from collapsing U-Boat crashed down around them — just a normal day at the office for the Convict Commandos, surely?
This time, though, Guy Tenby, Smiler Dawson, Titch Mooney and new boy Spider Mackay were really worried. They had lost one man on a previous mission and this one had been giving off bad vibrations from the start.
Story: Alan Hebden
Art: Benet
Cover: Benet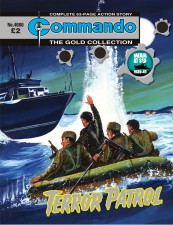 Commando No 4660 – Terror Patrol
The narrow Channel between England and the Continent has always been vital to our safety. That was where Drake took on his enemies, the Spanish Armada — and in the last war it was where the little ships of the torpedo flotillas took on their German foes, sweeping them back from our shores.
This story is about these patrol boats and the heroes who sailed them. And especially it is about Bill Ashby, flotilla commander, who conquered not only the fast E-boats, but even Germany's mightiest battleship!
Introduction
Many of the naval battles that were fought in the narrow seas of the English Channel were fought in darkness, masked from the probing eyes of RAF or Luftwaffe. With this in mind, Sostres was a brilliant choice of artist for the inside work, his high-contrast style perfectly suiting the partially illuminated night. The story handles the one man's change from commanded to commanding without ever losing any of the action Commando is known for. Ken Barr's cover almost seems like an unnecessary extra but of course it isn't!
Calum Laird, Commando Editor
Terror Patrol originally Commando No 66 (Apr 1963)
Story: Clegg
Art: Sostres
Cover: Ken Barr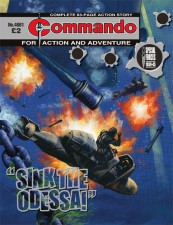 Commando No 4661 – "Sink The Odessa!"
Royal Navy Lieutenant Mike Fraser and Chief Petty Officer Derek Chalmers were frogmen — well used to going on daring solo operations in the murky ocean depths aboard their underwater chariot.
But when an important job to sink a strategically vital battleship went awry in the German-occupied Crimean region of Russia, they found themselves teaming up with a rag-tag guerrilla group in a desperate attempt to complete their mission.
Story: Alan Hebden
Art: Morahin
Cover: Janek Matysiak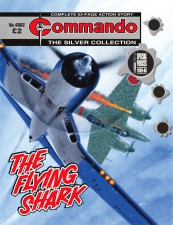 Commando No 4662 – The Flying Shark
He was a brilliant fighter pilot, ruthless and cunning — he knew no fear. For his breath-taking skill and sheer nerve he was known to friend and foe alike as "The Flying Shark".
But there was another reason for that name. Tattooed on the pilot's shoulder was the emblem of a shark's head. He didn't know how it had got there — in fact, he didn't even know who he really was!
Introduction
Brought to you by a trio of our finest contributors — each of whom is without doubt firing on all creative cylinders — The Flying Shark is classic Commando through and through.
Writer Roger Sanderson — now best known as a prolific author of Mills & Boon romance novels — delivers an exciting script with a neat mystery at its core. Visually, Gordon Livingstone's interior artwork is up to its usual impeccable standard while Ian Kennedy's cover is typically stunning.
As I said: classic Commando. I hope you enjoy re-visiting it.
Scott Montgomery, Deputy Editor
The Flying Shark, originally Commando No 2224 (October 1988), re-issued as No 3724 (June 2004)
Story: Roger Sanderson
Art: Gordon Livingstone
Cover: Ian Kennedy