Press release
D C Thomson & Co Ltd has provided BF with a list of titles coming in stores 15 August 2013.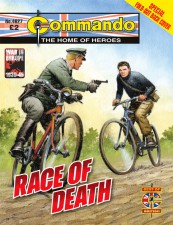 Commando 4627 – Race Of Death
Pre-war, Ben Radley and Hugo Carlyle had been professional racing cyclists. And after they joined up they were soon using bicycles once more — as an integral part of the daring missions their Commando raiding team pulled off. Using two wheels they could go where bigger, noisier vehicles could not.
Eventually, on one operation their luck ran out and they were captured. Then, out of the blue, came a slim chance for freedom…if only they could out-pedal an old adversary…
Story: Alan Hebden
Art: Morahin
Cover: Ian Kennedy
http://www.commandocomics.com/latest-issues/15th-august-2013-collection?issue=4627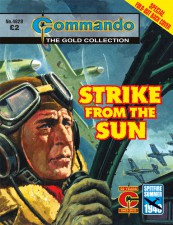 Commando 4628 – Strike From The Sun
Out of the glaring sun they swooped, these messengers of death, to smash great gaps in the formations of German bombers that swarmed over England. And leading them was one of the greatest Spitfire pilots of all time — a man of iron will and brute courage. Boldness, daring, strength flowed from him into those who flew at his wing-tips. When he led…the squadron was invincible.
Introduction
It's one thing to be able to draw complete aircraft, quite another to draw them disintegrating but Peter Ford handles both situations very well indeed. So much so that he has time for a little fun on page 19 and pushes the envelope on page 51.
   In doing so he sparks this Clegg story into the life its author always intended, the tale of a set of washed-up pilots given another chance to shine. You certainly get a hint of that tension in the pilot's face on the cover. Good work by Ferraz, one of only two covers he supplied for Commando.
   Better see if they can take the chance, then…
Calum Laird, Commando Editor
Strike From The Sun originally Commando No 64 (April 1963)
Story: Clegg
Art: Peter Ford
Cover: Ferraz
http://www.commandocomics.com/latest-issues/15th-august-2013-collection?issue=4628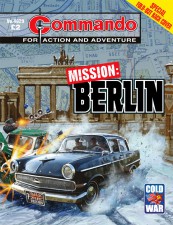 Commando 4629 – Mission: Berlin
Berlin had been a battleground throughout the Second World War — first as Allied bombers pummelled the heart of Hitler's Reich then later as Soviet forces overran the city.
After Germany's surrender, the city was divided up amongst the Allies and slowly but surely tensions rose until the city became a battleground once more. Perhaps there were not the pitched battles of previous years, but the skirmishes could be just as deadly…as Captain Tony Hibbert of the Parachute Regiment discovered when he was sent to join the curiously named BRIXMIS.
Story: Mike Knowles
Art: Janek Matysiak
Cover: Janek Matysiak
http://www.commandocomics.com/latest-issues/15th-august-2013-collection?issue=4629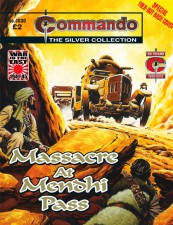 Commando 4630 – Massacre At Mendhi Pass
A green flare arched into the sky above the Mendhi pass on the North-West Frontier of India and, within minutes the British convoy was winding its way through the mountain gorge. An ominous atmosphere had filled the air and all instincts told Lieutenant Martin Kenwood to turn back, but duty conquered his fears and made him go on. Then suddenly a dark, fearsome figure rose to its feet and screeched the command —
"Death to the infidels!"
Introduction
Here's some classic Commando action — courtesy of a couple of Kennedys. I am, of course, referring to our long-time cover artist Ian Kennedy, who does us proud as usual, while the other is none other than Cam Kennedy. Like his namesake, a fan favourite in the world of comics.
These drawing legends are not related but they are firm friends — and at a Dundee comic convention, Ian jokingly called Cam his brother! They may not be bonded by blood but as well as a surname they share an amazing talent for illustration, in parallel careers spanning many years.
Scott Montgomery, Deputy Editor
Massacre At Mendhi Pass, Commando No 2155 (February 1988), originally Commando No 860 (August 1974)
Story: Lomas
Art: Cam Kennedy
Cover: Ian Kennedy
http://www.commandocomics.com/latest-issues/15th-august-2013-collection?issue=4630