The Complete Accident Man collects four tales of sex, revenge and violence starring hitman Mike Fallon – a genius at the art of making assassination look like an unfortunate accident, whose ego overrules even the legendary status of comics author Pat Mills.
Once upon a time in British comics history, way back in the late '80s, the creative people were fed up with the way things were. They banded together to let loose a flurry of new comic magazines upon the unsuspecting British comic-reading audience, and the proverbial cap off the bottle was Pat Mills' Toxic – a roaring and racy periodical aimed at the pre-adult crowd who'd grown tired of the same-old-same-old of The Beano but were still too young to tackle more serious comics.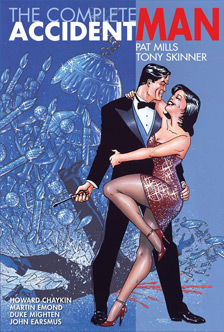 There comes a time in a young man's life when he just wants to see suave alpha males surrounded by half-naked women while things explode all around them, and Toxic delivered in spades, featuring material like Marshall Law, Muto Maniac, Sex Warrior, Psycho Killer and … Accident Man.
Mike Fallon is a cocky and overly egotistical hitman who specialises in making hits look like accidents. His main fascinations are money, money and money, and human social interaction is viewed in terms of either sexual gratification, acquiring more money or helping out with his P.M.T. – Post Murder Tension, which basically means kicking the crap out of people, because he's also an expert martial artist. Apart from his hitman skills, he specialises in taking superficiality to a whole new level.
As you can probably tell, it's all pretty tongue-in-cheek and reads like a cross between 1987's Wall Street and 1985's Remo Williams: The Adventure Begins, with a dash of John Hughes slapstick thrown in. As Pat Mills himself said: "It's a great piss-take on consumerism." Titan Comics have now collected all of the Toxic serials and Dark Horse mini-series in one huge hardcover.
The Complete Accident Man ranges from straight "action movie" to parody to satire. It features three different artists, with the first adventures tackled by the late Martin Emond, then at the start of his all-too-brief career, who I feel was best suited for the material.
Like a slicker hybrid of Ian Gibson and Kevin O'Neill, his paintings capture the right balance of dynamic action and cartoony shenanigans. His martial arts sequences are well choreographed as Fallon takes down one adversary after another while letting off steam. He also gets to draw the origin of Fallon, who seemed to be a mad bastard from puberty onwards.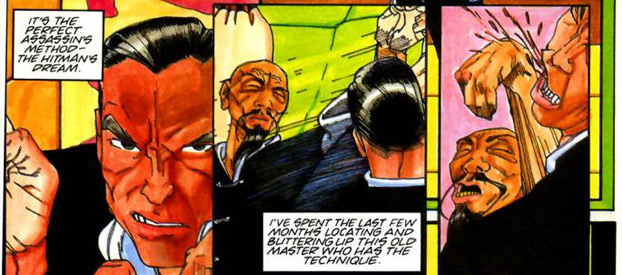 Next up is the much more stylised paintwork of Duke Mighten, whose clean visuals are spot on for Fallon's lifestyle, but who misses a bit of the dynamic energy that Emond injected into the strip. It all becomes a bit plainer as Fallon infiltrates the mob and tries to steal the Death Touch from an old sensei, while the pages are splattered with bright colours,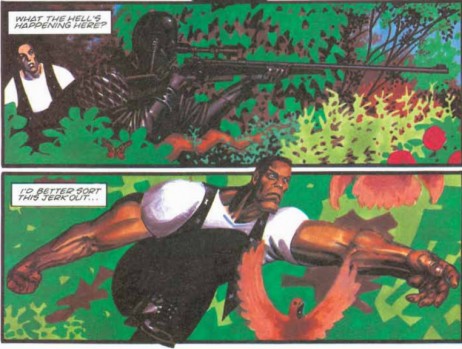 John Erasmus then enters the scene to explore Fallon's love life (hint: it involves a lot of gratuitous sex and women as window dressing). At this stage Pat Mills also tries to inject a bit of ecological consciousness into Fallon – which Fallon won't allow, of course.
Erasmus is great, however, injecting a bit more energy into Accident Man, with great facial features worthy of Colin MacNeil and Simon Bisley. He successfully merges Emond's energy with Mighten's vivid painting skills.
In the longest story in the collection, Fallon sets out to avenge the death of his ex-girlfriend – who became a lesbian treehugger – with the woman she left him for. The tag-team of the extremely egotistical Fallon and an anti-materialist lesbian environmentalist leads to some great gags and makes this the best of the bunch.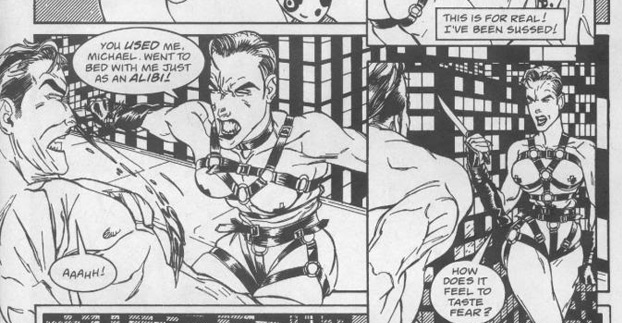 For the final storyline, Duke Mighten returns with black-and-white line art, and here our ever-vacuous hitman starts to show some wear and tear. The visuals seem to delight in recapturing the fashion atmosphere of the late '80s, which definitely feels off for the ever fashionable Fallon.
The infiltration-into-the-mob story by way of the sexy daughter of the main Mafioso sure is saucy, as Fallon gets to live out all his sexual fantasies, but Mighten renders it too clichéd, with overly muscled characters in bulky suits and too much smugness.
The Complete Accident Man by Pat Mills and his collaborators is a love-it-or-leave-it concept. if you like tongue-in-cheek humour with a violent streak and plenty of chauvinistic sexiness, Mike Fallon, hitman of the year, is your man!
The Complete Accident Man by Pat Mills, Tony Skinner, Martin Emond, Duke Mighten and John Erasmus is published by Titan Comics. It is a full-colour hardcover counting 232 pages and retails for €29.99.