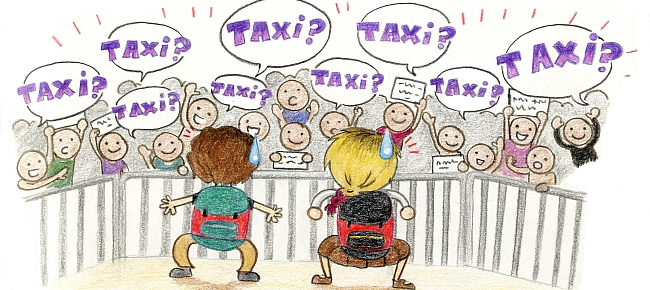 I've focused on the comics travelogues of small press creator Moogs Kewell in the past in 'Small Pressganged' back when I reviewed her self-published offering Big in Japan here last year. That book took in a tour of Tokyo and its environs on Kewell's way to the wedding of two of her friends. Crossing Borders is a similar cross-cultural journey of discovery detailing the author and her partner Matt's vacation trip to Thailand and Cambodia, and recounting their observations of both countries from a tourist's eye view of events.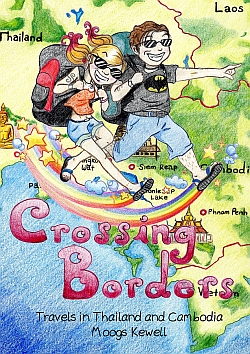 For the purists for whom these things matter, this is technically more of an illustrated diary than sequential art per se. Kewell has essentially created a largely hand-drawn scrapbook of the couple's adventures on holiday with accompanying commentary on the locations, customs and culture of the places they visited, complete with scanned copies of tickets, receipts and flyers to add an extra layer of authenticity to the proceedings. From that perspective this won't be a book that appeals to those who find anything in the area of the diary comic to be self-indulgent but if, like myself, you enjoy plunging into other people's lives for a half hour or so then Crossing Borders is an engaging mix of witty anecdotes and poignant analysis.
In that sense there are two levels on which the comic works. In the first instance we have Moogs and Matt's holiday highlights – their borderline comedic dealings with over-enthusiastic taxi drivers and awkward attempts at marketplace haggling, the sense of history surrounding the ornate temples they visit and the natural beauty of the countries, and those amusing moments of shared experience like chatting to the locals about Scottish football teams. But there's also a more serious note to Kewell's account – depictions of the horrifying levels of poverty in Cambodia, of naked children hunting through rubbish for recyclable material, and families living destitute in the streets in Thailand. There's an honesty and, indeed, an emotional rawness at points that transforms Crossing Borders from a simple holiday flashback to something far more nuanced.
Kewell's gorgeously crafted use of colour brings the two locations to vibrant life, and her ability to switch from quirky cartooning for the lighthearted segments to an intricate realism for the more representational sections is well considered throughout. And, as in Big in Japan, her chaotic, slightly haphazard use of scattered images and comments across each page emphasises that aforementioned scrapbook feel. An engaging mix of personal keepsake, witty slice-of-life storytelling and illustrated travel journal, Crossing Borders's two-time Scottish Independent Comic Book Alliance award nominations this year were richly deserved.
You can order copies of Crossing Borders from Rocket Puppy Press here priced £3.50.
For regular updates on all things small press follow Andy Oliver on Twitter here.