Way back in 2011 when I first started focussing primarily on the UK small press comics scene at Broken Frontier self-published diary comics were very much the genre of the moment. So much so that their ubiquitous presence had actually begun to provoke a certain degree of hostility from some quarters. I have always had a fondness for comics that take us briefly into the lives and daily routines of others, though, and believe that we need to acknowledge that for many creators in the early days of the 2010s UK small press renaissance diary comics were a launching pad for their practice and an important testing ground to hone their visual storytelling skills.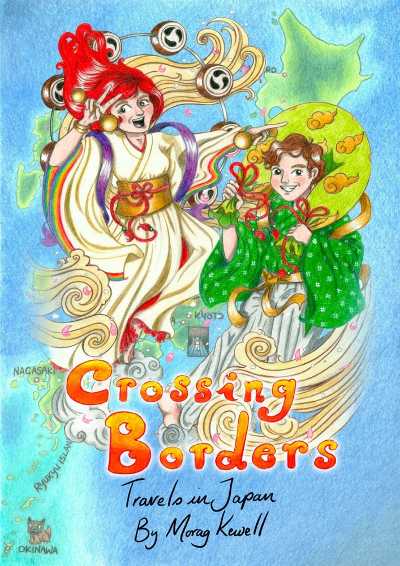 Morag Kewell's Crossing Borders: Travels in Japan sits somewhere between diary comic and graphic travelogue, detailing a trip to Japan with her ex-partner Matt. Long-term Broken Frontier readers may remember that we covered similar Kewell offerings Big in Japan and Crossing Borders: Travels in Thailand and Cambodia back in 2013 and 2014 respectively. Travels in Japan follows a similar format – a kind of scrapbook vibe blending different presentational approaches – but with a notably more confident storytelling voice.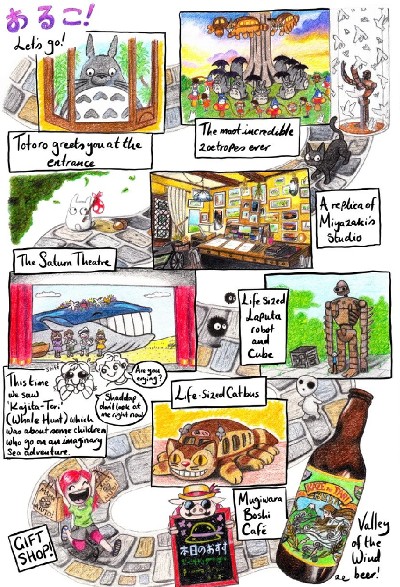 We travel with Morag and Matt as they tread the tourist trail visiting pop cultural showcases like the Ghibli Museum, cultural landmarks including the Golden Pavilion, and unlikely locales in the shape of island inhabited only by tame rabbits. Interlaced with the travelogue commentary are personal observations; an anecdotal sidestep into Kewell's burgeoning teenage interest in Anime, her love of Hayao Miyazaki, and reflections on the unlikely idea of going on holiday with an ex-partner. One memorable sequence in this regard sees Kewell visiting locations from the film Lost in Translation.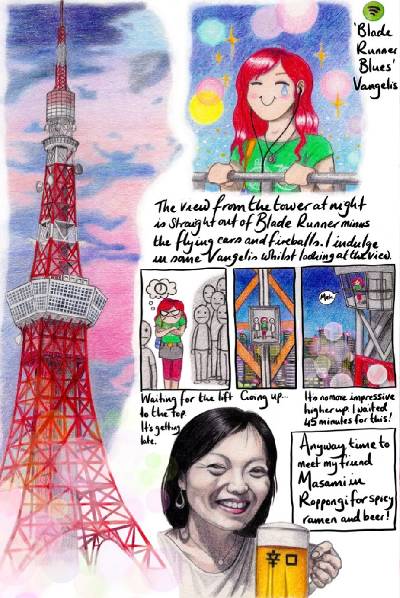 Crossing Borders: Travels in Japan constantly jumps between modes of narrative delivery – illustrated "diary" entries can shift into short comic strips on how to pray at a Shinto temple or how to take a Japanese bath. Actual artefacts are as important as photo-realistic one-page images, and photos of interactions with friends become a supplemental recurring motif. Sometimes the emphasis is on the minutiae of Morag and Matt's adventures, sometimes it pulls back directing our attention to the wider environment. It all combines to give us a recognisable sense of the jumbled reality of memory; experiences coalescing and merging in and out of each other with an informal familiarity.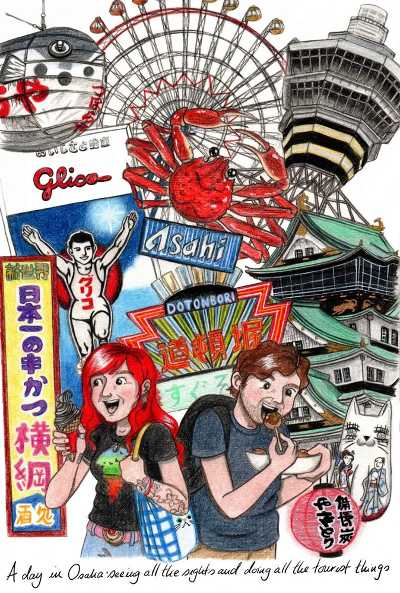 This is, it goes without saying, very much about seeing Japanese culture through Western eyes. But Kewell's love of her subject matter shines through with an irreverent, enthusiastic and amiable narrative voice, leaving you feeling privileged to have been in her company for the duration of the comic's 70-ish pages. If you enjoy this offering there are a number of other similar travel comics available on her online store that you can also dip into.
Morag Kewell • Rocketpuppy Press, £8.00
Review by Andy Oliver