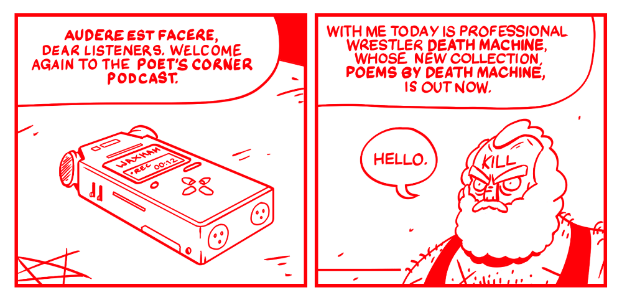 Every few weeks we sift through all the dozens of crowdfunding communications we receive here at BF each week to bring you a handful of the more intriguing, exciting, experimental and daring uses of the form that we spot, along with some interesting campaigns we've found ourselves. These are comics or related publications that both fit the Broken Frontier coverage ethos and that we think deserve your backing!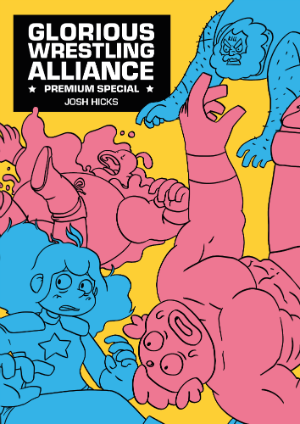 Usually we look to push a few worthwhile projects your way in this Crowdfunding Corner section but every so often we're alerted to something that needs immediate coverage attention. The Glorious Wrestling Alliance: Premium Special by Josh Hicks, collecting all three chapters of his comedy-drama wrestling comic to date alongside a new instalment, is one such book! Normally we give you reasons why you should back the project in question but as Josh has summed it all up so well in the press release below we're going to let him do most of the talking!
What we will say is that given our comprehensive coverage of Josh's work and his selection as one of our 2017 'Six Small Press Creators to Watch' we've been long-term fans of both the versatile Mr. Hicks and the idiosyncratic cast of characters he has brought to the comics page in Glorious Wrestling Alliance. You can read all our reviews of the comic plus an interview and an exclusive creator's commentary with Josh all in one place at Broken Frontier here.
Trust us! This is going to be one of the UK self-published books of the year. Give it your support by backing the Kickstarter here!
GLORIOUS WRESTLING ALLIANCE: PREMIUM SPECIAL Kickstarter launches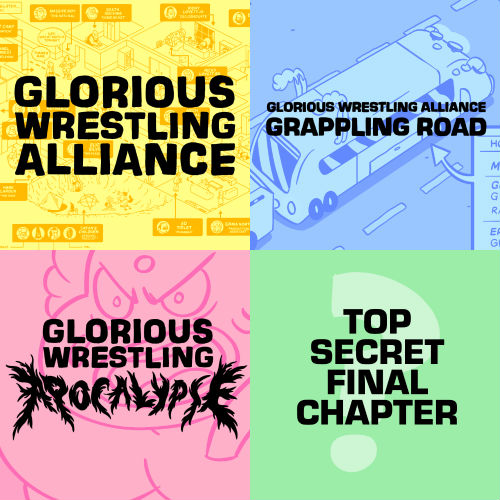 The Glorious Wrestling Alliance is getting collected! Today, March 12th, Josh Hicks will be launching a Kickstarter to fund Glorious Wrestling Alliance: Premium Special, a deluxe 100+ page paperback collection of Glorious Wrestling Alliance comics. The book will collect all three existing mini-comics — including Glorious Wrestling Apocalypse, one of Paste Magazine's top 25 comics of 2018 — and a brand new and exclusive 24 page final chapter into one carefully and beautifully crafted volume.
The Kickstarter will launch at noon March 12th (GMT), will last for 30 days, and is set for a funding goal of £2,500. As soon as the Kickstarter launches, Joshhicks.co.uk will redirect to the funding page.
The Premise
Glorious Wrestling Alliance follows the behind-the-scenes goings on at the world's most glorious wrestling promotion, as the company's storied cast of wrestlers, bookers and hanger-ons navigate the pitfalls of life between the ropes.
Great Carp is a seven-time world champion with a fish head and a heavy heart. Miranda Fury has a secret identity — and needs the world to know. Gravy Train wants to overcome typecasting but is hampered by basic logistical concerns, Death Machine wants his poetry to be taken as seriously as his piledrivers, and CEO Ricky Lovett Jr just wants to keep the family business afloat. See them bicker, argue, weep, curl up into little balls on the floor (happens approximately three times), bicker some more, throw things, throw each other, and maybe save the GWA forever. See it all! It's a comedy!
Also, you don't have to care about wrestling to like it. This is important.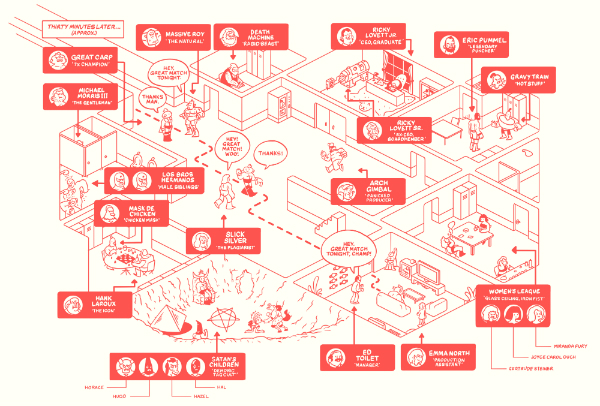 The Product
Glorious Wrestling Alliance: Premium Special will be a 100+ page softcover book, printed at 210mm x 148.5mm. Each chapter of the book will be printed in a different spot colour to best replicate the feel of the original riso-printed minis. If the campaign reaches a stretch goal of £2,750, all books get a dustjacket (fancy), with some other super secret stretch goals lined up too.
The Rewards
Rewards include a DRM-free digital version of the book, the physical book itself, a signed & sketched bookplate edition, the chance to obtain one-of-a-kind pieces of poetry and art, and the online debut of the extremely limited edition Official Bootleg Great Carp action figure (thusfar only available at European comic shows.)
Everything on this Kickstarter ships worldwide. This is an international endeavour!!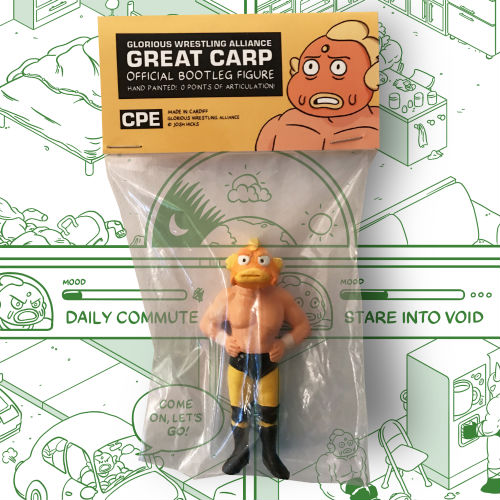 Praise for Glorious Wrestling Alliance
"An object lesson in pacing, characterisation, visual storytelling and plotting." – Andy Oliver, Broken Frontier
"Hicks has created a world full of unforgettable characters that takes on some of the wrestling industry's weirdest carny quirks with an irresistible charm… Whether you're a wrestling fan or not, you'll have a blast with this one. " – CK Stewart, Newsarama
"Glorious Wrestling Alliance is entertaining as all get out. Quick and to the point, it's fun and funny, bonkers and clever, well worth your time and attention." – Daniel Elkin, Comics Bulletin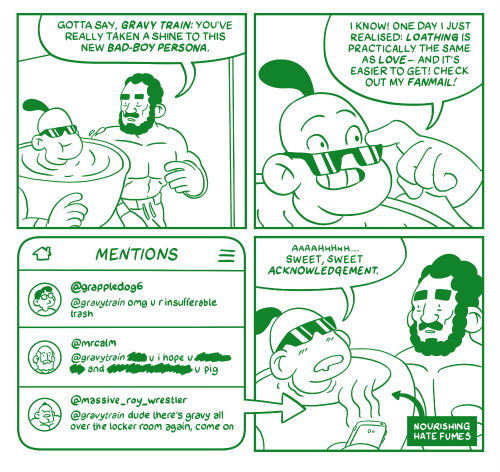 Quote from Josh Hicks (me!!!)
"Over the last few years I've poured literally hundreds of hours of energy and passion into these silly pages, and I'm excited to finally finish up this chapter of the GWA's life and present it all in a format that fully justifies all the hard work that went into it. Glorious Wrestling Alliance: Premium Special is going to be a beautiful book and I can't wait to hold it in my arms and rock it back and forth like a little paper baby. Going the self-published route means I get full control over design, paper stock and finish, and launching the book on Kickstarter is going to allow me to push the boat out and make it the lavish affair it deserves to be."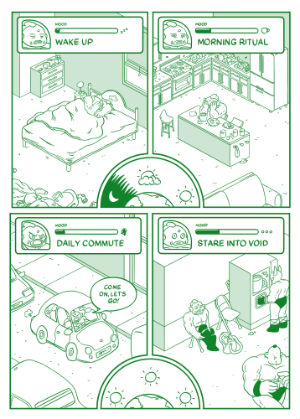 About the Author
Josh Hicks is a cartoonist from Cardiff, Wales. His work includes the Glorious Wrestling Alliance series of minicomics, as well as his collection of short comics pieces, Human Garbage (2017), published by Good Comics. In 2017 he was named one of Broken Frontier's Six Small Press Creators to Watch; In 2018, Paste Magazine named his Glorious Wrestling Apocalypse as one of the 25 best comics of the year. His work has appeared in Off Life, The Atomic Elbow, The Good Comics Reader and Dirty Rotten Comics. 
You can watch Josh talking about the project in the video below. And one more reminder to back it here on Kickstarter!