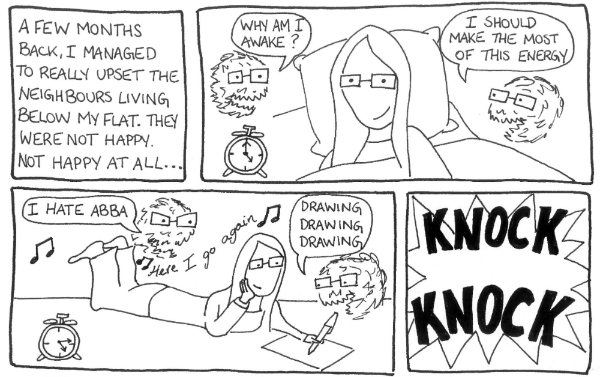 Elizabeth Querstret is something of a phenomenon on the UK small press circuit. A prolific graphic diarist with a larger than life personality – both on and off the comics page – her work is totally uncompromising in its honesty. To the bizarre point, in fact, that the more outrageous her on-panel exploits get the more amiable her narrative voice becomes.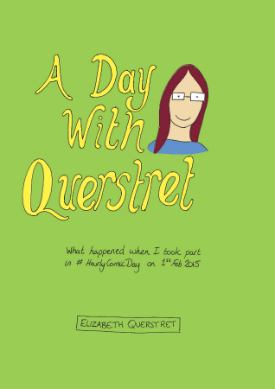 Last year in 'Small Pressganged' I was the first commentator to review her work when I covered her minicomic Enter My Working World – an account of Elizabeth's various disastrous workplace misadventures in a series of soul-destroying jobs – saying it connected with its audience on two crucial levels: "its personable and affable host on the one, and the absolute expanse of shared experience it embodies on the other."
Since then there's been a flurry of activity on the Querstret self-publishing front:  multiple comics offerings, her regularly updated webcomic, fair and festival appearances, and a very well-received presentation at the monthly Laydeez Do Comics meeting in London this April. It's been an object lesson for aspiring small pressers in how to make your presence known and get your work out there and under people's eyes.
Of the two Querstret comics I'm looking at today A Day with Querstret was created for 24-Hour Comics Day. I'm usually a little loathe to review comics created as part of that event as, by their very nature, they are far more likely to be unpolished in structure and raw in presentation – a random flow of ideas looking for a narrative to hang themselves on.
With a diary comic, though, that stream-of-consciousness approach can be a positive boon. So it is with A Day with Querstret as we observe several hours in Elizabeth's life as she deals with chronic back pain, attends a family lunch, hears a horrific story about a squirrel and spends the evening gigging. As is always the case with a Querstret offering, everything gets frankly transcribed to the comics page. From a candid account of finding dark humour in a tragic news story to an act of caring kindness towards a homeless man, there's no self-editing in her work, giving her comics a sincerity that is endearing in its own right.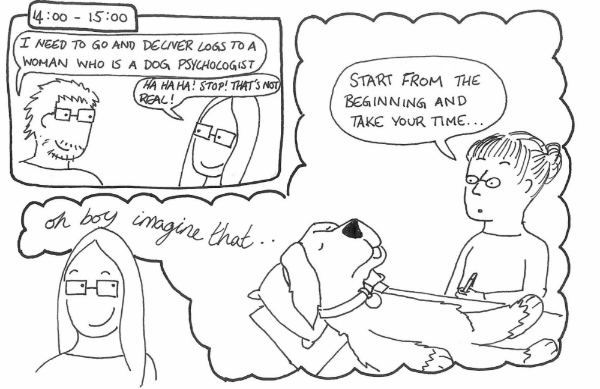 There are frequent flights of fancy – little cutaways to thoughts and reflections on things the author experiences during the course of her exploits – that provide humorous asides throughout. Alongside her witty visual shorthand and the continued use of supporting characters Thought and Inner Thought it makes for an engagingly quirky read.
Those latter two characters make an extended appearance in another of Querstret's publications Love Thy Neighbour where they provide constant peripheral commentary on an unfortunate incident with a rather large arachnid whose spidery doorstep presence has blocked Elizabeth's access to her home. Compounding this predicament is the problem that the only source of help is her rather sullen and unwelcoming neighbours…
I think it's a fair observation to say that the cartooning in both books is unsophisticated and largely functional but nevertheless Querstret's page-to-page storytelling has a cadence and a flow to it that sweeps the reader up in her eccentric introspection. Her objective seems to be more concerned with recording and sharing than visual elaboration and, in that slice-of-life narrative sense, the DIY feel of both of these comics actually adds to the everyday autobio sensibilities of her tales rather than detracting from them. Personally, I find it impossible to dislike a Querstret comic – they have a charm and a pull all of their own and a creative voice at their core who, quite simply, redefines the term "idiosyncratic".
You can read Elizabeth Querstret's comics online here and visit her online store here. You can also follow her on Twitter here.
For regular updates on all things small press follow Andy Oliver on Twitter here.