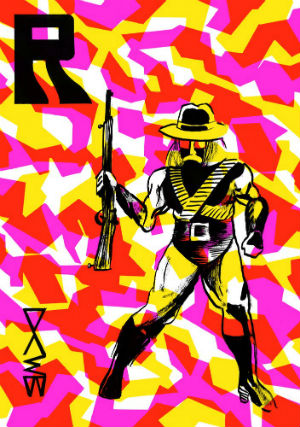 The second book, following Entity Reunion, from Undimensioned Press, the new micropress venture from Alexander Tucker (World in the Forcefield), R echoes its predecessor's slightly oblique but hypnotically compelling narrative approach. This 40-plus page offering is the work of artist and musician David CW Briggs, otherwise known as DCWB and pushes the future war genre to its most brutal and inevitable end.
In a number of vignettes across a hellish, shattered, futuristic landscape, a group of combatants fight a futile and neverending battle. A goblin-esque soldier, a human hunter and a robotic warrior are just some of the lone fighters traversing an often hallucinatory terrain. Characters weave in and out of each other's stories, seemingly fated to fight the same battles over and over. There is no exposition or explanation for their enmity and that selfsame absence of reason for their conflict ironically speaks volumes in its silence.
Cause is irrelevant then. This is a battle devoid of reason; one that seems simply to exist for its own sake. In terms of linear progression R is perhaps somewhat impenetrable with odd sidesteps and digressions, and yet this seems entirely appropriate in underlining the pointlessness and randomness of the cycles of carnage it ruthlessly satirises.
DCWB's characters move through often tight, constraining panels that heighten the sense of claustrophobic tension that permeates these pages. There's a strange timelessness to events with sci-fi motifs sitting side by side with recognisable elements from contemporary and historical conflict. With a finger seemingly constantly hovering over the reset button, R is a quietly chilling take on an oft explored science fiction standard.
Follow DCWB on Twitter here and Undimensioned here. You can buy R from Undimensioned priced £7.00 here.
For regular updates on all things small press follow Andy Oliver on Twitter here.