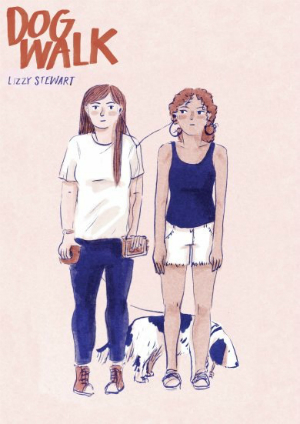 Revisiting the heady days of childhood – and that abundant sense of awe and wonder as we discovered the world around us – is, of course, a rich and fertile ground for autobiographical comics. But, conversely, so is that more mundane reality of our formative years. Those long drawn-out, tedious days as we moved closer to our teens, wandering the streets and local parks looking for something to occupy our minds as we idled the hours away.
Both are equally familiar scenarios but there's a raw honesty to the latter – a reminder that childhood is not all halcyon nostalgia – that can resonate far more acutely than the sometimes saccharine approach of the former. Robert Brown, for example, has been mining that seam of slightly cynical remembrance to great effect for some years now in his very personal slice-of-life series Killjoy. In Dog Walk Lizzy Stewart provides her own take on listless youth as two girls while away an indolent afternoon.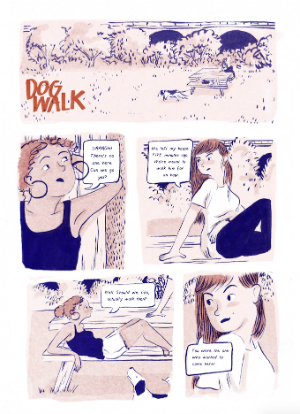 A quiet but dryly witty study in aimlessness, the 36 pages of Dog Walk are unafraid to remind us that ennui is not the exclusive domain of the worldweary middle-aged. A boring dog-walking trip for the central characters is marginally spiced up by a spot of trespassing on school grounds.
Here, our two protagonists discover a rooftop oasis in their day of drifting purposelessness. This becomes an odd refuge from their humdrum existences – a personal space detached from their day-to-day concerns where they can look down on the world around them. But this secret sanctuary is soon to be invaded, and their elevated paradise destined to be lost…
Stewart's triumph in Dog Walk is that the scenario she creates is so instantly and utterly recognisable to her readership. Indeed, at its heart the comic is as much a series of perceptive observations on our childhood interactions with our environment as it is a structured narrative. It's beautifully played in that regard, underlining all those oh so familiar rivalries, awkward relationships, social hierarchies and moments of petulance that are so representative of our younger years.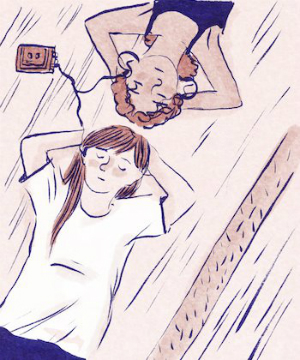 The two-colour, near-sepia tones that Stewart utilises evoke dusty drawn-out summer days. But it's the larger A4 pages of Dog Walk that are the most effective presentational choice. In particular, in one memorable full-page shot it allows for an appropriate sense of scale to emphasise the girls' newfound perspective on the world.
Visual characterisation is superb throughout with body language and facial expressions adding empathetic insight into our understanding of the two leads and the intricacies of their friendship. In that respect the dialogue and fondly bickering banter between the two is also a delight.
Sharp yet subtle, Dog Walk is somehow simultaneously both unashamedly honest and yet delicate in its understatement. A gorgeous piece of character-led storytelling and one that will leave you hoping for far more Lizzy Stewart comics offerings in future.
You can buy Dog Walk from Lizzy Stewart's online store here priced £8.00. For more on her work visit her website here and follow her on Twitter here.
For regular updates on all things small press follow Andy Oliver on Twitter here.
Lizzy Stewart will be launching her new children's book There's a Tiger in the Garden at Gosh! Comics on April 15th. More details here.