BROKEN FRONTIER AT 20! Multiple Broken Frontier Award-winning artist Shazleen Khan has become something of a semi-regular fixture here at BF over the last few years given the success and popularity of webcomic Buuza!!. Khan's beautifully rendered pages, positively popping with vibrant colouring, have ensured that this story of "found family, diaspora and religion" has earned itself a deserved and dedicated following. It's certainly become one of my personal favourites. As part of our 20th birthday celebrations at BF we look today at Khan's latest comic Dream Diaries, itself a part of the stunningly curated Shortbox Comics Fair.
There are times in comics commentary when you can become so focussed on a creator's obvious strengths that you foolishly begin to associate them with a singular style of narrative approach and presentation. Shazleen Khan's vibrantly coloured, long-running webcomic Buuza!! has brought together an empathetic cast of characters who we have come to discover and know as they have come to discover and know each other. It's a multiple Broken Frontier Award-winning fantasy that is very different to Khan's new short comic Dream Diaries but what the two books do have in common is that they both showcase their creator's versatility as both a visual storyteller and an advocate for the medium's nuanced possibilities.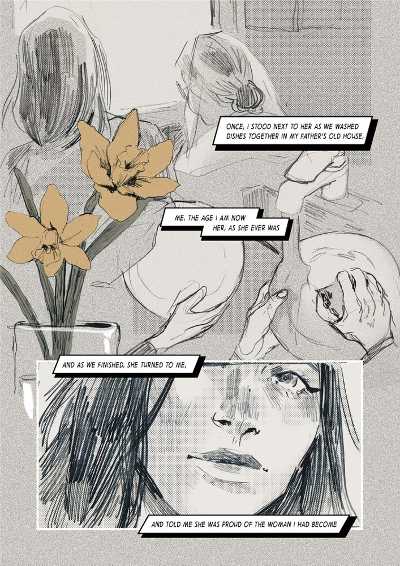 Dream Diaries comes to us via the Shortbox Comics Fair and its title is essentially a succinct summary of its contents. Three short accounts of the ephemeral truths (or maybe-truths) that come to us in our unconscious hours. In the first tale Khan touches on ideas of family and belonging through dream encounters with the dead. In the second the barriers between the sleeping and the waking worlds converge in a story that hints at the possibility of an otherworldly encounter in the twilight hours. And, finally, Khan recounts a former partner's childhood dream of a supernatural presence in the corner of the room that encapsulates our primal fears of the dark with an immediate familiarity. The common thematic through-line is a reflection on loss, mourning and how we process the subsequent holes left in our personal narratives.
Here Khan shows their impressive range with the clean lines and rich hues of Buuza!! subverted by a hazy, indistinctive realism that uses only the most selective of colours to match the dream worlds we visit. This is particularly appropriate in the opening entry when the echoes of the past and fragmented memories come to the fore as Khan pays quiet tribute to their grandmother.
Dream logic is expressed in the first pages of the second short through a series of one-page illustrations depicting Khan's encounter with a jinn in wasp form. It's an effective technique to reflect the often striking "imagery" of the subconscious mind at sleep before the story shifts into tense and taut reality, and a close-up sequence that is all the more terrifying initially for what it leaves to the reader's imagination. In part 3 light, shadow and shading build mood to bring to life the disquieting turmoil of recurring nightmares with an atmospheric economy.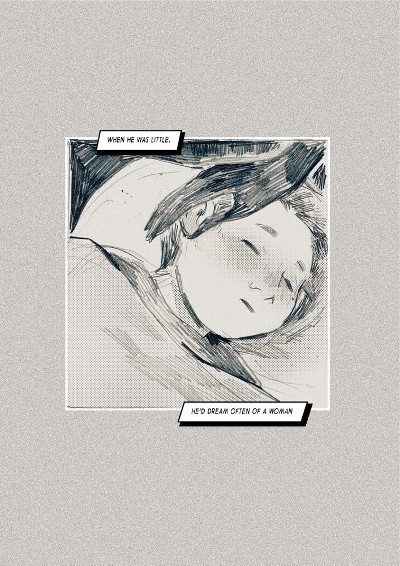 Those aware of Khan's work but daunted by the commitment of a long-running story like Buuza!! will find this an excellent starting point in discovering their practice. Dream Diaries is exactly the reason why an event like the Shortbox Comics Fair is so important in bringing so many indie talents to wider audiences in accessible, digestible short offerings.
Shazleen Khan (W/A) • Self-published/Shortbox Comics Fair, £4.00
Review by Andy Oliver
Top BF logo by Joe Stone