The more well-mined seams of genre fiction are something I tend to shy away from in 'Small Pressganged', preferring instead to cover work that focuses on playing with the form rather than material that acts as part homage to a particular style of cross-media storytelling. Every so often, though, I come across a project that may be outside of my usual sphere of interest but nevertheless showcases newer creators with obvious aptitude who deserve being brought to the attention of a wider audience.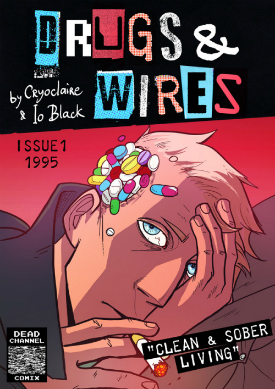 Drugs & Wire, with its heavy cyberpunk leanings, is one such book. This is cyberpunk with an oddly retro twist, set as it is in the mid-1990s. Written by Cryoclaire and Io Black, with art by Cryoclaire, it knowingly sells itself with the tagline "This is the story of what happens when the future that never was meets the past that we occasionally poke fun at on VH1."
It's 1995 somewhere in post-Soviet Eastern Europe in an alternative history where virtual reality addicts and cybernetic implants are part of the cultural landscape. Our protagonist and guide to this world is Dan, a downbeat former VR junkie who scrapes an existence through a series of dead end jobs after one of his online reality-warping sessions left him near death. Playing the chaotically quirky part of this double act is medical school reject and back street cybernetics installer Lin whose animated personality is something of a contrast to Dan's cynical routine.
In this rundown concrete jungle one major concern is on the minds of the societal dropouts who make up Dan and Lin's network of friends and acquaintances. The "worm" is a virus claiming the lives of those who voyage through the online dreamspace and the same infection that nearly killed Dan. What are its origins? What is the greater conspiracy that surrounds it? And why is Dan of interest to some mysterious shadowy players lurking in the background?
Where Drugs & Wire works so well is that the obvious genre standards are supplemented by a dark humour that counterpoints urban squalor with dry wit. Dan wanders through this nightmarishly disturbing environment with a casual insouciance and a laidback line in weary detached bon mots; the co-existence of raw brutality and nonchalant slapstick giving Drugs & Wire its own very distinctive voice and vibe.
Cryoclaire's artistic influences are obvious – a healthy dose of Jamie Hewlett and some manga stylings too – but not slavishly so. Her layouts retain their own visual identity regardless of their inspirations and her panel-to-panel storytelling is competently crafted throughout, particularly in terms of pacing and visual characterisation. Her particular strength here is in her subtle but impressive world-building skills. So many of her images are replete with background details that develop our understanding of this society and its problems well beyond the core narrative.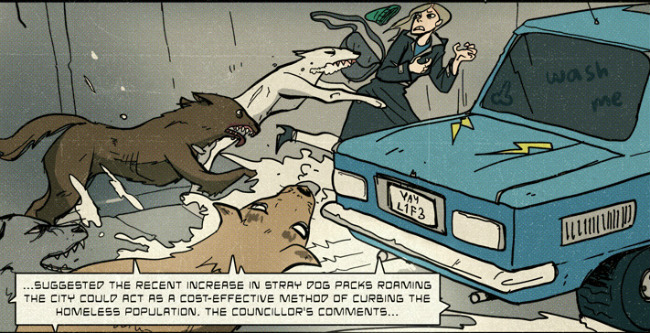 If there's one area that may be of some small concern it's that the book's origins as a webcomic are a little obvious in collected form. It's a story that makes the reader work perhaps a little too hard to get the full back story of its cast and the fictional history they exist within. We're not eased into events and it's easy to feel to a degree like we're coming in half way through them.
Still, there's huge potential to this book and the way it toys with the traditions of the genre it is rooted in. Cryoclaire's drolly expressive art with its unrelentingly grim atmosphere is the standout element of Drugs & Wires for me. Bleakly amusing and morbidly observed, her visual storytelling is confident and assured throughout. I'm intrigued as to where she and Io Black take this mystery next…
You can buy print copies of Drugs and Wires #1 at the London MCM Comic Con this weekend at booth CK4 and at Thought Bubble in November. You can also read the webcomic version of the comic here. Follow Cryoclaire on Twitter here.
For regular updates on all things small press follow Andy Oliver on Twitter here.