Comedy from the lowlands, courtesy of Dutch publisher Syndikaat with the slice of life OGN Drunken Lips Sink Ships and the Treasure Island parody The Bologna Treasure.
Born out of a passion for comics in 2011 by two friends, Syndikaat is a publisher based in Holland who more or less specializes in humor comics. They prefer form over function so for each artist in their stable and with each book published, they look for the perfect representational package which means that, if you put all their publications in a row, they look a bit haphazard but there is a meaning to the madness!

Drunken Lips, Sink Ships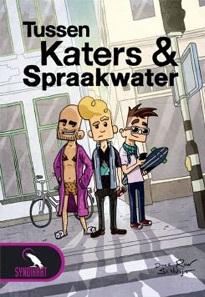 Their latest release is packaged as a graphic novel because basically that what it is. Small synopsis of this teen romp comp: lazy twenty-somethings Kevin, Dave and Dalton spend their time drinking beer while watching porn on the idiot box. Written and drawn by illustrator and animator Ron Schuijt, it is a fairly typical tale of adolescence and the freedom of responsibility it entails, until the characters collide headfirst into the outcome of their decisions of course.
Schuijt's good ear for dialogue and comedic timing does lift this graphic novel a notch above the rest and makes it a solid reading experience. His simplistic, rather charming style of drawing never gets in the way of telling the story and situations and characters are always clear and easily recognized and the emotional palette always very present. During the course of the graphic novel we get a clear feeling of what the characters are about and they manage to rise above their stereotypes which is always a good indication of solid storytelling skills. Not to mention that it is also a pretty funny comic with some great laugh-out-loud moments featuring especially Kevin as he deals with the more anti-social aspects as his not-as-inhibited-as-himself buddies pull another antic.
Ron Schuijt's Drunken Lips Sink Ships is a smooth and funny reading experience and will no doubt dredge up some uncomfortable memories from your own irresponsible days of youthful exuberance. But at least they are all good memories. Right?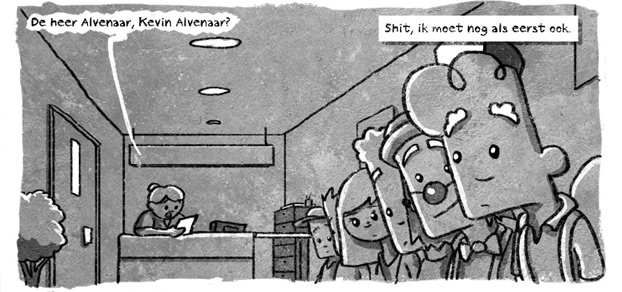 Drunken Lips Sink Ships by Ron Schuijt is published in Dutch by Syndikaat. It is a grayscale softcover counting 148 pages and retails for €14.95.

The Bologna Treasure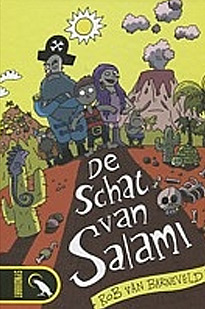 Stepping away from the real life dramas we enter the funny fields of parody with Rob van Barneveld. The creator claims the ghost of Robert Louis Stevenson came to him in a dream ordering him to make a comic version of his famous Treasure Island novel. Never one to shy away from a bossy ghost, van Barneveld set out to make his own version of Treasure Island with witches, robots, giants and lots of other crazy stuff.
In line with his other mini-comics, The Bologna Treasure is drawn in a simple cartoony style. It is a more of a crazy head trip into the mind of van Barneveld than a straight up translation of the novel but the absurd non-sequitur humor will strike a chord with the kids and his cartooning skills are clear and precise. He has a good instinct for panel rhythm to get the most out of a joke and the craziness never lets up.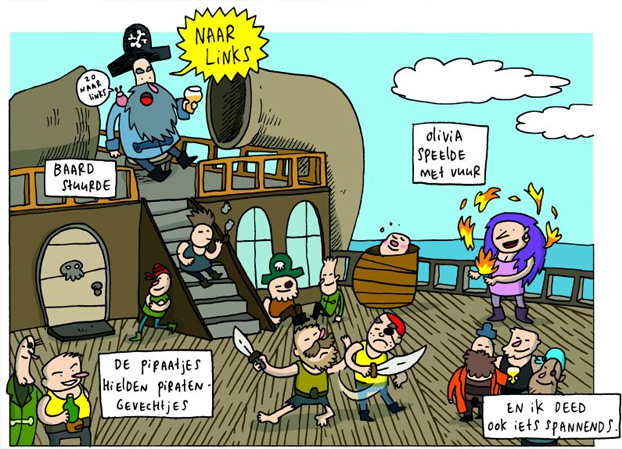 I doubt the older audience will get a lot out of it since sophistication is not van Barneveld's strongest suit but definitely give this to your youngsters for some peace and quiet so you can get started on the original novel.
The Bologna Treasure by Rob van Barneveld is published by Syndikaat. It is a full colour hardcover counting 48 pages and retails for €16.95.