Freshly graduated architect Pieter Rosseel turns comic book artist and produces a graphic explosive debut graphic novel published by Syndikaat called Stumbling. How's that for irony?
Deriving your identity from your job or your studies is never a solid idea. You must be flexible in order to realise that dreams change and twirl and shape themselves to the man you are today, not the man you were. It is one of the many tragic misgivings in life that you simply must find a job according to your studies. Pieter Rosseel chose comics after his internship as an architect and the comics world is made the richer for it.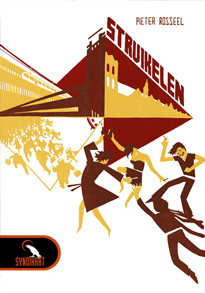 Stumbling tells the story of four students from Ghent who face graduation and subsequently adult life. Francis, Nia, Alexander and Sven are all friends and confront one another with all their Big Questions, driven by the anxieties of taking the big leap into society and the abandonment of their rather carefree lives.
Stumbling reaches for the stars and succeeds admirably, stepping away – I'm happy to say –  from the innovative style launched by fellow Belgians Brecht Evens and Randall C. In Rosseel's book, characters twine and twist themselves in between big blocks of colour forming buildings, interiors, landscapes and objects. Panel borders and text balloons are foregone on altogether and text is integrated into the art without those pesky oval borders obscuring any visuals created by the artist.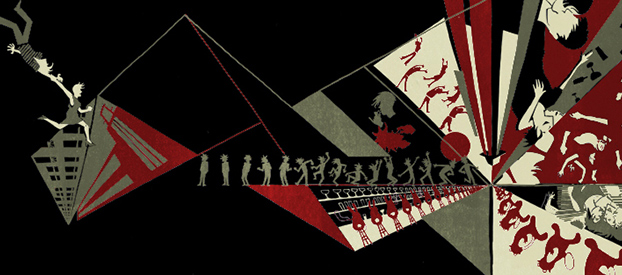 In his first graphic novel Rosseel manages to present us with a complete stylistic vision integrating art, muted colorwork and text seamlessly. The eye of the reader travels across the page guided by stairs becoming indicators of eye movement, rooms that are shaped in crude arrows guide us to subsequent panels and spaces are cut up into multiple panels. The characters all walk across these infinite shapes / stages without difficulty and the reader effortlessly follows them. Rosseel looks at comics with a keen graphic eye and clearly gets the maximum out of his architectural background to shape his vision. His control of positive and negative space is unsurpassed.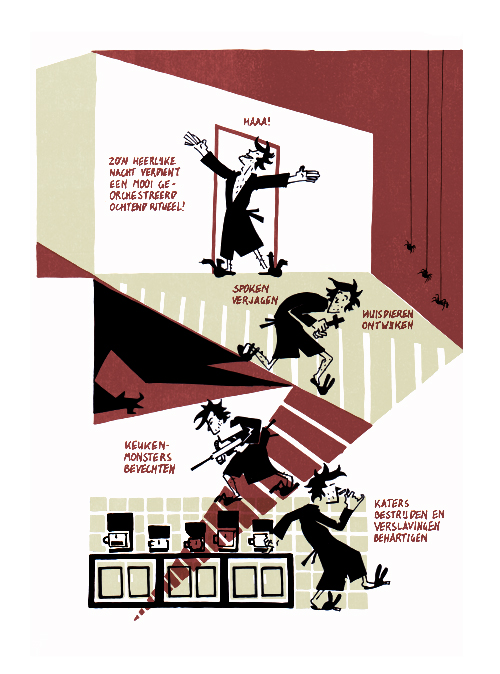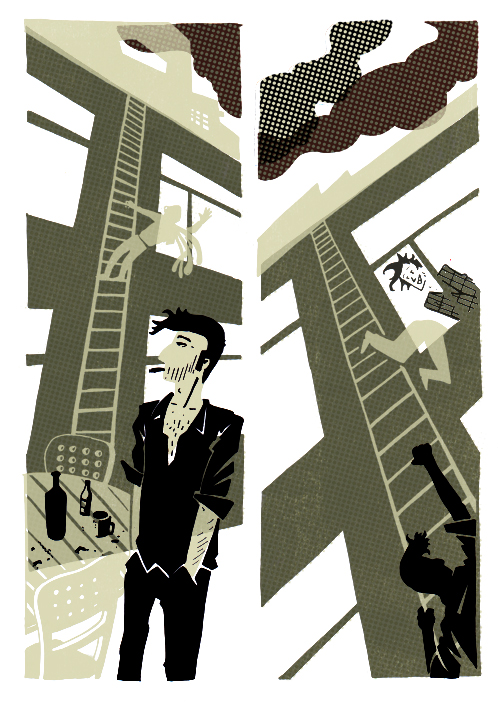 Without this graphic approach though, Stumbling would have been a hard read. The story meanders with a lot of philosophizing and self-centered dialogues between narcissistic protagonists. I particularly missed some depth into the characters, as adding humour is often confused with inserting character and there's almost no character arc to speak of. I talked about the OGN Drunken Lips, Sink Ships awhile back from the same publisher which is a much better effort in terms of characterization. If you strip away the splendid package, Stumbling is left with just the barest outline of a story which is a shame for a book with such obvious ambition.
Pieter Rosseel's debut graphic novel Stumbling gets an A for effort. With a visual language and flair all his own and a refreshing take on storytelling, Stumbling features an engrossing style that sucks the reader in, a process only hampered by the lackluster story featuring narcissistic characters ambling into nowhere. Definitely worth a look if you come across it at the shop.
Stumbling (Struikelen in Dutch) by Pieter Rosseel is published by Syndikaat. It is a full colour hardcover counting 112 pages and retails for €18,50.