Press release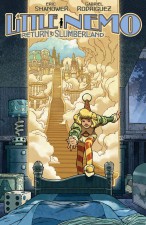 As one of the most influential comic strips of all time, Winsor McCay's Little Nemo in Slumberland™ could only return if a creative team with a true affinity for McCay's vision was found. Today, IDW announced that multiple Eisner Award-winning writer/artist Eric Shanower (Age of Bronze), will be writing an all-new series exploring Nemo's amazing dreams. Joining Shanower will be none other than Locke & Key co-creator and Eisner-nominated artist, Gabriel Rodriguez!
Little Nemo in Slumberland first appeared in the New York Herald in 1905 as a weekly comic strip by creator Winsor McCay. Over the next two decades, McCay's unprecedented vision followed the fantastic dreams of Nemo. Encountering strange characters, Nemo traversed the world of his dreams, often finding himself in bizarre and often surreal locales. Little Nemo survives as both a nostalgic and innovative work of fiction.
"I've loved Winsor McCay's Little Nemo in Slumberland ever since I first saw examples of the strip when I was a kid," said writer Eric Shanower, "McCay's masterpiece is clearly a hard act to follow, and there's no way that Gabe and I can duplicate McCay's personal vision. But we're doing our best to tap into Slumberland's essence while bringing our own strengths to it. I think there's a good chance admirers of McCay's original will enjoy our riff on it."
"There are people like Ray Bradbury, Neil Gaiman, Hayao Miyazaki and Winsor McCay, that can grasp what dreams are made of, transform them, and share that with all of us," said Gabriel Rodríguez. "I think we're lucky that McCay not only left us his wonderful stories, but also created a whole universe filled with windows opened for every one of us, inviting us to explore it, too. And Eric and I are taking the challenge, not trying to redo what he previously did, but trying to invite kids and adults from today to enjoy and have fun in of the Land of Wonderful Dreams."
Debuting next spring, Little Nemo: Return to Slumberland will see Nemo embark on a brand-new voyage in the familiar surroundings of Slumberland. However, everything else is different, even Nemo himself—in search of a new playmate for the princess of Slumberland, King Morpheus enlists the Candy Kid to help bring the latest playmate, our titular Nemo, into the dream realm. There, Nemo embarks on a visceral journey full of adventure and danger.
"It feels odd to think of Gabriel Rodriguez working on anything but Locke & Key, the series that he's illustrated since 2007, but if anything is worthy of being his next project, it's re-envisioning McCay's Slumberland alongside another brilliantly talented creator like Eric Shanower," said Chris Ryall, IDW's Chief Creative Officer/Editor-in-Chief. "The two of them together will create captivating magic on every comic page, and Eric and Gabe's take on the story promises to inspire some dreams all their own, much the way McCay's work did a century ago."
Eric Shanower has captivated readers with his epic and multiple Eisner Award-winning series Age of Bronze, and his ambitious, Eisner Award-winning adaptations of L. Frank Baum's Oz novels with artist Skottie Young. Gabriel Rodriguez's beautiful and intricate style has graced the Eisner-winning series Locke & Key, written by Joe Hill, since 2007.