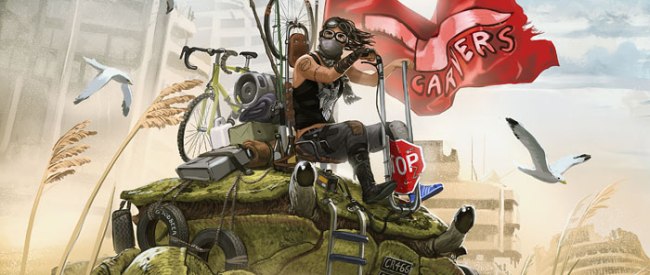 Science fiction anthology Faction represents something of a 'Small Pressganged' first. While the Australasian continent has not been unrepresented in this column in the past, with work from Paul Bedford, Frank Candiloro and others being covered, this is the first comic I have reviewed from New Zealand. Faction's 80-plus pages are largely sci-fi oriented but not exclusively so. There's an intriguing mix of space opera, fantasy, autobio and more between the covers, giving the book a truly eclectic feel. But one that I hasten to add doesn't celebrate genre diversity to the point of compromising the distinctive voice it has created for itself.
Some of the strips included are ongoing serials but the majority are self-contained or complete-in-one offerings. While the entire package is an impressive showcase for NZ comics I want to home in initially on two of the offerings that I thought were simply outstanding pieces of storytelling.
The first of these is Damon Keen's 'Ectype' which, yes, is essentially a long-form 2000AD Future Shock but one with some very clever hardcore sci-fi concepts at its core. The "ectype" of the title is a body fashioned from the constituent elements of planets by deep space drones allowing planets to be explored remotely before the ectype's memories are downloaded to its host body on Earth. Keen's claustrophobic tale examines what happens on a remote world when something goes very wrong with the process with dramatic results for both the individual and the environment. Atmospheric, sepia-coloured art serves to ramp up the tension and the sense of hostile, alien surroundings in an intelligent and mature piece of science fiction.
The first two chapters of Adrian Kinnaird's 'A Life with Comics' comprise just two pages but I'm already itching to read more of this landscape format, slice-of-life entry. A synthesis of autobiographical, anecdotal comics with hints of an Understanding Comics-style dissection of the medium, 'A Life with Comics' is by far the most promising of all the serials in this issue. Kinnaird's childhood discovery of comic books through his love for the Disney version of Winnie the Pooh is covered in these first two instalments but on the basis of just a couple of pages the potential for something quite special to evolve here is readily apparent.
As always with anthologies I can only give a flavour of the contents rather than covering every creator involved but other highlights included Allan Xia offering up a beautifully painted post-apocalyptic Sleeping Beauty in 'Awakening' and there's an elegant simplicity to Ned Wenlock's visuals in the humour short 'Grizzly' that accentuates the slapstick silliness of his 8-pager. Stevie James and Michel Mulipola's 'Done to Death: The Truth' gives us a harrowing account of fantasy and identity that veers off in unexpected directions while Cory Mathis's tale of dinosaur-baiting in 'Saurian Era' may be light in plot but has gorgeous, lively visuals to it.
Faction is handsomely packaged in a glossy "prestige format" and is an excellent introduction to a host of artists you may not have encountered before. The New Zealand indie scene has a formidable champion in this unpredictable, high quality anthology!
For more on Faction check out the website here. The first two issues of Faction are available both digitally and in print here.