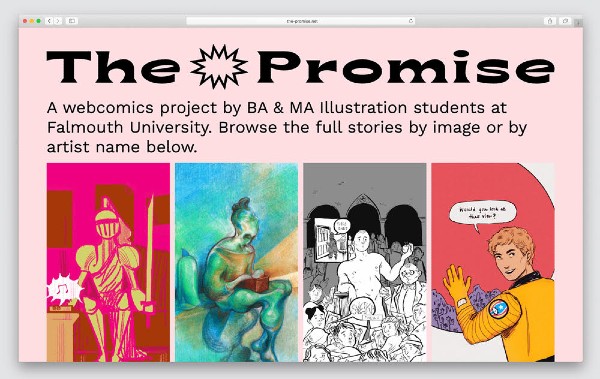 As anyone who visits Broken Frontier on even a semi-regular basis knows, championing the next generation of comics creators is at the very core of everything this site stands for. So we're very pleased to be able to run this press release about The Promise – a fantastic webcomics project by Illustration students at Falmouth University – at Broken Frontier today. The full details (and images from six pieces that particularly caught our eye) are below but we would implore you to check out all of the excellent work in The Promise here.
On an associated note… we are very aware at BF that for graduating students this year the disappointment of final year shows being moved online may be acute. In that regard Broken Frontier is at the disposal of any comics-related university departments/courses looking for an additional push. We're happy to showcase the work of their students and use our reach to promote that practice to our audience of comics readers, publishers, commentators and aficionados. Our contact details can be found here.

Locked out of libraries? Sick of streaming? A free new digital comics platform is here to provide relief to the sequential reader in weird times.
The Promise is a new collection of webcomics produced by BA & MA Illustration students at Falmouth University since January 2020. The title/brief for the collection was developed by an editorial team of 3rd year BA students following a collective survey of contemporary themes including 'marketing hype and miracle cures, the campaign trail, extinction and ecological collapse, gathering clouds/silver linings and a world of possibilities, just around the bend.'
The project was initiated before the current pandemic but some of the work made during the spring inevitably reflects lockdown life while other works offer either pure imaginative fictional escapism or recollections of a pre-Covid 19 world.
The site is built to be read fullscreen on mobile or desktop and borrows from and builds on the earlier Mould Map 7 webcomics project (mouldmap.com) with students learning from and experimenting with ways of using the unique responsive format.