It was last year, when I interviewed Myriad First Graphic Novel Competition winner Jade Sarson here at Broken Frontier, that I was first alerted to Sarah Burgess's The Summer of Blake Sinclair. Jade spoke with such great enthusiasm then about the strip's energy, and memorable cast of characters, that it should not have taken me the best part of a year to investigate further! An involved tale of student life, with an obvious manga influence visually, The Summer of Blake Sinclair was originally self-published as a sprawling multi-part webcomic. The first four chapters were recently collected in print form by Zetabella Publishing.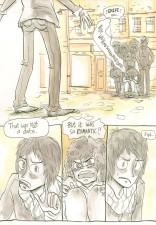 From our very first encounter with the eponymous Blake Sinclair himself, Burgess leaves us in no doubt as to what a difficult and complex character we have at the heart of this story. Having just spent the night with his smitten friend Daisy – but with no illusion of it meaning anything of importance to him – Blake finds himself castigated by his social group for his apparent heartlessness (right). But his honesty and complete lack of pretension attracts interest from a new quarter, and a friendship of sorts is formed with his equally besotted fellow student Ruthie. When Blake's old friend Janey comes to town Ruthie begins to feel undermined and surplus to requirements. But nothing is ever that simple in the world of Blake Sinclair and our errant protagonist seems doomed to keep repeating past mistakes…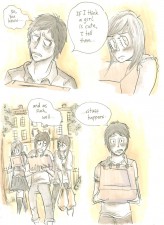 Identity – how we're seen by others and how we perceive ourselves – plays a vital role in The Summer of Blake Sinclair. From the perspective of those around him, and indeed from the audience's initial viewpoint as well, Blake's actions are interpreted as self-interested and callous. From his own position, however, he is simply pragmatic and honest, and that's what makes him such an intriguing character. His behaviour may be thoughtless and inconsiderate but it's also – as far as we can tell at this point in the narrative anyway – completely devoid of malice. He's self-absorbed and lives for the moment but in a strange, contradictory manner he's almost an innocent in a world of gossip and intrigue. There are no double standards with Blake and no assumed facade to hide behind. In fact, in many ways, he's the most sincere person in the entire book. He's just not terribly likeable.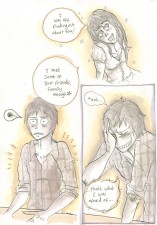 Therein lies the genius of Burgess's writing. Comparatively, not very much really happens in this first volume of The Summer of Blake Sinclair. It's actually quite slender in plot for its large page count but the characterisation is so painstakingly observed that you become completely absorbed in events. I can't help but draw comparisons to the work of the aforementioned Jade Sarson here because, like Sarson, Burgess is adept at making every single character count, every supporting player matter. Even those we find it hard to sympathise with are intriguing and three-dimensional – not one of them comes across as a mere plot device.
That character-led storytelling is very much visually led as well. Burgess's ability to describe her characters through their body language or their expressions is exemplary. Her narrative approach is often economical in terms of exposition – deceptively so one could argue – but she can say so much about her characters just by their posture or physicality. Her artistic style has a kind of delicate sketchiness to it that gives her pages a fragile but moody ambience which is underlined by her carefully muted colouring choices. One of the true standout features of her layouts, though, is her use of speech balloons and the clever tricks she plays with them. Look at the examples below to see how she portrays snatches of a conversation, characters talking over each other, and emotional states. All excellent representations of her confidence in the particular storytelling conceits of the form.
The Summer of Blake Sinclair is an ensemble piece that traces not just the titular character's exploits but also the shifting relationships of an entire group of young people. It's a reminder of how friendships, and more casual relationships, in our younger years allow us to weave through the lives of our peers as we flit in and out of each other's individual supporting casts of players. Burgess's non-judgmental, non-partisan authorial style gives the reader a welcome opportunity to come to their own conclusions about the peculiarly candid free spirit that is Blake Sinclair. This beautifully illustrated collection marks Sarah Burgess out as a creator we all need to be keeping a very careful eye on in the future.
I can only promise that the next time Jade Sarson suggests a comic that I should be checking out I'll be listening far, far more carefully…
The Summer of Blake Sinclair is self-published online as a webcomic here. The first print collection is available from Zetabella Publishing priced £12.55/$15.99 from the usual online outlets including Page 45 here. For more on the work of Sarah Burgess visit her website here.
For regular updates on all things small press follow Andy Oliver on Twitter here.