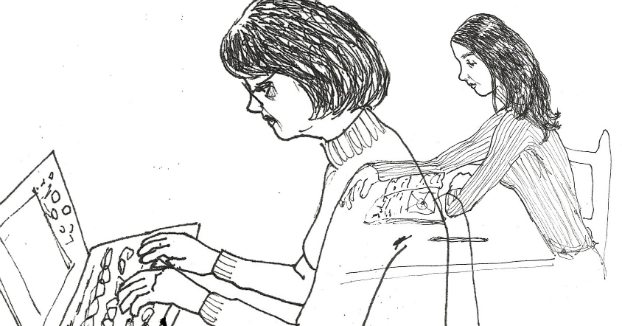 "Liz was one of the neighbours in our block of flats. She lived on the other side of the fifth floor. She had one eye. My mum somehow got the job of administering eyedrops into the empty socket and I would eagerly watch. It was like an inverted strawberry and surprisingly shallow."
So begins Liz of the Light and Dark, one of two new zines (alongside Beautiful Face) by 2016 Broken Frontier Award nominee Wallis Eates that continue her Fleeting Faces series of anecdotal autobio, first covered at Broken Frontier in 2015 here. Let's underline from the start that these are not comics – they're more mini-graphic narratives. But in the wider body of Eates's work they both complement and expand upon her explorations of memory, its veracity and the fundamental defining importance of those lives that orbit our own, however brief that association may be.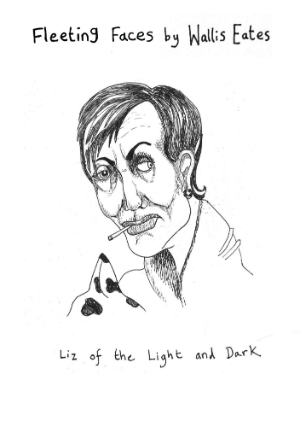 Each entry in the series comprises just a handful of pages recounting acquaintances from Eates's childhood, whether that be in the form of her peers or her mother's friends. Liz of the Light and Dark is a character study of a neighbour in the block of flats that the young Wallis lived in with her mother and captures the same sense of tragi-comedy that was such a defining factor of the first run of zines.
A Cruella DeVille lookalike but with a polarised personality to her fictional counterpart, Liz's existence is conveyed with a particularly Eates-ian turn of phrase: "She had faded lampshade glamour" we are told and was "the Jarvis Cocker of aunties, with a Dot Cotton elegance." The brilliance of the Fleeting Faces series is the way in which Eates distils the essence of entire lives into a few hundred words; how in just the turn of a few brief pages we feel we know these faces from her past as well as she does.
There's a careful narrative balancing act at play in Liz of the Light and Dark. Here we have a creator who, in an almost voyeuristic manner, is adept at emphasising the grotesquery of her subjects for darkly comedic effect but she's also careful to remind us that these are individuals whose lives were defined by so much more than their foibles and idiosyncrasies. One wartime photo in Liz's flat is a poignant reminder that she also had hopes and aspirations, achieved things, touched lives and left a mark on the world before her time came to its sad conclusion.
And in that regard I would recommend that if you do pick up both of these zines at their debut at this weekend's DIY Cultures Fair that you read Liz of the Light and Dark first before Beautiful Face as the latter both contrasts and yet complements the themes of the former. Beautiful Face is a divergence for the Fleeting Faces series in that that it features a subject that Eates never met but one whose brief life still affected hers in unexpected ways.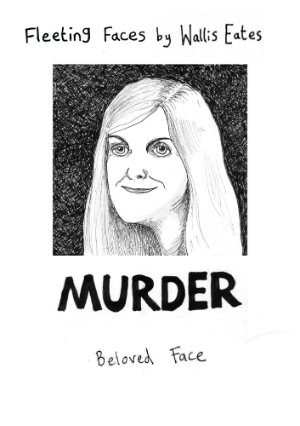 More verbose and meditative, certainly less wry in approach, this is the story of Cara, a young woman in her late teens who was beaten to death on her way home from a night out, in Eates's then hometown in the mid-'90s.
It's still full of the kind of unique observations that could only come from Wallis Eates – murder posters taking the form of grim exclamatory bunting for example – but this is a piece that rejects the slightly ephemeral nature of earlier editions for something far deeper.
It's not simply a commemoration of one young woman or an exploration of the brutality and futility that engulfed her but a eulogy to lost potential and a careful reflection on the commonalities that bind us. Juxtaposed with the speculative final moments of Cara's life it's also a reminder of the shared experience of that time in our past when life was smaller and seemed more fragile but the future was overflowing with promise.
In these two zines, then, we see an existence with hidden depths and a past waiting to be discovered placed side by side with one whose similar dreams, ambitions and prospects were snatched away in the cruellest of circumstances before they could be realised. Eates's remarkable and inventive command of language is never ostentatious or staged but, in its oh-so deceptive simplicity, gives an an extra sense of raw humanity and honesty to its subject matter, complemented by her hand-written lettering and stark visuals.
As ever when I discuss the work of Wallis Eates it remains a constant source of frustration to me that it's not more widely celebrated or distributed. That time will come. In the meantime if you're at DIY Cultures on Saturday these two zines are, without a doubt, my pick of the fair.
For more on Wallis Eates visit her site here and follow her on Twitter here. You can find her online store here.
For regular updates on all things small press follow Andy Oliver on Twitter here.