In the unlikely event that you're one of the uninitiated, Youth in Decline's Frontier series provides a showcase for complete single issue stories from some of the most exciting voices in indie comics. Previous contributors to the quarterly have included the likes of Sascha Hommer, Sam Alden and Emily Carroll; that latter edition reviewed recently at Broken Frontier in this column here.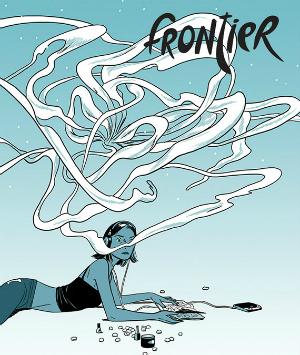 Frontier #7 features the work of Jillian Tamaki, co-creator with Mariko Tamaki of the 2014 Broken Frontier Award winner in the Best Original Graphic Novel category for This One Summer. Tamaki's story 'SexCoven' is an exploration of the concept of virality through its study of a mysterious mp3 that came to prominence in the 1990s. One that induces hallucinatory effects in those within a certain youthful age range that listen to its atonal drone.
'SexCoven' is an intriguing counterpoint to Emily Carroll's earlier entry in this series in Frontier #6's story 'Ann By the Bed' which also drew fictional accounts from assorted sources together to create a jigsaw puzzle picture style overview of a supernatural urban legend. Here we have something essentially unknowable and indefinable couched in the terms of a very modern phenomenon, though – the rapid and easy dissemination of information through the online structures that have come to define and, arguably, control our daily existences.
In the mid to late '90s the sound file that is eventually to become known as 'SexCoven' – described as a wordless, six-hour "sonic mindfuck" – is first uploaded from a now lost IP address. As its influence grows through multiple shares its ability to evoke emotional highs in its largely teenage fanbase begins to cause concern from the establishment. "Covencrawls" where listeners experience its effects walking through isolated areas often have tragic consequences; online communities spring up analysing its effects; and then, just as its influence seems all-pervading, the download numbers drop and its influence wanes outside of that of a cult that bases its lifestyle on the file's metadata.
Tamaki's use of multiple perspectives to tell her story underlines an ironic sense of disconnection in a tale that nevertheless revolves around myriad correlations – an unease and disquiet about this inexplicable happening and its origins. It's an odd juxtaposition of the disjointed and the intimately interrelated that builds up a creeping sensation of anxiety throughout Frontier #7. This phenomenon can't be controlled, just observed, and its relationship with a predominantly teenage demographic further extends the confrontational chasm that makes up the generational divide; playing on those ages old fears of the perceived otherness of youth.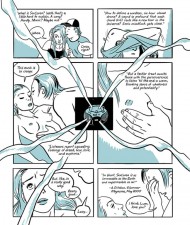 But it's her visual representation of the 'SexCoven' file as it infiltrates the lives of those that listen to it that is the most affecting element of the book in emphasising the alien qualities of the mp3's "existence". Its enigmatic reverberations seep across the pages; the technological becoming almost organic in make-up and intent as it moves in and out of individual consciousnesses, transmitting itself ever outwards both within the confines of the narrative itself and across the structure of the comic's layouts (right).
Helplessness and a contrasting casual indifference to the power of 'SexCoven' mark the differing reactions of the book's characters to its influence. To some it's an incomprehensible abstract threat, to others it represents an opportunity for spiritual enlightenment through shared experience. Tamaki's work on Frontier #7 is part psychological horror, part social commentary, and is all the more effective for dressing up our terror of the unknown in the familiar online social tools we have come to rely on.
Frontier #7 is available from Youth in Decline priced $7.95 here.
For regular updates on all things small press follow Andy Oliver on Twitter here.