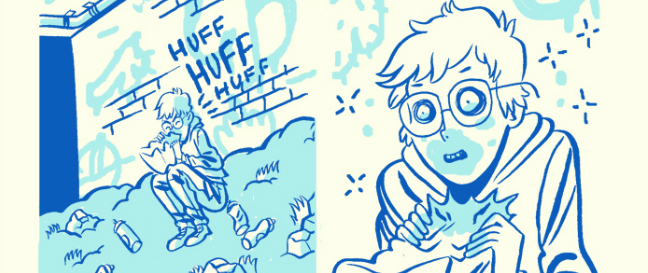 Snackies is a compilation of the previously self-published minicomics work of cartoonist Nick Sumida – alongside some new material – collected by San Francisco-based micropublisher Youth in Decline. Sumida's comics usually begin with a standard observational comedy premise but often rapidly evolve into something far stranger and, on more than the odd occasion, border on the deliciously demented. It's the small press slice-of-life genre dressed up in the brutally bizarre; pseudo-autobio comics that can only be described as endearingly twisted in both conception and delivery.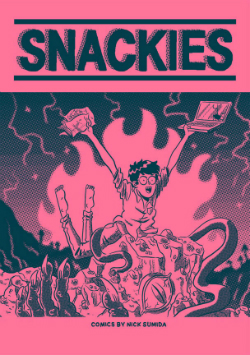 Within the 88 pages of Snackies you'll witness the likes of Sumida's violently extreme stress management techniques, texting conversations with God (below right), the existential angst of 'Fun First Dates', and experience a Valentine's Day for the single person that is a work of excruciatingly cringeworthy genius (see below centre). Indeed, the first thing even the most casual reader will pick up about Sumida's style is that this is an artist who takes a joke to its logical extreme, then one step further, and then several steps more for good measure.
Take 'Missed Connection', for example, a strip wherein Sumida's on-panel persona falls in love with his own reflection. It should be a one-note gag and yet he manages to mine several pages of narcissism-based social commentary out of it. Similarly, 8 pages of new illustrated Internet acronyms should get old very quickly – it's an obvious basis for humour after all – but the increasingly outrageous nature of these online slang presentations (who wouldn't want to use ROFWHAMUTSH "Rolling On Floor While Holding A Mirror Up To Society's Hypocrisies" after all?) ensures they don't outstay their welcome.
For all the oddball incursions in his strips from demonic entities, miniaturised pop stars or street cred deities, Snackies is essentially a comics collection that explores contemporary social conventions we can all identify with. Sumida's presentation may have a frenetically hyperbolic style to it but at its heart there is so much here that will be instantly recognisable to readers, from Internet dating in 'Meeting IRL', to blagging it at work in 'Fake it 'Till You Make it', through to a brilliantly cutting lampooning of maintaining your position in your peer group in 'Signature Goodbye'. It's the basic hang-ups of human nature skewered with a bitingly surreal wit.
The accessible Archie-style artwork only serves to accentuate the comedy with its beguilingly innocent linework serving as an effective contrast to the acerbic musings of each strip. Sumida's control of the unique narrative possibilities of the form is evident throughout from a playful use of the passage of time in 'A Day in the Life' to the frame-to-frame between-the-panels reality-shifting of the final 'How We Met' offering, which is a textbook example of the kind of storytelling tricks that only comics are able to utilise.
Dangerously unpredictable and gleefully cynical, Snackies is the product of a creative mind whose work deserves your rapt and immediate attention.
For more on the work of Nick Sumida visit his site here. Snackies is published by Youth in Decline and is available from their online store here priced $12.00 .  
For regular updates on all things small press follow Andy Oliver on Twitter here.