With its distinctive dual nature, as both an ongoing series and also as a collection of one-shot publications, micropublisher Youth in Decline's flagship title Frontier has twice been nominated in our Broken Frontier Awards over the last couple of years and in very different categories each time.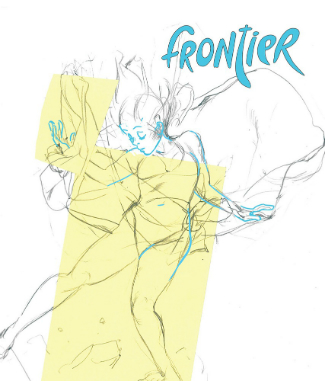 Every issue is comprised of a self-contained story from top indie talent, whether that be established artists or some of the newer exciting voices on the scene. To date that has included artists as diverse in their approach as Emily Carroll, Michael DeForge, Becca Tobin and Jillian Tamaki.
Frontier #14 is turned over to Steven Universe creator Rebecca Sugar who presents a self-reflective short.  It's a hazy, one-shot, visual monologue that layers autobio across discarded fictional work to provide a meditative piece on our interactions with art and popular culture, and the self-perpetuating nature of artistic practice.
Revisiting the pages of an old unfinished comics project 'Margo in Bed' Sugar observes the ways in which that tale of an adult woman meeting the '90s surfing cartoon character she had a childhood crush on mirrored her own obsessive love for animation.
It's a juxtaposition of unresolved graphic storytelling and latter-day personal commentary that makes intriguing points about the symbiotic relationship between practitioner and narrative, and the reciprocal yet shifting connection between identity and work. It also ponders on the notion of creative legacy; of an almost organic causal link that forms an ongoing chain of inspiration from viewer to future creator and on.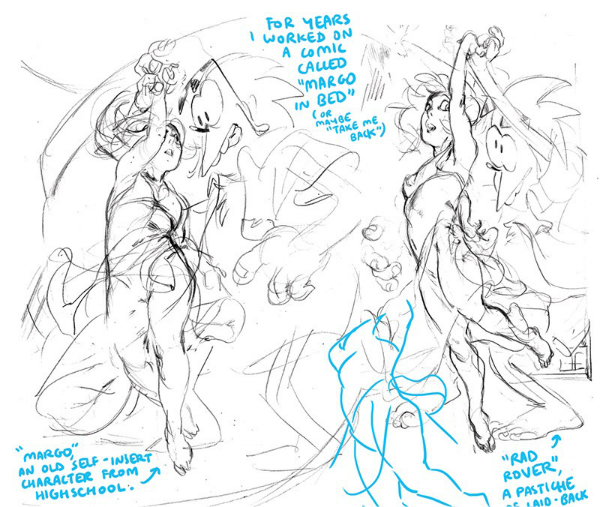 The second half of the issue continues the loose theme of personal artistic evolution with Sugar equating the depiction of dance and motion with a sense of comfort and serenity; an illustrative journey that moves us from familial origins to contemporary stylistic renditions. The issue is bookended by photos of poetry written on a mobile phone; nuanced verse that ties into the pages it envelops and acts as a signifier perhaps of profundity in the potentially ephemeral.
Frontier #14's scrapbook approach, wherein a vague narrative is casually pieced together through disparate elements, may undoubtedly seem too fragmentary for all tastes. But, while it has an air of the fleeting and the fractured to it, it never feels slight or immaterial. Deeply personal and yet also richly inviting, this is another idiosyncratic offering via one of US indie comics' most vital ongoing projects of recent years.
For more on buying copies of Frontier check out the Youth in Decline online store here and follow them on Twitter here. You can follow Rebecca Sugar on Twitter here and on Tumblr here.
For regular updates on all things small press follow Andy Oliver on Twitter here.