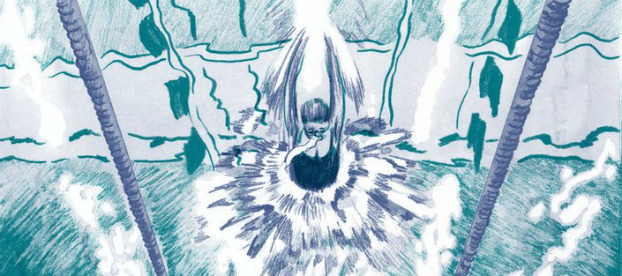 ELCAF FORTNIGHT!
Lengthy gaps between issues is one of the problems with serial storytelling in comics. However, in his mysterious drama Generous Bosom, Conor Stechschulte has created a sense of anticipation that crackles between the issues like an electric arc between those big metal ball things they have in oldie-timie laboratories [subeditor: please find correct name for these]. With Conor in attendance at ELCAF for its launch, Generous Bosom #3 is one of the festival's marquee books.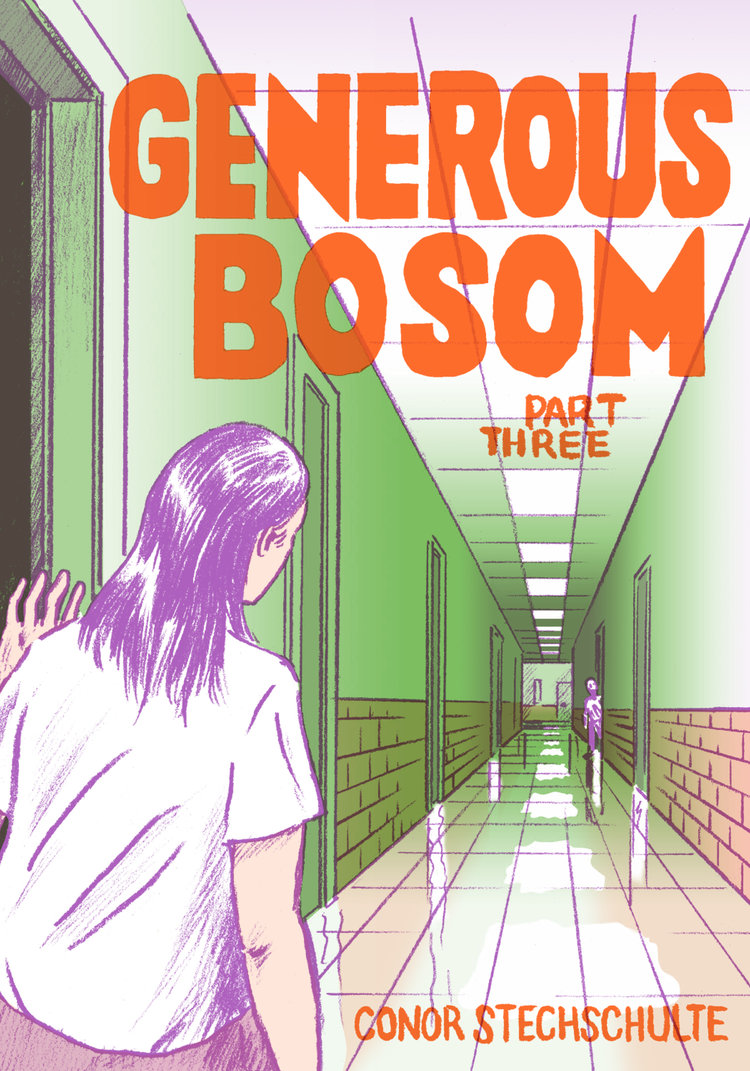 After the claustrophobic drama of the opening issue (reviewed here) showed the hapless Glen get sucked into the dysfunctional marriage between former high-school teacher Art and his ex-student Cyndi, the second issue (2016) introduced some new, unexpected and slightly baffling elements. And while the questions keep coming in #3, there are enough revelations to cast earlier events in a startling new light. It's becoming very apparent that neither the reader nor the characters should take everything they see or experience at face value.
The issue kicks off with another seemingly tangential prologue, introducing a couple of new characters whose relationship to the main story isn't apparent. However, when we see the scene replayed from a different perspective at the end of the issue, it takes on an altogether more chilling resonance.
Meanwhile, the developing relationship between Glen and Cyndi maintains its unsteady progress until an emerging crisis flings them into an alien new situation. As one of the more puzzling elements from #2 moves to centre-stage, its safe to say that Glen and Cyndi are now firmly down the rabbit hole.
And as we learn more about estranged husband/cuckold Art, the tone of the book shifts from the 'house in the woods' movie-of-the-week feel of #1 to something much more akin to a Manchurian Candidate-style conspiracy thriller.
The presentation of the book again highlights the perfect match between Stechschulte's richly textured art style and the meticulous approach to production embodied by Breakdown Press (via art director Joe Kessler and their print partners at London's Ditto Press). Artist and publisher again use the now-familiar qualities of riso printing to create striking visual effects on the page (and keeping your eyes open to CS's choices during the early stages in particular provides rewards for the attentive reader).
Lengthy gaps can certainly hurt an unfolding narrative like Generous Bosom. However, this is a mature and engrossing bit of work that repays – and even demands – repeated reading. Its fractured sense of reality and focus on the unpredictability of memory and perception keep the reader as off-balance as the main characters.
If you've not managed to, um, get your hands on Generous Bosom so far, hie thee to the Breakdown Press table at ELCAF and sort that out.
Conor Stechschulte (W/A) • Breakdown Press, £15.00
Conor Stechschulte is an ELCAF 2018 festival guest artist and will be talking about 'Comics in Twilight' in the Talks Marquee on Saturday June 23rd. Breakdown Press will also be exhibiting at ELCAF. You can visit their online store here and follow them on Twitter here. 
Catch up on all our ELCAF Fortnight articles to date here. ELCAF runs from June 22nd-24th. Full details on the ELCAF site here and you can also follow the festival on Twitter here.