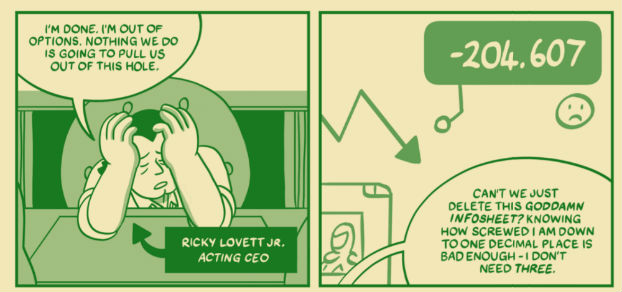 AVAILABLE AT THOUGHT BUBBLE!
With effectively the third issue of his Glorious Wrestling Alliance series, 2017 Broken Frontier 'Six to Watch' artist Josh Hicks returns to the ring at Thought Bubble with another behind-the-scenes look at our favourite comics wrestling franchise. This edition is ominously titled Glorious Wrestling Apocalypse because this time around disaster is looming for the oddball grapplers and out-of-their-depth management team of the GWA…
In just a handful of issues Hicks's small press sitcom has become one of the most fondly regarded self-published books on the UK indie circuit. With its colourful cast of quirky characters, lovingly crafted comedic set pieces and a genuine warmth at its heart, Glorious Wrestling Alliance sits firmly in the same bracket as Dan White's Cindy and Biscuit – comics that inconceivably haven't been snapped up by publishers yet and somehow remain in the realm of self-publishing.
Things are not good for the Glorious Wrestling Alliance. It's heavily in debt and under the leadership of under-qualified Chief Executive Officer Ricky Lovett, Jr. Meanwhile, though, its crew of performers are facing their own challenges. The Great Carp (a wrestler with a Creature from the Black Lagoon vibe) is facing something even more scary than an opponent in the ring – the terrifying world of merchandising. Wannabe poet Death Machine is feeling unfulfilled while Gravy Boat (a literal human/sauce receptacle hybrid) has adopted a new theatrical bad guy persona, and the mysterious Hyper Mask is suffering from a lack of recognition. Can CEO Lovett pull the team together and save the Glorious Wrestling Alliance from financial oblivion?
Told in a series of character-led vignettes that build into an overarching storyline, the meta echoes of Glorious Wrestling Apocalypse are sublime. Presented in foreboding documentary-style flashback it marks a turning point for both the characters and the series itself. To date, Hicks has wisely avoided numbering issues (always a hindrance for small pressers with little tangible benefit) and kept each instalment largely self-contained. But this edition shakes up the status quo for a number of characters, bringing subplots to a close in some cases and pushing characters off into new directions in others.
It's a testament to how much we've come to feel invested in this cast in such a small amount of page time that these developments feel so momentous. It's certainly the bleakest episode so far but Glorious Wrestling Apocalypse retains the signature humanity and wit that has been such a strength of the run. From that perspective it will be intriguing to see where Hicks takes the various players next given the fundamental changes to their circumstances herein.
As ever, this third story combines cleverly constructed page structures and neat visual storytelling tricks to bring the characters' individual arcs to life. Old school thought bubbles and footnotes are cleverly used to great effect, underlining how needless their abandonment has been in serial comics over the last few years. Hicks's diagrammatic spreads are on show once again and his various narrative inserts to communicate information in alternative ways (the Great Carp's mood gauge for example or social media updates appearing on page) all bring a broader sensory input to his storytelling.
Hicks will be debuting Glorious Wrestling Apocalypse at Thought Bubble this weekend. It's a book I heartily recommend to those yet to discover the engaging cartooning of this up-and-coming artist  and also another one to flag up pre-Thought Bubble to publishers doing the table rounds looking for potential prospects…
For more on the work of Josh Hicks visit his site here and follow him on Twitter here. You can visit his online store here. You can find him at Thought Bubble in the ComiXology Marquee at Table 82a.
For regular updates on all things small press follow Andy Oliver on Twitter here.