Retroflect has a long history at Broken Frontier, having been both a series of blogs and an ongoing column here in the past. Today we return to this irregular feature for looking at pre-millennium comics, from celebrated classics to obscure and largely forgotten titles. Today's subject is The Golem, a character with one of the shortest runs of the Bronze Age and a strip so lacking in direction that Marvel even made a letters page apology for it! Forty-year old spoilers will follow…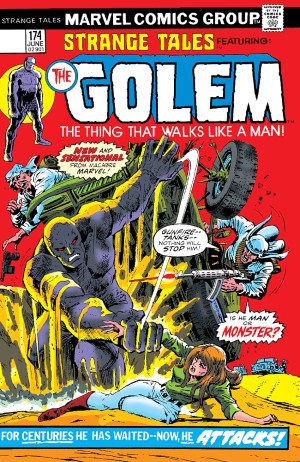 The 1970s were a transitional period at Marvel as the vision of a handful of creators became a legacy for others to embrace. It was also a time when the Marvel Universe expanded beyond its foundation of mostly super-hero comics and the line began to explore other genres, with science fiction and particularly horror books becoming a growing staple.
While many of the supernatural books operated largely within their own sub-universe, rarely interacting with the super-hero books, there were also those that had their feet in both worlds. And then there were the curiosities, the concepts that were thrown out there to cash in on the 1970s horror boom but never found an audience or even a consistent direction. Perhaps the oddest of these was the short-lived The Golem series (subtitled 'The Thing that Walks Like a Man!') which managed just three issues of stories, a hasty tie-up in another comic and the perhaps unprecedented step of an editorial apology in a letters page for how poor the run had been…
In 1973 Marvel revived its Strange Tales anthology series after five years, this time as a showcase series for new characters. Its first five issues featured Brother Voodoo, a lead who would hardly set the sales figures alight but would go on to a certain cult appeal in later years. The second character to get the spotlight was the Golem, a creature from Jewish folklore whose most well-known incarnation as 16th century protector of the oppressed Jewish population of Prague had already been alluded to in the pages of Incredible Hulk #134 in 1970.
That version of the myth saw the rabbi Judah Loew ben Bezalel creating the imposing form of the Golem from clay and in the Marvel Universe it is cast as a benevolent entity that, after defending the Jewish community of Prague, then roamed the world righting injustices. It finally ended up in the Sahara where it allowed itself to be consumed by the sands of the desert and remained inert for centuries.
Its entry into the MU-proper in Strange Tales #174 comes via that old storytelling fallback of an archeological dig. Writer Len Wein gives us an in-built supporting cast of dig leader and academic Professor Abraham Adamson, his niece and nephew Jason and Rebecca, and Rebecca's fiancé and Prof Adamson's archaeologist colleague Wayne Logan. The quartet's mission to unearth the Golem from its purported resting place is successful but it's one that ends in disaster when a group of soldiers, deserting from a local conflict, descend on their camp.
While Adamson and company treat them with welcoming kindness the soldiers, led by the pragmatic but unpleasant Colonel Omar see them only as a resource to be exploited. When Professor Adamson attempts to stop their plunder he is gunned down and the younger members of the group taken as hostages by the soldiers who flee the remote encampment. With his dying breaths Adamson begins the ritual that will bring the Golem to life. It's a successful rite that results in the silent stone giant relentlessly hunting down the killers and freeing their victims. In the aftermath Jason, Rebecca and Logan believe there's a familiar twinkle in the creature's eyes…
Despite its stranger set-up this is in many ways a very traditional Marvel origin story, with heroism emerging from tragedy and self-sacrifice in the time-honoured way. The question of whether the Golem is somehow Professor Adamson in a new form, or if it's simply his lifeforce that animates it, is never resolved to any definite degree but there were undoubtedly story possibilities there that would have been intriguing to explore. Sadly, from the outset, the strip is in difficulties. The second part comes a whole four months after the first story was published, after #175 ends up as a fill-in reprinting Lee/Kirby/Ditko monster tales from the early '60s (Strange Tales had a bimonthly schedule).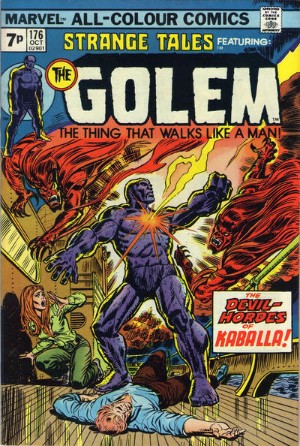 With its momentum already broken, a shuffled creative team for the Golem after just one issue would never have boded well. Visually, John Buscema and Jim Mooney gave the first story an added air of authenticity with solid action sequences and expressive visual characterisation that added vital layers to the cast's otherwise perfunctory roles in the narrative. Strange Tales #176 brings writer Mike Friedrich and artist Tony DeZuniga (inked by Steve Austin in #177) for a two-parter that pits the Golem, and what is now effectively its own Scooby Gang, against the sorcerer Kaballa. Having discovered the Golem is active once more, he wants its power for himself and sends his servile elemental spirits to attack our heroes to just that end.
Kaballa is a generic, cackling, evil wizard type and while these two instalments manoeuvre the Golem into what one presumes would have been a position more central in the wider Marvel Universe (it ends up transported to an American university campus by the group in #177), the antagonist himself is there as mystical colouring. A new supporting character, the sympathetic academic Saudia Yamal plus the disreputable Professor Yeates, who fears the reality of the Golem will discredit him in educational circles, provide some human interest distraction in #177. But the major revelation is that the Golem takes its strength from its connection to its erstwhile family, again hinting that some echo of Professor Adamson at the very least lives within it.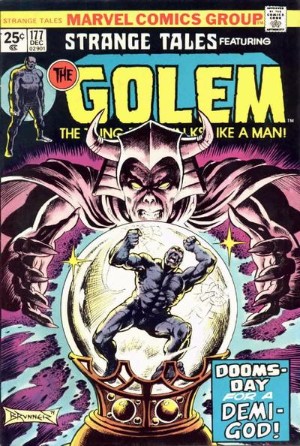 And, having seen off Kaballa's forces again, essentially via the power of love, the Golem series ends abruptly after just three issues. In an example of the kind of honesty that would be occasionally seen on letters pages of the time but seems inconceivable now there's a full-on apology at the end of Strange Tales #177 for the strip. This admission attempts to explain just why it had been a publishing mistake and was being discontinued. Describing it as a good idea that didn't work out, it's remarkably candid, speaking of a loss of morale and motivation creatively, and a lack of direction. There's even an acknowledgement that the story ends with many unresolved elements. As apologetic as it all is, one can only imagine how frustrating it must have been for readers of the time who had shelled out the cover price only to be told by the people behind what they'd just read how bad it actually was!
In fairness The Golem, though unremarkable in the Marvel pantheon, was perfectly readable, escapist fare (although not without some character portrayals that were at best "of their time"). What probably made it a difficult prospect in the long-term was a protagonist who essentially wasn't; a title character who had little agency of his own and whose adventures were directed by those around him. While Steve Gerber would be able to pull that off in the pages of Man-Thing with a central character who almost shambled unawares through his own narrative, it was clear no one involved with The Golem had that much commitment or interest in the character to achieve anything similar. And with four writers involved in as many issues no one seems to be able to decide if the Golem is sentient or not (on one occasion it speaks and on another appears capable of at least rudimentary thought but this is never followed through and it remains mostly silent).
This wasn't quite the end of the story though. Strange Tales would go on to continue the chronicles of Adam Warlock but the Golem would get one final 1970s outing. Marvel Two-In-One – the team-up book featuring the Fantastic Four's the Thing as lead character – would serve a frequent role as a venue for wrapping up plotlines of otherwise cancelled series and in #11 Roy Thomas and Bill Mantlo fashioned a plot for Bob Brown and Jack Abel to illustrate that provided at least some sense of closure, even if it was nine months after the character's last appearance.
MTIO #11 is notable for finally bringing Kaballa into direct conflict with the Golem and crew in one final attempt to attain its power. Kaballa manages to gain control of the Golem and send it on a rampage, which coincidentally leads it into the path of the vacationing Thing. It's a typical team-up comic contrived meeting and, once again, the Golem's power is boosted by the presence of Jason, Rebecca and Wayne at the crucial moment when Kaballa makes his final, doomed powerplay. The wizard would go on to become part of The Conspiracy and a foe of monster-hunter Ulysses Bloodstone in Rampaging Hulk while the Golem, left inert at issue's end, would disappear into obscurity for three decades. In the mid-2000s it would appear very briefly as part of Nick Fury's Howling Commandos, a short-lived series built entirely around a pun and in a best forgotten role. The Golem supporting cast have, to the best of my knowledge, never been referred to again.
The Marvel horror/supernatural/monster books threw a lot of concepts out there at the time (Brother Voodoo, the Scarecrow, Modred the Mystic, Gabriel the Devil-Hunter, It the Living Colossus and so on) that had only very limited publication histories but none of them was quite so curious in execution as the Golem's short-lived time as a headlining character. Those wanting the full story can check out the recent Marvel Horror Omnibus which also includes that fateful letters page announcement. A bizarre epitaph for an unlikely run.