Rik Worth and Jordan Collver return with the second issue of Hocus Pocus: Magic, Mystery and the Mind, and it does not disappoint.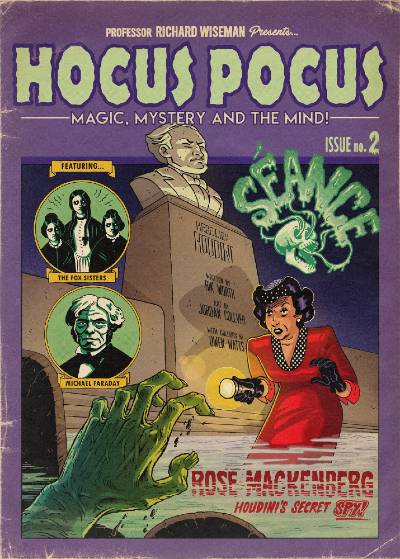 The book continues its fun, multi-hyphenate approach to storytelling with a series of interactive and interconnected shorts that introduces the faces and feats of pseudoscience, magic and everything in between. Issue two on séances, the (very much an) art of talking to the dead, led by Houdini as the narrator touring through the invention of spiritualism, fortune-telling theatrics and the teen-sleepover-favourite Ouija Board. Like the first issue, Worth breaks the fourth wall and involves the reader through the narrator's monologues and book's form itself. These physically interactive moments aren't prevalent, but they do point to the value of owning the physical book in a cute disclaimer. But Worth's efforts go beyond this playful touch; thus far, the series has been exemplary of "compressed writing" in comics. Every story is equal parts information and structure-driven narrative (with suspense, surprise, etc.) Although the premise is expository, Worth's writing rarely feels like exposition. Every panel is carefully crafted to delight the reader with insight and irreverence.
So much of this solid craftsmanship comes down to Collver and Watts being in lockstep with Worth to form a singular voice. Collver's character designs span from rubberband animation in one sequence to soft photorealism when introducing historical figures; settings, backdrops, focus bubbles and action are tonally fitting and subtly clever (a whoopee cushion for a focus bubble highlights an experiment disproving a method of séances). Some panel borders are thematic to the subject, like the use of knotted rope in a sequence about a rope-tying trick. The lettering is not only tonally appropriate to the moment but reflects implied genres, like EC Comics-style horror and detective noir. Watts' colours feel just as inspired. In addition to helping orient the reader with scenes and fourth-wall addresses, Watts' duotone approach uses noirish red, white and black, and sickly green and pink for horror.
Hocus Pocus is a daisywheel of creative choices that inject new life into the form, with the right amount of depth and breadth without feeling complicated or overstated. Do yourself a favour and pick up a copy (see links below).
Rik Worth (W), Jordan Collver (A), Owen Watts (C), Richard Wiseman (Creative Consultant) • Self-published, digital free here, print copy £6.99 here
Review by Moe Abbas