One of the great delights of this year's Eisner nominations was the inclusion of small press comic Hocus Pocus on the ballot. An investigative series focussing on the history and science of the paranormal Hocus Pocus has covered topics like ghosts, seances, prophecy and mind reading. This fifth and final issue tackles the subject of levitation with the blurb "Floating fakirs! Legendary lies! Menacing Mediums! And the secret to levitating your chums!"; a description that perhaps gives new readers an idea of the comic's slightly irreverent but always affectionate approach.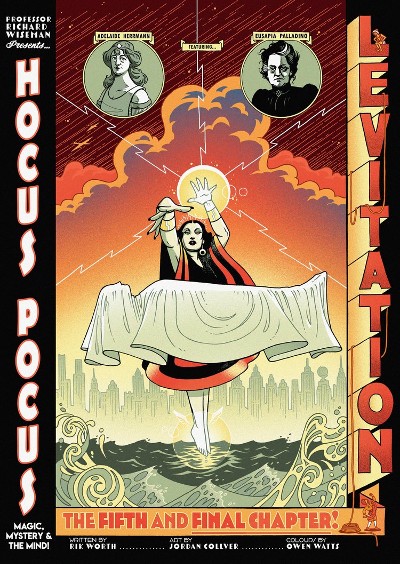 Eagle-eyed Broken Frontier readers may notice art here that was included as part of a very brief Small Press Day Twitter focus as part of our one-tweet reviews contribution. I said then of Hocus Pocus, in my very limited character count, that "you don't even need to focus on narrative here to see what a joyous celebration of the potential of the medium this is. Panels used to enhance theme and mood with a meta flourish"; words that hopefully communicated the degree to which Hocus Pocus exploits the form's potential to convey the mystery and sleight of hand that it so gleefully and fondly commemorates.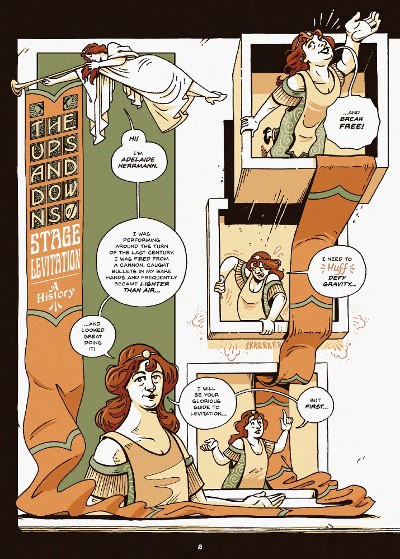 In Hocus Pocus #5 writer Rik Worth and artist Jordan Collver provide three related comic shorts. In the first one vaudeville magician Adelaide Herrmann provides us with a potted history of levitation on the stage. Herrmann takes us on a journey through its early days, as tricks developed and became ever more elaborate, through to the performance exploits of David Copperfield. A second story looks at the Indian Rope Trick, putting forward the argument that its notoriety has relied on continual embellishment over the decades, while in the final entry in the issue medium Eusapia Palladino lets us into some of the secrets of the illusion of levitation.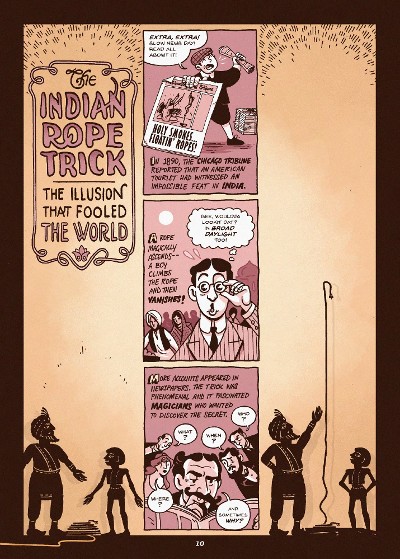 While Worth's carefully condensed historical exposition, Collver's jaunty artwork, and colourist Owen Watts's carefully chosen, subdued hues, would make this a fun and fascinating read alone it's the way in which the creative team match form with theme to such notable effect that ensures Hocus Pocus is elevated from the entertainingly anecdotal to considered comics craft. Take the first story, for example, where panel layouts suddenly shift to alter our perspective and recreate the dizzying awe of levitation. Or the second tale that replicates the unlikely possibilities of the Indian Rope Trick with a central, vertical, three-panel structure down the centre of the page, sitting on a background of associated motifs.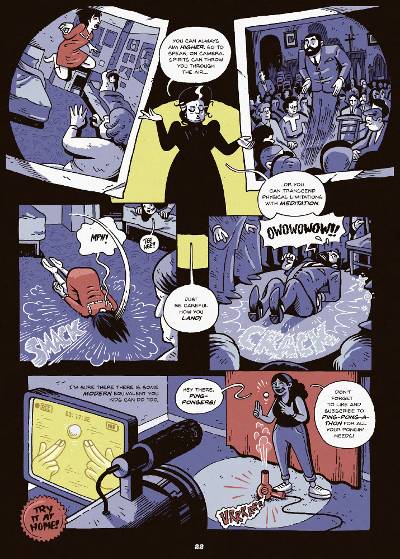 Again the final short uses a number of clever visual tricks to replicate the disorienting idea of characters floating unaided, with one page fracturing into four panels being especially memorable. A final coda to the series makes neat use of a magical sight gag to sum up its endearingly impudent yet affectionately toned consideration of its subject matter. A collection of all five issues now seems an obligatory necessity.
Rik Worth (W), Jordan Collver (A), Owen Watts (C), Richard Wiseman (Creative consultant) • Self-published, £6.99
Review by Andy Oliver