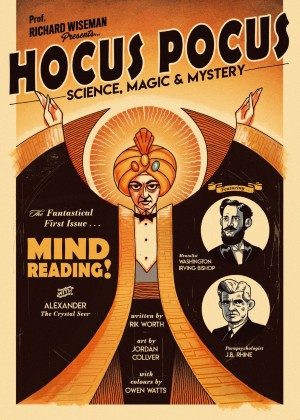 Magic and comics go together like PB&J, but how many of us know the Western origins of parapsychology and mentalism? Writer Rik Worth's online series offers an edutaining tour of pseudoscience's rock stars, with the first issue focusing on the historical figures of mentalist Washington Irving Bishop, parapsychologist J.B. Rhine, and vaudeville author Claude "Alexander the Crystal Seer" Conlin.
Their lives were a comedy of errors that seemed as outlandish as their magic. At 28 pages, the debut issue only gives us snapshots of their lives, beliefs and work. But Worth's tight script is quite dense and anything but paint-by-numbers. In fact, Hocus Pocus #1 is a magic trick itself. In the fashion of The Prestige for film, Worth plays with the form by breaking the fourth wall and occasionally turning the comic into an interactive demonstration led by the unreliable narrator. The narrator's tricks are genuinely surprising, insightful or hilariously misleading to prove a thematic point that comes full circle by the end. These beats show, rather than explain, some of what these magicians had up their sleeves.
Collver nails the tone with his exaggerated line art and expressionistic monochromatic colouring. His page design and layouts pull off Worth's multilayered approach, using a mix of experimentation and traditional grid structures to convey the dense information, pace the beats well and land comedic moments.
Hocus Pocus is free online, but a print version is available for £6.99. "Costly", you say? So is taking horoscopes literally (Worth has something to say about that too). Buy a copy and lend it to your literalist friends in the name of science.
Rik Worth (W), Jordan Collver (A), Owen Watts (C), Richard Wiseman (Creative Consultant) • Self-published, £6.99 or free digital copy to download here
Review by Moe Abbas