House of Penance, Peter J. Tomasi's harrowing return to creator-owned comics is a tour de force of atmospheric supernatural horror, thanks in no small part to the gritty art of collaborator Ian Bertram.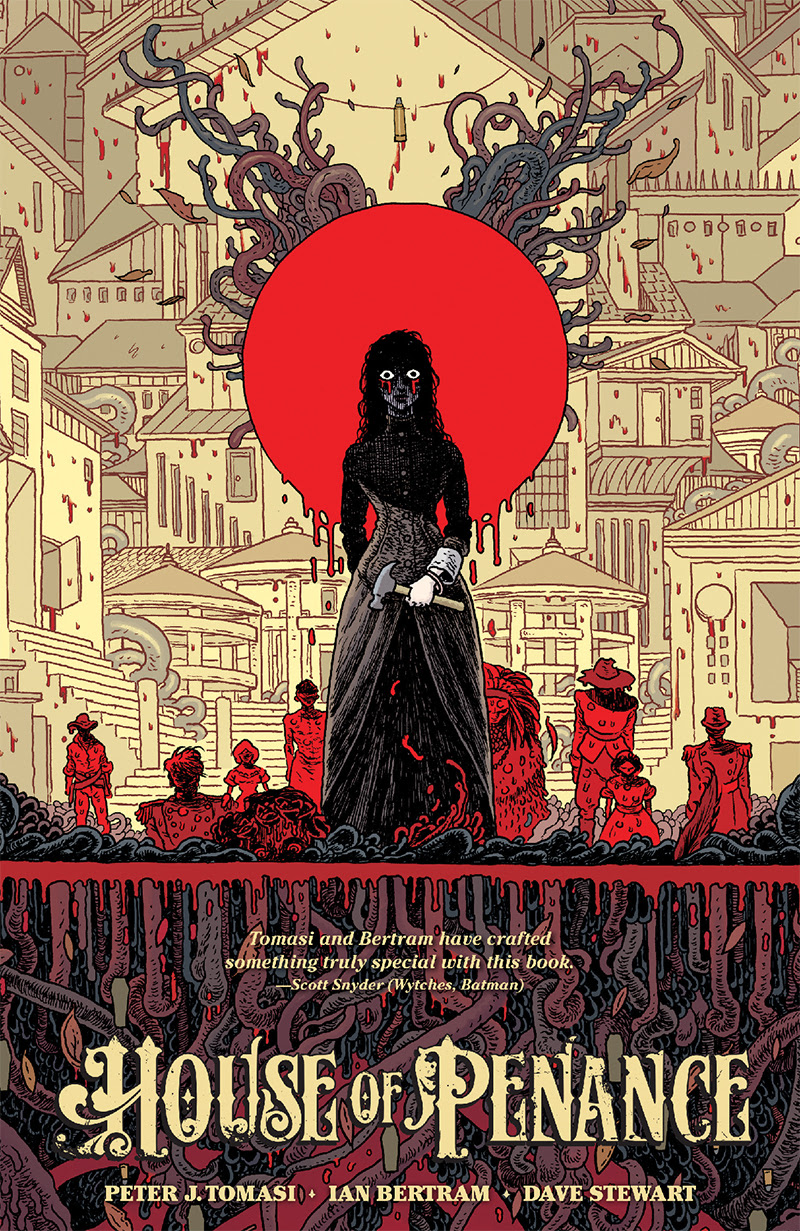 Although he is perhaps best known for his mainstream work at DC Comics, as both an influential editor and fan-favourite writer, Peter J. Tomasi is no stranger to creator-owned comics. Both The Mighty with Keith Champagne and Light Brigade with Peter Snejbjerg were well-received by fans and critics alike.
It's no small wonder then that his latest series from Dark Horse has already incited a firestorm of critical praise from many of his contemporaries. House of Penance, a visceral exhumation of the legend behind the construction of the infamous Winchester Mystery House in San Jose, is a tautly paced supernatural mystery that is already proving as labyrinthine as it the notorious abode itself.
Sarah Winchester, the widowed heiress of the vast Winchester fortune, believed that the family suffered under a blood curse borne of the thousands of lives taken by the famous Winchester repeating rifle. To appease the spirits haunting her night and day, she moved to San Jose and began construction of their new home – some would argue following their nonsensical, otherworldly blueprints.
(Of course, the Winchester House is no stranger to comics: Alan Moore and his collaborators took Swamp Thing there during his classic run on that book in the mid-1980s, as part of the 'American Gothic' story arc.)
Tomasi and artistic collaborator Ian Bertram (Bowery Boys) build a gripping, atmospheric world, where the massive, looming structure of the Winchester House is omnipresent. It is a place imbued with strange Lovecraftian geometry, with stairways leading to nowhere and doors without rooms behind them.
It is a place of constant renovation and perpetual reinvention. Hammer blows sound like gunshots ringing out over San Jose day and night, as crews work round the clock. Bertram's scratchy, detailed linework evokes the simmering tension permeating the site. Coupled with Dave Stewart's always alluring colours, Bertram's raw, unfiltered rendering and unique page designs afford the reader a disturbing, surreal glimpse into Sarah's very real madness.
She is a fascinating character – one of many haunting the house, such as head foreman Murcer and the mysterious drifter Peck: ghosts fleeing their own tragedies, their own heinous crimes. It is Sarah's forceful personality, though, that drives both the construction of her spirit home and Tomasi's plot.
It remains to be seen what her ultimate agenda entails. Is she truly in league with occult forces beyond her control and understanding, or has her madness and paranoia, her survivor's guilt, subsumed all reason?
House of Penance represents a welcome return to creator-owned comics by one of the most respected minds in the biz. Tomasi's superlative understanding of graphic storytelling, combined with Bertram and Stewart's restrained yet utterly distinctive visual style, positions this series as a strong contender for one of my favourite books of the year. Very highly recommended.
Peter J. Tomasi (W), Ian Bertram (A) • Dark Horse Comics, $3.99