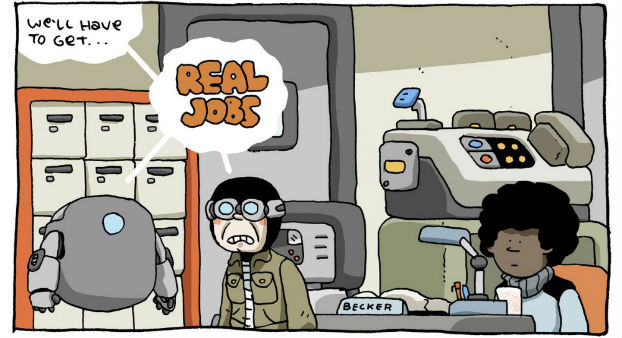 The first Double + story, starring the begoggled Plus Man and his robot buddy Hank, appeared on the Study Group Comics blog in 2014. In the four short years since then, creator Ben Sears has put out another Study Group short, followed by three volumes of full-length books starring the characters, with another one due out in 2019 (not to mention his appearances in zines, anthologies, and a back-up in the Adventure Time comic). Today we're looking at that upcoming third volume, The Ideal Copy, which is an 88-page adventure with mystery, intrigue, and a cadre of counterfeiting criminals who dress like Mr Rogers. The artist's intense productivity is, in my opinion, and entirely selfishly, a very good thing. I can't get enough of the stuff.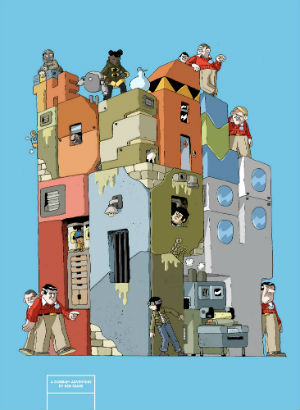 Sears belongs to a group of creators which, far from being a formal movement or collective of any sort, exists solely in my head. It's one whose style is emblematic of a set of shared interests. Alongside Sears I'd place Remake's Lamar Abrams and Ryan Cecil Smith, artists who synthesise a generation's formative influences — video games such as Mega Man, European adventure comics, classic pre-millennium manga, Western animation — into a consistent visual and tonal aesthetic. Their work is often unselfconsciously goofy, briskly paced, energetically illustrated and, consequently, a lot of fun to read.
In the case of the adventures of Plus and Hank, treasure hunters and all-round good-eggs, those influences are synthesised into the fantastical setting of Bolt City and the surrounding areas, two parts Castle of Cagliostro to one part Gary Larson; a freewheeling, semi-improvisatory tone and bright colour palette akin to Tintin or a Richie Pope comic; high-level cartooning reminiscent of the best "kids comics," from the duck-centric Carl Barks and Don Rosa to the serialised mischief of The Beano; and a sense of humour that, far from being cynical, self-referential or clever-clever, revels in the pure silliness of its situations and characters, putting me in mind of Wallace and Gromit.
The Ideal Copy is, of course, more than the sum of those parts. Yet arranging a constellation of related items is a good way of identifying the location of Sears's singular star. This story follows previous full-length adventures Night Air and Volcano Trash, also published by Koyama Press, although it heralds a change to the status quo. Where the first two volumes fully delivered on the blurb's promise of "a young Indiana Jones with super science," this time around the duo have been blacklisted from treasure hunting. Instead, they wind up working as caterers for a party at a swanky mountain top hotel.
The ease with which the pint-sized adventurer and his equanimitous robot partner — and Sears himself — shrug off part of the initial premise of the series is testament to the refreshing, unique creativity of the Double + books. After the prologue, a lot of the key signifiers of the earlier installments are sidelined. For the bulk of the story there are no chubby birds, tombs or tech, and we're out of the city whose colourful bolted-together aesthetic recalled the level design of Mario Bros 3. Hank even gets benched for most of the story, so the Hong Kong Phooey/Spot relationship he has with his erstwhile buddy is put on pause.
The new setting opens up a world of new possibilities for storytelling, hijinks, and visuals. There's a particularly stunning full-page spread of the Versailles Hotel during "the golden hour," the sky behind it made up of layers of mauve, auburn and gold. The equally colourful supporting cast is bolstered even further with the addition of a former treasure hunter with a sweet eye patch, precocious child and wannabe actor Mickey, and the rest of the duo's catering colleagues. And as much fun as could be had from a Double+ Coffee Shop AU, Sears's loose-limbed style is best suited to scenes of derring-do and comic action. So, inevitably, it does turn out that the party Plus Man, Hank, and their buddies are working is being held by some dodgy dudes. Which means this expanded ensemble get to stealth around, trick guards, fall down laundry chutes, and uppercut jerks in mecha-suits.
The immense amount of personality each of these characters has, even those appearing for the first time and/or only briefly, is testament to Sears's first-rate cartooning, ear for comedic dialogue and pacing. There's a richness to each individual figure, almost always willowy-limbed and placed in exaggerated poses, whether it's because they're giving a bad guy a high-kick to the face or spilling a plate of hor d'oeuvres. Those bad guys are wonderfully goofy, a college fraternity-turned-crime family who all wear identical red sweaters and khaki slacks, with each wearing a numbered badge like Dr Seuss's Things or the cast of The Prisoner.
Like those contemporaries I somewhat arbitrarily associated him with, you recognise the ideas and influences Sears is playing with, without their use solely being a TV Tropes-esque exercise in recognition and smug taxonomy. There are familiar beats and tropes in The Ideal Copy, but the unconventional way in which Sears deploys them, and the lack of clever-clever winking at the camera, means they work as shorthand towards something new and entirely unfamiliar. I'm loathe to pull apart the seams of The Ideal Copy too much, because reading any Double + adventure is so much fun, a rip-roaring rib-tickling romp I don't want to spoil for anyone. Just know that it's an immense amount of fun, imaginative, inventive, genuinely laugh-out-loud funny, and substantial with it.
Ben Sears (W/A) • Koyama Press, $12.00