Press Release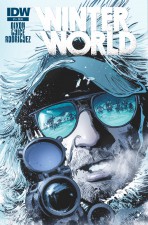 Xbox Entertainment Studio, the Microsoft division that produces original programming for the Xbox brand, announced today that they are co-developing with IDW Entertainment, Winterworld as a limited event live-action series based on the acclaimed comic series created by writer Chuck Dixon and artist Jorge Zaffino. Winterworld joins an impressive line-up of dramas, documentaries, and reality television shows being developed by Xbox Entertainment Studios to be debuted and aired on the Xbox platform.
Executive producing the series with Xbox Entertainment Studios are Ted Adams and David Ozer from IDW Entertainment, and Rick Jacobs and Dave Alpert from Circle of Confusion (Walking Dead).
"Xbox is recognized globally for their groundbreaking creativity. IDW Entertainment could not ask for a better partner to bring Winterworld to life," said David Ozer, President of IDW Entertainment, "We are thrilled to be working with them during this exciting time in their growth."
Winterworld takes place in an apocalyptic future where our world has been encased in ice from pole-to-pole. The surviving humans have formed tribes that war, enslave and trade with one another in an effort to survive the infinite winter.
"To see my stories and Jorge's powerful images brought to life will be a serious thrill," said writer Chuck Dixon, "We have the right partners and the right format to really make this something special. It's an exciting time in comics and in entertainment overall and I am very pleased that Winterworld will be a part of it."
The comic book series was originally published in the late 1980's. This June, IDW Publishing is bringing Mr. Dixon back to continue this brutal tale with comic industry favorite, Butch Guice on art.