Press Release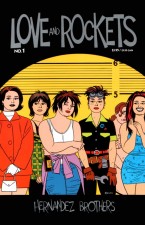 Over the last ten years, Comica Festival has brought you some of the biggest and best names in international comics, from Charles Burns, Joe Sacco and Chris Ware in our first year in 2003, and Art Spiegelman, Marjane Satrapi, Daniel Clowes, Shaun Tan and Craig Thompson in-between, to sell-out events with Robert Crumb, Aline Kominsky and Alison Bechdel last November. And when these guests come, we programme something memorable. We've asked many of you who you'd like us to invite over and we're thrilled to confirm that, by popular demand, we've finally arranged to bring Jaime Hernandez to London on Thursday May 30th.
JAIME HERNANDEZ EXCLUSIVE COMICA CONVERSATION THURSDAY MAY 30th!
Don't miss this unique opportunity to meet and hear JAIME HERNANDEZ, one of the most talented contemporary comics creators in America, if not the world. Jaime will be discussing the lives and loves of his crazy 'locas' – Maggie and Hopey – and other much-loved characters from the independent phenomenon LOVE & ROCKETS.
Jaime and his brother Gilbert and Mario self-published the first issue of LOVE & ROCKETS in 1981, before Fantagraphics launched it in 1982 as a continuing magazine with graphic novel collections. Still going today, it's stronger than ever and Jaime is at the top of his game. Last year he won the Ignatz Award for Outstanding Artist and he's a nominee for Best Writer/Artist in this year's Eisner Awards.
From his childhood through his teenage punk years to today, Jaime will talk about his inspirations and creative process and demonstrate his art techniques by drawing live, projected onto a giant screen. There will also be a chance to put your questions to him, to buy his books and to get signatures and sketches in them. His latest acclaimed titles are a delirious take on superheroes in GOD AND SCIENCE and the ongoing LOVE & ROCKETS: NEW STORIES volumes.
Jaime will be interviewed in depth by connoisseur Woodrow Phoenix, author of Rumble Strip and Plastic Culture, editor of Felt Mistress: Creature Couture, co-editor of the award-winning Nelson and co-creator ofSugar Buzz.
DON'T DELAY, DEMAND WILL BE HUGE, BOOK YOUR TICKETS NOW!
Tickets have just gone on sale, so as a Comica Festival Newsletter subscriber, you are getting first notice of this and the chance to book your tickets at £10.00 each from the WeGotTickets website. Space is limited so it is likely to sell out fast.
When: Thursday May 30th, Doors open 6.30pm for 7.00pm start

Where: St. Albans Centre, Leigh Place, Baldwins Gardens, Holborn, London EC1N 7AB Baldwins Gardens runs between Grays Inn Road and Leather Lane. Nearest tube stations are Chancery Lane or Farringdon. Here's a map!
This exclusive Comica Conversation is organised by Comica Festival with generous support from our sponsors: The Copenhagen Comics Festival, where Jaime is among the guests, and Gosh! Comics, who hold his only London in-store signing on the Wednesday before from 5 to 7pm.
This event marks is the first time in over twenty years that the LOVE & ROCKETS co-creator has been here in the UK. It's going to be a really special evening, running till 9.30pm latest depending on the signing queue – make sure you are part of it. Early booking is recommended. See you there!