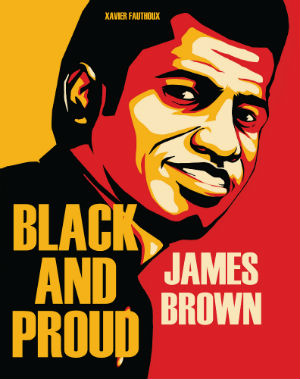 It takes a brave man to try and chronicle the life of The Godfather of Soul, not simply because James Brown's story was so colourful, but because its many twists and turns continued long after he passed on Christmas Day, 2006. There have been a number of efforts to tell his story — from extreme poverty and an education in brothels to the influence of Gospel music, superstardom and constant troubles with the law — by journalists and writers who have tried to reconcile Brown's obvious talent with his relentless capacity for insensitivity, but they have rarely managed to paint a nuanced picture.
In 2016, Xavier Fauthoux wrote and illustrated his own graphic attempt in French, a translation of which (by Jeremy Melloul and Edward Gauvin) is now available in English. It was the culmination of a project that began four years earlier with something called the James Brown Music Video Challenge. Fauthoux won, and his entry was chosen as the official video for 'It's a Man's, Man's, Man's World.' He began his career as a web designer and 2D/3D animator though, and his comfort with that medium informs every page of this book, transforming Brown, his family, band members, and associates into blocks of light and shadow that make most panels resemble digital shorts rather than comic strips.
Whether or not this works as a biography is debatable. On the one hand, Fauthoux sticks to facts and has done his research. On the other, the stilted dialogue is sometimes forced to move the narrative along. When Brown lies in bed laid low by the illness that ultimately takes his life, for instance, he says things such as: "And whatever they say, I won't drop my guard…I'd rather die standing up than live on my knees." What this ends up doing, despite the often compelling art, is keep the reader at arm's length from what could have been a more immersive experience.
Fauthoux is respectful of his subject, faithfully chronicling Brown's rise in the South against a backdrop of segregation, the Civil Rights movement, and gradual acceptance of black artists into the mainstream. It's easy to point out, however, that this could have been a far more powerful book if it didn't gloss over the darker aspects of Brown's conflicted personality — his struggle with substance abuse, for instance, or the misogyny that informed most of his relationships, or even his controversial style of management that gave rise to the title 'The Hardest Working Man in Show Business' at the expense of all the talented musicians who worked under him. Worse, for a book subtitled 'Black and Proud', Brown's powerful role as a pioneer of the Black Pride movement is reduced to pithy descriptions that read more like a brochure.
Ultimately, this is the kind of book that fits nicely alongside other graphic biographies of iconic musicians and film stars primarily because of how pretty it is to look at, but not interesting enough to read more than once. James Brown deserves better.
Xavier Fauthoux (W/A) • IDW Publishing, $24.99
Review by Lindsay Pereira