The Jet City Comic Show was held this past weekend on Saturday, November 8. It was the fifth year they've held the show and the second since they've moved to Tacoma from Seattle in order to get out of the Shadow of the city's much larger convention, Emerald City Comic Con.
This was a smart move as the show has continued to grow each year. It's incredibly well run and The Greater Tacoma Convention Center is a really nice space. The show floor is just big enough to accommodate the size, with additional panel rooms as well as lobby space that can be used for extra activities to keep the children busy including face painting and lego displays. There was even photo booth run by Comics Forge where you could get a picture taken with a costumed character sponsored by Comic Book Characters for Causes!
The media guests headlining the show were Peter S. Beagle, author of The Last Unicorn and the two original Battlestar Galactica stars Dirk Benedict and Richard Hatch.
There was a really solid line-up of comic artists there as well thanks to the high population of creators living in the Northwest. I was exhibiting myself so I didn't have a lot of time to walk around the show, but I did make an effort to go see as many of the creators there as I could. My apologies to anyone I missed. But here's a gallery of those I did get a chance to visit: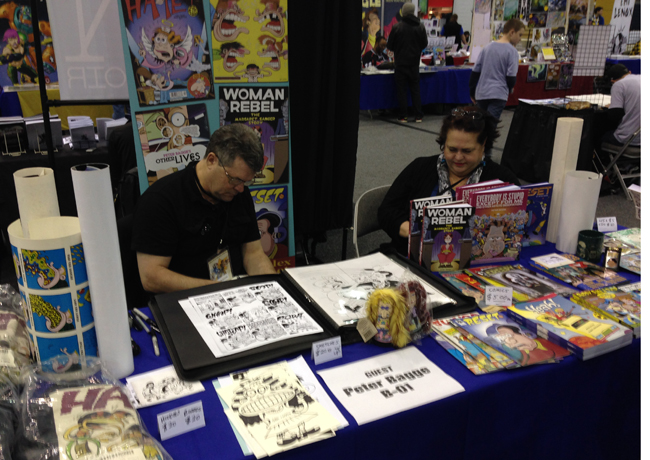 This is the first time I've ever seen Peter Bagge at a show. His long running Hate series is a classic. I also recommend his collaboration with Gilbert Hernandez, Yeah!.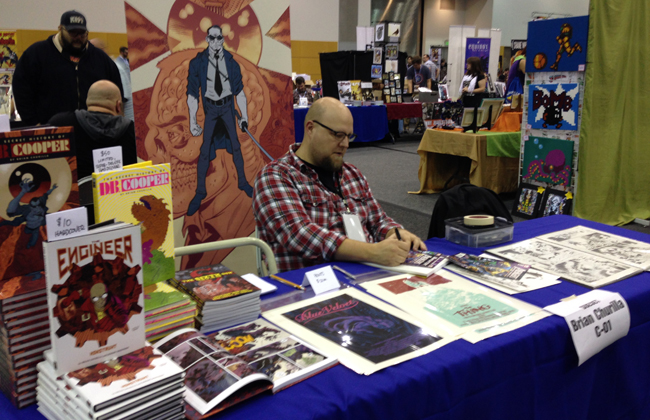 Two separate creators currently working on Kurt Russell properties were there. Brian Churilla, creator of The Secret History of D.B. Cooper, is drawing the Big Trouble in Little China series…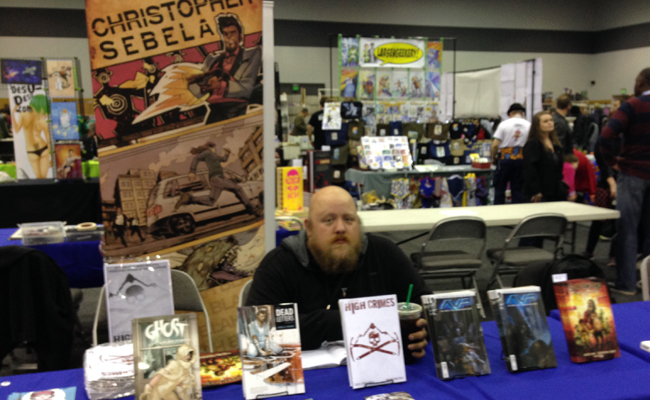 …and Chris Sebela is writing the Escape from New York series. Chris also had the new Dead Letters trade paperback as well as a print collection of the first few issues of the digital comic High Crimes which he works on with artist Ibrahim Moustafa. High Crimes #8 comes out this Wednesday, November 12.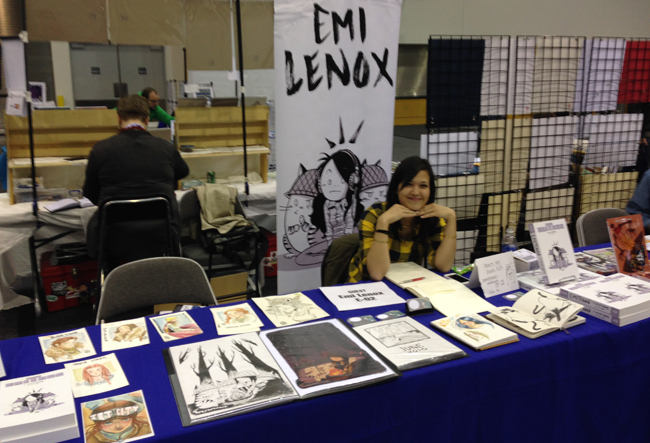 I talked to Emi Lenox, creator of Emi Town, about the two new Image projects she has coming out next year. She wouldn't tell me too much, but the announcements are coming at the Image Expo in January 2015.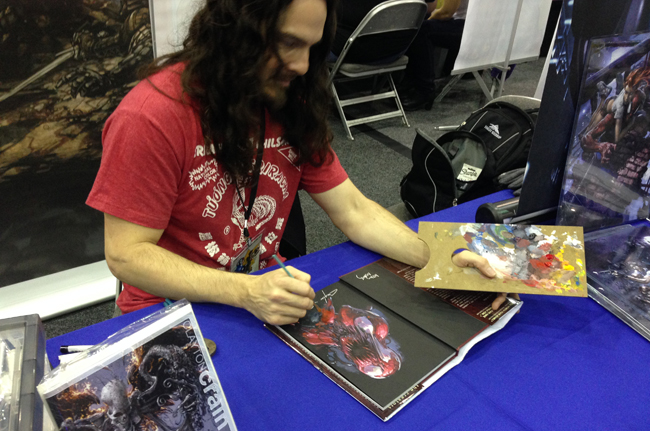 Clayton Crain was there and I got to watch him do this amazing Spider-Man/Carnage painting in someone's hardcover.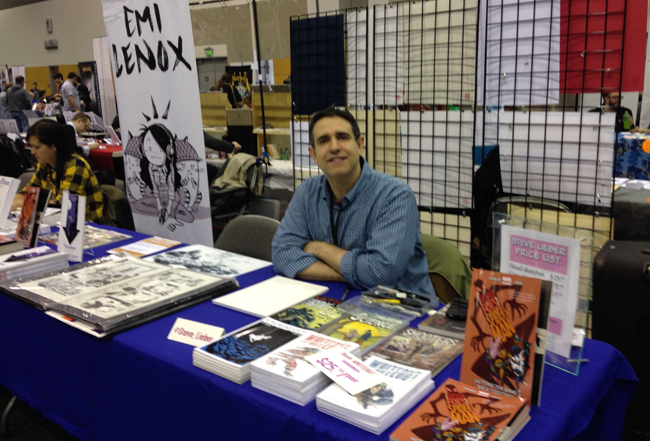 It's always nice to talk to Steve Lieber. He had some original art for sale as well as copies of the many titles he's worked on.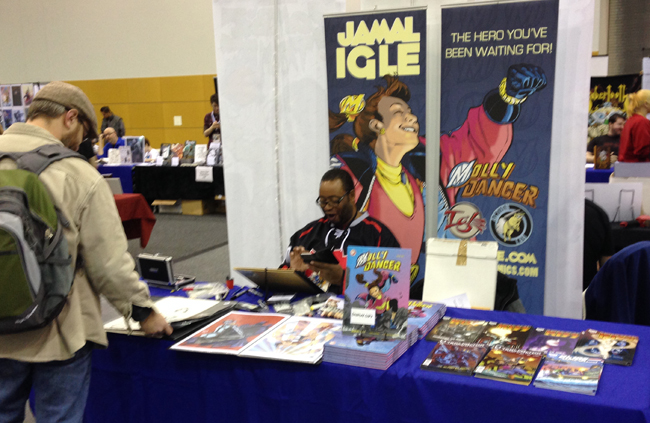 Jamal Igle had copies of the first Molly Danger hardcover. The Kickstarter campaign for book two will launch in February.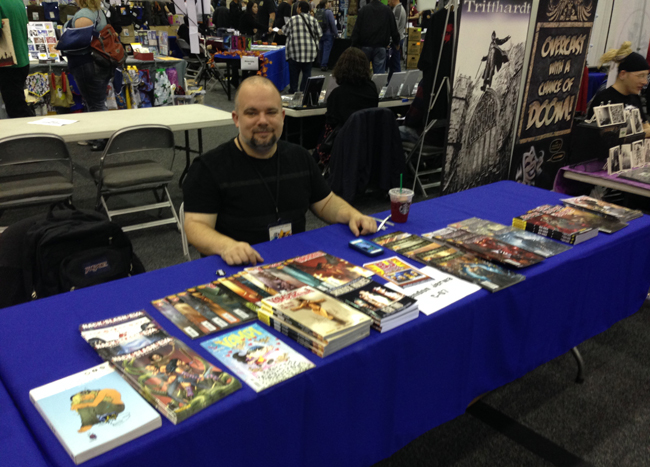 Brandon Jerwa was there with copies of his Vampirella story arc on hand, as well as his new prose novel, Sherlock Holmes: Year Two. He's working on the new Bionic Woman: Season Four comic and he can be heard four times a week on the BJ Shea's Geek Nation Podcast.
Fantagraphics was the only actual publisher booth I saw at the show. They had a well-stocked booth.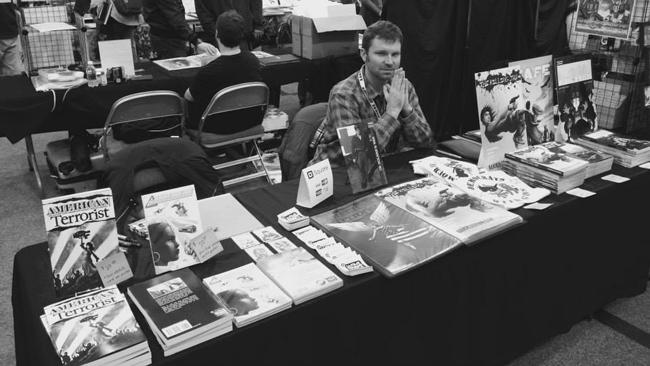 There was, of course, the A Wave Blue World booth, where creator Justin Zimmerman was apparently praying for good sales of his new Safe graphic novel. (Sales were good by the way, though I'm glad we had the Square because I'd say credit cards accounted for about 75% of the transaction, the highest it's ever been).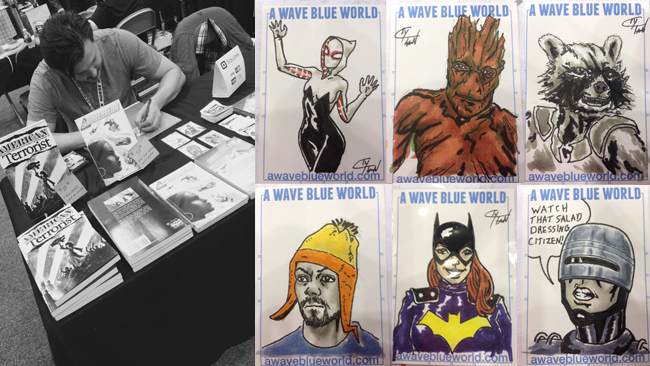 And I was at the booth drawing some sketch cards for people. Here are some examples.
It was a fun show. I really like how it's only one day and I can just drive home afterwards, sleep in my own bed and still have one day left of the weekend to recuperate. That's going to change next year as Jet City moves to two days. I'm not sure what I'll do next year, but I feel confident that Jet City will continue to grow while maintaining a friendly, local feel.