A lackluster bounty-hunter-on-the-run plot is turned into a spectacular action movie by the stunning visuals of the brand new & re-invented nineties artist Dan Panosian.
Starting out as a Rob Liefeld adept during the infamous Image nineties, Dan Panosian was mostly known for his dynamic crosshatching, heroic posturing and overtly muscled characters, all par for the course for the Image comics of those days like Youngblood, Prophet, Extreme Prejudice etc. Over the years though Panosian has been refining his approach and in the here and now he is coming out in a big way in a series of European graphic novels entitled John Tiffany.
John Tiffany is one of the best bounty hunters in the world after ten years and fifteen million dollars in the bank. With no illusions about the world who employs him, he relies exclusively on four people: the Rev. Lovejoy, who taught him to love his money, Wan Chao, of the geek underworld who serves as an interface with the outside world, Dorothy, his partner, to the end of Republican gun and Magdalena, the "call girl in his life."
But tonight, in Mexico, the hunter has become prey, his head has a price. And if his rivals know his location, it means that John Tiffany was betrayed by one of four people he thought he could trust …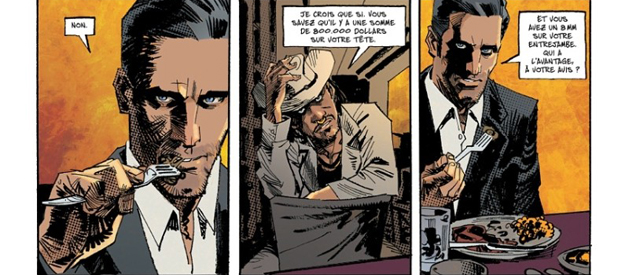 Gone is the Panosian of old and gone are the spectacular overtly superheroic posturing. He's finally coming forward with something quite beautiful. Panosian uses an angular and highly stylized look and feel with some spot crosshatching to round out the characters and background. It has a very high 'graphic design' feel to it. His characters seem more real and grounded and it also fits in nicely with the current trend of more realistic noir approaches that even Spider-Man was subjected to. So Panosian is entering the grand hall of Noir comics with the likes of Steven Lieber, Jock, Shawn Martinbrough and Tom Coker, though he still has some work ahead of him before he can really stand next to those previously mentioned.
Panosian clearly struggles with the bigger canvas of the European comics format, his pages sometimes being still a tad too busy, chopped up in too many panels. Some pages could use some breathing space and his timing is a bit uneven, especially in the action scenes where car crashes are crammed into tiny panels, overpowering the speed lines and dynamics of the scene. However, all things considered, I was quite taken by this new style even though the coloring is constantly drowning the pages in browns and dark blues. It ruined the artwork a bit for me and makes it seem like all the characters live in a constant state of twilight. As can be seen below, Panosian's pencil and ink work is quite strong and could stand with some more diversity in the colouring approach.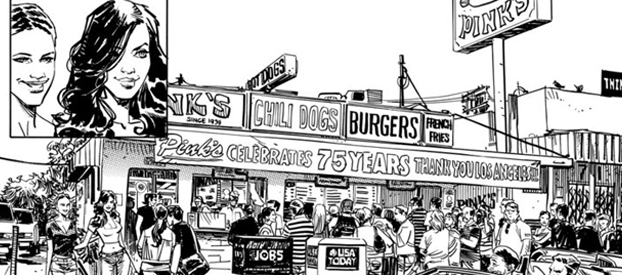 I realise I'm all about the artwork here but Stephen Desberg's story is rather formulaic and all is said in the description at the beginning of this column. Desberg tries to put some humor into the comic by having Tiffany bounce off the other characters but his dialogue still needs some extra spice to make it all more snappy. The fact is that his club of helpers isn't really all that 'special' with only Dorothy, the extreme Republican standing out as a funny counterpart to John's liberal attitude. John Tiffany himself stays too flat as a character even though Desberg tries hard to inject some emotional life into him by way of having him fall in love with his favourite luxury prostitute and the back and forth with his associates but in the end, we don't really care and I'm not really looking forward to Tiffany's search for the traitor among his associates which in itself seems a rather lame and constrictive setup for a series. It rather seems to me that absolutely gets what he deserves.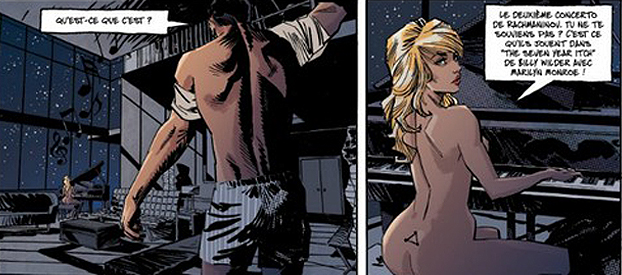 Though disappointing on a lot of fronts – f.e. I would have liked to see Panosian's art on a better quality of paper instead of the softcover approach Le Lombard took – the greatest redeeming quality of John Tiffany is Dan Panosian's spectacular art. John Tiffany tries hard to be a no holds barred action comic with a heart but still has a way to go before it reaches that goal.
John Tiffany Volume 1 by Stephen Desberg and Dan Panosian is published in french by Le Lombard. It is a full colour softcover counting 56 pages and retails for €12. This review was based on the Dutch edition published by Ballon Media.