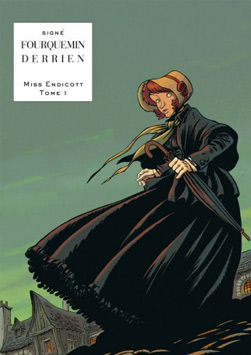 Historical London is under siege by deformed little people living beneath the streets of London in this adventure tale by Derrien & Fourquemin.

Miss Endicott by Derrien & Fourquemin
Prudence Endicott is back in London after her travails abroad in India, just in time for the burial  of her mother. She takes a job as a governess and receives a strange inheritance: she is the next in line to take up the mantle of London's mediator. Prudence now stands as the defender of the poor and downtrodden. But strange things are afoot and when a society of deformed little people called The Forgotten living beneath the streets of London become involved, violence and murder ensues.

The historical setting takes precedence over the fantasy and steampunk elements in this tale by Jean-Christophe Derrien and he makes good use of the decrepit surroundings of the slums of London. His dialogue is funny and the story's pacing is fast, hitting all the right moments. But herein lies the problem: it is too formulaic. Though experienced in animation, having worked on Spirou, Blake & Mortimer etc, the action is leveled out too much. There isn't much breathing space and any characterization is done on the fly. Prudence and her ward are very likeable characters but Derrien doesn't succeed in exploring their inner workings, outlining just the broad strokes of their situations. Coupled with the rather perfunctory plot, Miss Endicott fails to engage on a deeper level and becomes just another action adventure book with a snuff of steampunk.

Luckily artist Xaviers Fourquemin comes to the rescue of the plot. He recently changed his style from a more scratchy approach to the slick cartoony style we're seeing here. He has a good sense of space and movement and for Miss Endicott he crams the pages full of background details emphasizing the claustrophobic surroundings of the slums of London. His figures stand out and are full of grace, particularly in the action scenes. The colouring is too dark though, with a too limited palette. There's not enough contrast between scenes or respect for the rhythm of the drawings making the illustrations seem duller than they actually are.
In the end, Miss Endicott is a nice action adventure book but only redeemed by the excellent drawings of Xaviers Fourquemin. His good grasp of the characters, dynamic posturing and intricate backgrounds enlivens the rather by-the-numbers story more than it deserves.
Miss Endicott by Jean-Christophe Derrien &  Xavier Fourquemin is published by Le Lombard in two volumes. This review was based on the Dutch edition, published by Ballon Media which collects both volumes in one edition. It is a full color oversized hardcover counting 160 pages and retails for €27.95.