Press Release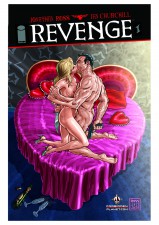 Forbidden Planet has teamed up with TV presenter Jonathan Ross with an exclusive variant cover for his new comic series, REVENGE.
Jonathan has drawn a special variant cover for issue 1 (inked and coloured by Ian Churchill) – only available through Forbidden Planet stores or online at Forbiddenplanet.com
About the comic series REVENGE:
Griffin Franks was a joke in Hollywood. A washed up action-hero. Over the hill. Past it. A has-been. A barely-was. But now he IS The Revenger.
He's a star. His movie's a hit. His latest wife is hot. He finally has everything he wants. Just in time for someone to take it all away. Forever.
This special cover by Jonathan Ross of REVENGE #1 is only available through Forbidden Planet stores or online at Forbiddenplanet.com
Direct ordering link here:
https://forbiddenplanet.com/115349-revenge-1-forbidden-planet-variant/