BROKEN FRONTIER AWARDS – BEST ONGOING SERIES WINNER!
Over the last couple of years Katriona Chapman's amiable and beautifully crafted autobiographical series Katzine has fast become one of the most respected mainstays of the UK indie scene combining, as it does, its author's welcoming on-page presence and her gorgeously shaded illustrative tones. Comprising gentle social commentary, addictive trivia and small insights into her everyday routine, it's almost a sequential art Sunday supplement version of Chapman's life.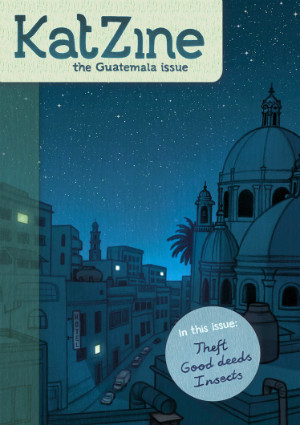 Such is the respect for her understated yet deeply connective visual storytelling, and such is the committed following she has built up, that Chapman's Katzine was this year voted 'Best Ongoing Series' in our annual Broken Frontier Awards (trumping books from DC and Marvel in the process). Impressive going for an essentially self-published series.
It would be appropriate at this point to say something along the lines of "the latest Katzine is an excellent jumping-on point" or that this a self-contained edition that is wholly accessible to new readers. But that pretty much sums up every issue of this publication.
Slice-of-life comic strips sit side-by-side with regular shorter features like explorations of her favourite local businesses, a 'Love-Fear' double-spread of comforts and anxieties, and 'Sergio Talk!' recounting her partner's own particular brand of philosophical musings on their lives. Indeed, I'm quoted on the back cover of the latest issue describing the zine as "refreshing, sincere and impossible to dislike" – three qualities that wholly encapsulate the charm of Chapman's very personal project.
This year has seen the artist experiment a little with the format of Katzine, notably in 'The Factory Issue' – which was also featured in my annual list of 'Ten Small Press Comics You Need to Own!' for 2018 – with the regular features taking second place to longer-form comics narratives. In 'The Guatemala Issue' she focuses on a story about her time visiting Central America some years ago in a story titled 'Theft in the Jungle', and the unfortunate disappearance of valuables that she and her holidaying pals experienced after leaving their backpacks in the custody of their guide's family.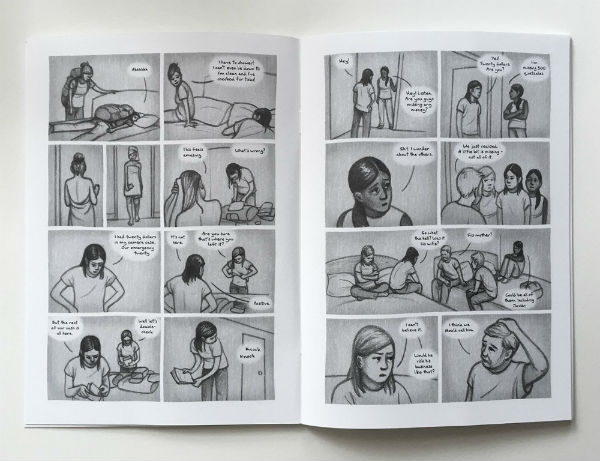 It's a short tale that underlines just how adept Chapman is at subtly drawing out an emotional relationship between her audience and events on the page. She elicits our sympathy not by being accusatory or angry in tone but by sharing the feelings of awkwardness, tension and anxious anticipation that the group felt on bringing the thefts to the attention of someone they'd respected and liked (above). Expressive visual characterisation, natural dialogue and an underplayed sense of pacing all feed into that in a story that reminds us that life is rarely about neat denouements and people are complex, layered entities.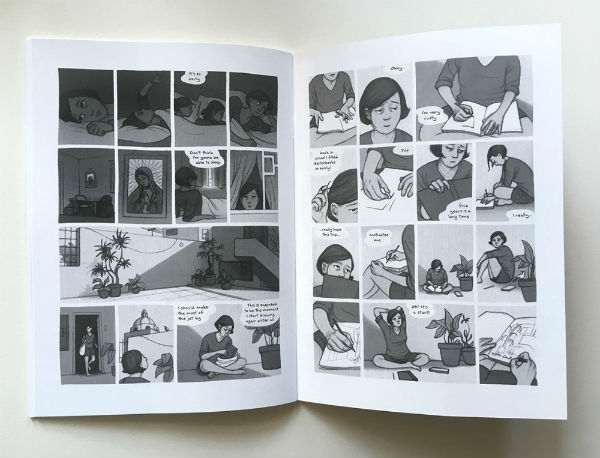 The centre feature this time around acts as a positive contrast with a number of small but lovely acts of kindness from strangers in 'Nice Things'. It's one of those anecdotal pieces in Katzine that will make any new reader fall instantly in love with the whole enterprise. The brilliantly dry logic of Sergio crops up in another 'Sergio Talk' and there's more of Chapman's nature drawings included as well. Those looking forward to Chapman's first full-length graphic novel Follow Me In from Avery Hill Publishing, the winner of our 2018 Broken Frontier Award for Best Publisher, can also get a monochromatic preview of it in this issue (above, and you can see a shorter colour preview here at BF).
If you haven't picked up an issue of Katzine to date then take heed of the Broken Frontier readers and team's votes and grab the opportunity to be captivated by this ever endearing comics scrapbook look into Katriona Chapman's world. There's never been a better time to explore the Katzine back catalogue beacuse 2018 will undoubtedly be the year that Chapman's work is recognised by the far, far wider audience it's due.
For more on Katriona Chapman's work visit her site here and follow her on Twitter here. You can visit the Tomatito Press online store here to buy her books including Katzine.
For regular updates on all things small press follow Andy Oliver on Twitter here.
Review by Andy Oliver