Today Dark Horse Comics announced Killer Queens 2: Kings, Not Wings, a follow-up to last year's sci-fi miniseries. When we reviewed the trade paperback collection of that run here at Broken Frontier as part of our Pride Month celebrations we said of it: "Embedded with social commentary and sparky back and forths between the cast, there's lots to enjoy about Killer Queens as solid escapist fare. Volume 2 quick please, Dark Horse. These characters and this creative team deserve another opportunity to strut their wonderfully OTT stuff."
Looks like they listened! More details in the press release below.
THE QUEENS ARE BACK AND READY TO SLAY IN "KILLER QUEENS 2: KINGS, NOT WINGS"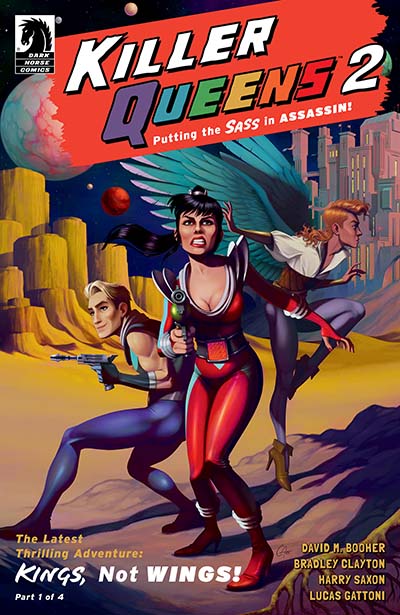 They put the sass in assassin!
The deadliest queens in space are back at Dark Horse in Killer Queens 2: Kings, Not Wings. This new miniseries is a continuation of the original Killer Queens which was nominated for both an Eisner and GLAAD award, and follows two reformed assassins-for-hire, Max and Alex, as they use their slay-worthy skills for good. A queer take on 1950's sci-fi nostalgia, the comic features an all LGBTQ+ creative team including writer David M. Booher, interior artist Bradley Clayton, colorist Harry Saxon, letterer Lucas Gattoni, with cover art by Chris Ables.
The Galaxy's sassiest (Eisner and GLAAD-nominated!) assassins are back!
During a day of questionable choices at Space Pride, Max and Alex bump into their old boss. The grumpy little simian tries to dragoon them into chasing down a runaway heir to the throne of Sarelia, an alien planet ruled by a brutal patriarchy. Little does he know that Alex and this heir have some, ahem, history. As Alex and Max race to save the runaway heir from a galaxy-wide bounty hunt, they'll dredge up Alex's past and confront her planet's misogynist present. If that means burning the patriarchy to the ground, well, get out the torches.
Join rising star David M. Booher (Canto, All-New Firefly, Rain, Specs) and an all-LGBTQ+ creative team as they tackle issues of identity, family, and freedom in this hilarious and heartfelt sequel.
Killer Queens 2: Kings, Not Wings #1 (of 4) will be in comic shops August 9, 2023. It is available for pre-order now at your local comic shop for $3.99.